Calgary Mayor Candidates Weigh In About Energy Issues That Affect Calgary
Since the energy industry is so important to many Calgarians (and Albertans), EnergyNow put together a series of energy related questions and presented them to leading contenders in the City of Calgary's 2021 Mayoral race.  All candidates were asked the same questions.
EnergyNow will be publishing the answers from the candidates that participated to let readers know where candidates stand on key energy issues that affect Calgary and in many ways, Alberta and the rest of Canada.  For information purposes, only one candidate asked declined the invitation to participate.
The following candidates for the Mayor of Calgary were asked to participate (in no particular order)
EnergyNow is Pleased to Present City of Calgary Mayor Candidate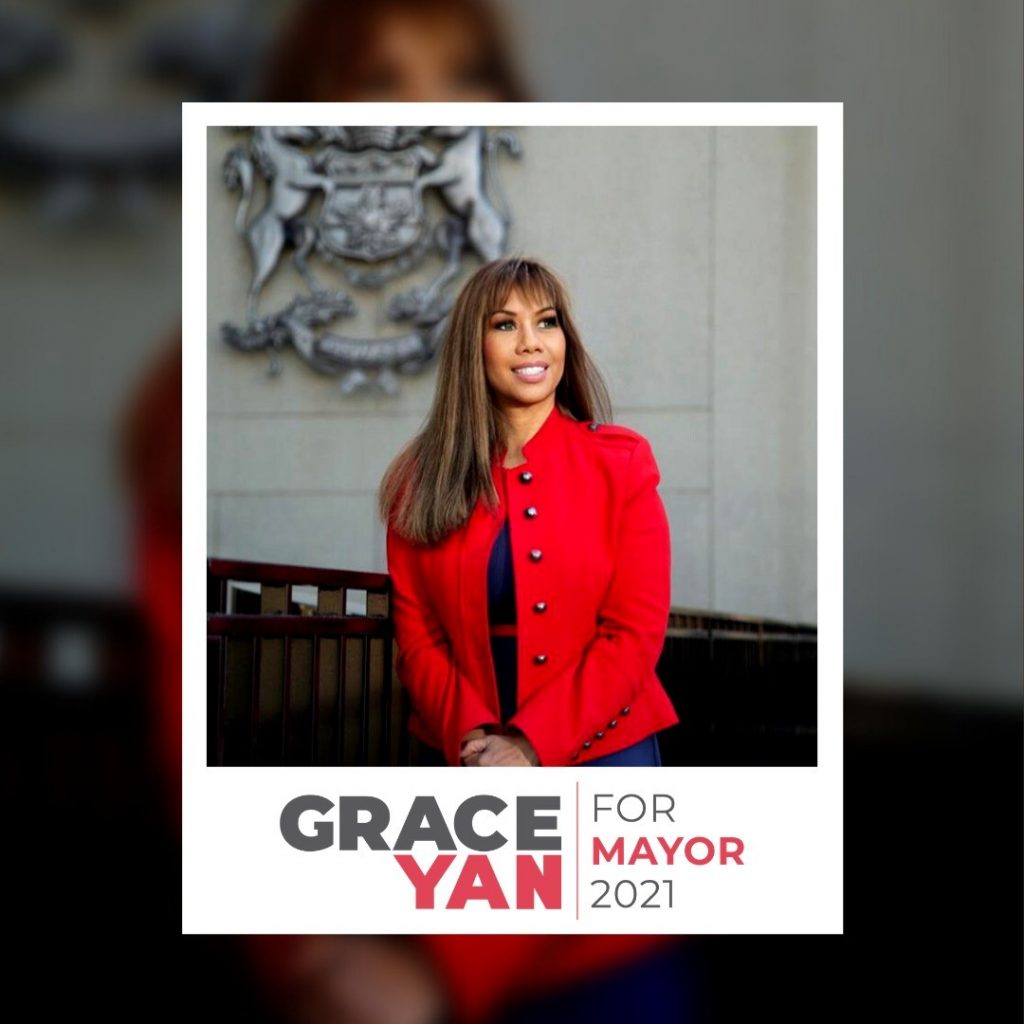 EnergyNow (EN): Do you believe fossil fuels are a sunset industry and that Alberta's massive reserves of coal, oil and natural gas will become one giant stranded asset because of the "energy transition"?
Grace Yan (GY): We are decades away from fully diversifying from oil and gas.  While policy may drive the country away from combustion engines, oil and gas continues to offer tremendous value to global citizens.  Canada's oil imports are significant, which is a testament to its importance.  The question is, why are we pushing so hard for an "energy transition" while increasing our reliance on imports?
As we move away from combustion engines, there is definitely space for Alberta to move into the hydrogen game by utilizing its natural gas resources.  The federal government unveiled its Hydrogen Strategy in 2020. They believe that the clean fuel sector could be worth $50 billion and create 350,000 green jobs while enabling Canada to reach its net-zero targets.
Let's consider the energy industry in the context of the pandemic.  Without petroleum products we would not have modern medicine as we know it.  Syringes that deploy vaccines, hand sanitizer and many over-the-counter and prescription drugs are made with the help of petrochemicals.  Alberta's petrochemical industry still has capacity for growth.
There is certainly global demand for coal. British Columbia remains a leading exporter of coal, feeding China's insatiable appetite as they continue to build hundreds of coal plants in a variety of countries.
EN: It is well known that Houston is the epicenter of the oil and gas industry in the United States. Houston makes no apologies for this distinction. The same can be said for Calgary.  It is the energy capital of Canada.  Given Calgary's current status as an energy hub, how important do you feel is the energy sector to Calgary on a go forward basis?
GY: The energy sector is of utmost importance to Calgary, and we should never apologize for what we do best even as we diversify into the tech space. In fact, you can't have one without the other.
The oil and natural gas industry has been successfully developing and implementing new technologies since its inception. Today, for example, the industry employs sophisticated technologies that reduce greenhouse gas emissions, big data and analytics, cloud computing, AI and machine learning and robotics and drones.  It is important for Calgary to diversify, but in no way does that reduce the importance of the energy sector.
Not only is the energy sector important for its oil and gas products, its trickle-down effect touches every Calgarian. The oil and gas industry has kept the city's coffers flush for decades.  We are really seeing the pinch as there is less money for police, EMT services, schools and hospitals.  We know the pandemic isn't going away anytime soon and we recognize the importance of our healthcare system, but outside of the energy industry, not everyone recognizes the contributions that the industry makes to our social programs.
Albertans as a whole do need to recognize that oil and gas has significant benefits to them. We should be proud of our position not only as Canada's energy hub, but as one of the most environmentally conscious and ethical oil and gas producing countries in the world.
EN: A significant portion of Calgary's downtown current empty office space was primarily occupied by the oil and gas industry. While the oil and gas industry may recover somewhat, technological changes like Artificial Intelligence (AI) have permanently reduced the head office administrative head count. What is your plan for these empty offices, and it's associated underutilized talent? Can a city be a driver of reversing this trend?
GY: I think the first thing Calgary needs to do is elect a visionary leader. Every smart city programme around the world started with a visionary mayor. For Calgary to be competitive, we need a clear strategy to exploit our competitive advantages. We clearly have advantages that other cities don't have which will give investors a reason to set up shop here.
Alberta is one of Canada's leading petrochemical manufacturing centres in Canada with room for growth.  It is estimated that this opportunity represents around $30 billion by 2030 and create 89-90,000 jobs.  Alberta is already established in plastics diversion and recycling and there is $billions in lost opportunity that can be exploited which could further employ thousands.  This is recognized by the Alberta government but I also think the city itself has a role to play in shouting it from the rooftops.  As Mayor, I will do my part to attract investment and jobs to our community.
Employers should give employees options of working from home or the office.  While some people enjoy working from home, others prefer the collaborative atmosphere provided by working on a team.  Often creativity flows better when people interact face to face.  From a mental health perspective it isn't necessarily healthy to work from home indefinitely, especially for young, single people or our talented new immigrants that may not have family here.
EN: While Calgary itself does not have a lot of influence on energy policy at the federal level, the incoming Mayor can play a role promoting Calgary, both with other mayors within Canada and internationally at conferences and events. What stance will you take in promoting Calgary as an energy hub for Canada, including oil and gas?
GY: Unfortunately, we have a government that insists on importing oil rather than supporting Alberta's energy industry.  The energy industry as a whole is not transitioning away from oil and gas, we need to continue to be resourceful in decarbonizing the energy sector, creating employment and attracting investment.
We have incredible talent base, inexpensive office space, and resources that should make Calgary a very attractive place to do business. As Mayor I would advocate on behalf of the industry and look for creative ways to overcome the challenges we face.
EN: Canada is the fifth largest oil and gas producing country in the world behind only the U.S., Russia, Saudi Arabia and Iran. Within Canada, Calgary is internationally recognized as one of the major oil capitals of the world and will host the World Petroleum Congress in 2023. None of the major oil producing countries in the world are being as aggressive as Canada about getting out of the oil and business, an initiative by certain politicians at the federal level. As Mayor of Calgary, what message would you like to convey to those politicians?
GY: The federal government has been aggressively increasing imports from the likes of Saudi Arabia, while claiming that Canada needs to leave oil in the ground.
The government needs to explain to Canadians why they are paying carbon taxes at the pump for gas that comes from overseas.  Why are we importing oil that has no carbon pricing initiatives?  Why are we importing oil from across the world on tankers that run on fossil fuels?
Canada has committed to achieving a 30% reduction below 2005 levels by 2030, as have other countries.  Presumably, these global efforts are designed with the entire planet in mind.  It is entirely counterproductive to increase emissions elsewhere to make Canada appear as though it is following through on climate change mitigation.  This is absolute smoke and mirrors.  I think the government has some explaining to do.
EN: As Mayor, what message would you like to send anti-oil & gas activists? Especially those that do not live in Canada or groups that are foreign funded to interfere with oil and gas development in Canada, directly affecting Calgary?
GY: Energy professionals very likely feel that governments at both the federal and provincial levels have failed them. As Mayor, I do not have the same level of power to help the industry regain its former glory, but I am committed to open dialogue with the industry to find ways to creatively overcome.
I believe it is up to every one of us to counter anti-oil arguments, even if it is just in our own homes when speaking to our children who are being indoctrinated to believe that fossil fuels are bad and that wind and solar are green and renewable, which is not entirely true.  These biased arguments are not productive or even factual.  I'd like for the city to have a quick and dirty resource that non industry folks can utilize to counter the demonization of Alberta's energy industry.
We have a federal government committed to high levels of immigration, so it stands to reason that we will need all forms to energy to facilitate a growing populations energy needs.  We need to take a practical and logical approach rather than promoting a false narrative.
EN: What do you think about the Federal government's recently announced plan for a "Just Transition" for Canada's oil and gas workers? A plan that could potentially further eliminate many Calgary jobs and displace Calgary taxpayers and their families to other cities or provinces.  A summary of the federal government's "Just Transition" plan is here: https://www.rncanengagenrcan.ca/en/collections/just-transition
GY: I think that Albertans have done a very good job of transitioning.  The industry has done an excellent job of decarbonizing the industry, which in itself is a "transition." I think the industry needs to continue being innovative.  Having said that, it's important that the federal and provincial governments recognize the extraordinary efforts that oil and gas workers have made.
The last thing we need is a brain drain as talent leaves to help other oil and gas producing nations develop their resources.  If the federal government pushes too hard, the expertise and innovations will simply go to the very countries Canada imports from.
EN: Have you ever been involved or associated with an anti-oil & gas campaign or group?
GY: Absolutely not.
EN: How do you think Calgary should plug into the province's hydrogen strategy?
GY: There will be a huge market for hydrogen in coming years.  I think Alberta is very well positioned to be a blue hydrogen producer which is really exciting.  Not only does Alberta have the natural resources, we have the talent pool.  Hydrogen and renewable electricity will revolutionize the global energy sector and enable climate-friendly solutions that are in line with net zero goals, and that's very exciting for this province.  There are so many advantages to hydrogen over battery electric vehicles.
I believe that Alberta can compete in this area on a global scale, although Canada has some catching up to do.
EN: Finally, reducing energy use and emissions is not only a priority in today's changing world but it is also welcomed by many working in Canada's oil & gas sector. What key items do you support to help "green" Calgary's future? Is this something the city and its taxpayers should invest in for Calgary alone? Or should the city support the energy industry in the development of technologies that have global applications?
GY: I'm a big believer that industry is innovative and capable on its own.  Where there is an appetite for growth, entrepreneurs will lead the way, politicians just need to get out of the way but cutting red tape, ensuring that taxes are not so burdensome so as to stifle industry or even drive them out.  As Mayor, I see myself playing more of a supporting role by ensuring that Calgary is a safe, attractive place to do business.
EnergyNow would like to thank Grace Yan for her participation.
For More Information on Grace Yan please visit:  Grace Yan For Mayor
Share This:
---
More News Articles