Buffalo Inspection Services (BIS) have had a research program in place for over four years and have focused on what our clients advised us were one of their most serious inspection concerns Flange Face Corrosion (FFC).
Over this time BIS successfully developed both applications and 3D printed equipment for this challenge and have proven beyond doubt that there is now a solution to these FFC challenges.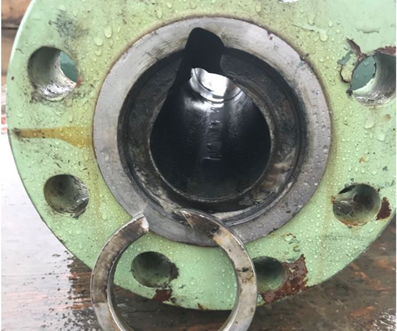 This is a ring joint flange that one of our customers had asked to be inspected for sand erosion concerns.   In this case we were asked to prove out the application and 3D scanners employed in a blind test.   This was successfully completed, and this particular flange was inspected within the first week of deployment; once discovered it was immediately brought out of service for safety reasons and the Wing Valve program was implemented as part of a long-term condition monitoring program.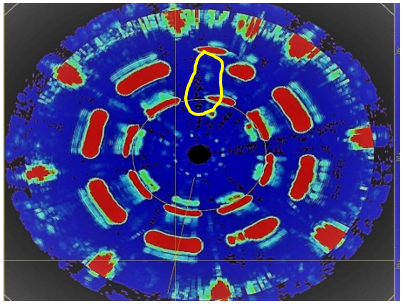 This is the imagery provided by the application and scanning solution implemented to resolve this problem.
It can be clearly seen through pattern recognition that this damage is easily resolvable and quantifiable from the outcomes seen.
Some of the 3D printed designs used to implement FFC successfully.
Another challenge for customers was Internal Current Transfer on the isolation flanges of pipeline to Process piping flanges where liquids spillover can preferentially erode the unprotected side of the flange connection.
This normally occurs on or about the 6 O'Clock position.
This is a normal Raised Face Flange that has a uniform D Scan output of the Flange Face.
This is a normal Raised Face Flange that has a uniform D Scan output of the Flange Face.
Buffalo Inspection Services have a number of years of experience on these configurations and are continuously updating and refining our 3D scanning tools and techniques for optimization.
If you have Flange Face Challenges then take the time to contact us to demonstrate the solutions we have on hand for these scenarios.
Andrew Crawford BTech, CGSB L3
TQMS Integrity Manager
Buffalo Inspection
Buffalo Inspections Services Head Office
3867 Roper Road
Edmonton, AB, T6B 3S5
Toll-free: 1.800.634.8588
Phone: 780.486.7344
Fax: 780.486.4685
Share This:
---
More News Articles