By David Yager
April 27, 2020
If there was ever a time when politicians might be persuaded to set aside party politics and do the right thing, surely it is now.
As Canada's largest and most essential resource industry struggles to survive the virus/pandemic oil price collapse, modern polarized politics remains a constant challenge. Nothing is simple or easy at the best of times. When it gets serious and complicated things get worse.
Fortunately, there are institutions more important than elected governments to come to the rescue.
Producers are bleeding cash because most of Canada's 5 million barrels of daily oil and liquids output is currently not profitable to produce. Thousands more workers have lost their jobs. Companies are folding. Capital spending has collapsed, discretionary spending cancelled. Wealth and investments have been annihilated, lenders are justifiably apprehensive, and many people are desperate, terrified or both. The industry's rapid slide from hero to zero in weeks seems incredible.
If economic conditions aren't bad enough, Justin Trudeau's minority Liberal government is not blessed with an abundance of MPs who had any direct experience in finance, business or management before entering politics.
Today's Liberals are heavy on political correctness, social engineering, virtue-signaling and showing the world that a globally insignificant but properly governed country can save the planet's climate. For this crew, the best government is more government. Too many have only experienced a robust economy and were not directly affected by the tough times from the mid-1970s to mid-1990s. The average age for today's MPs is 52. That means they were only 12 in 1980.
When I wrote the book From Miracle to Menace – Alberta, A Carbon Story, history proved that being Liberal was not always anti-oil. Liberals pushed through the Trans Canada Pipeline in the 1950s which connected central Canada to Alberta gas. After being tossed from office after 1980's National Energy Program, when returned to power in the 1990s it was the Liberals who slayed the federal deficit as Canada was fast becoming an IMF basket case. The Liberals worked with Alberta to create the Generic Oil Sands Regime that laid the fiscal foundation for Alberta's massive expansion and economic boom of the 21st century.
Who are these people today? What are they thinking? How can they be this doctrinaire when the economy is being crushed? Why are so many opposed to the very resource from which the medical equipment to fight the coronavirus is manufactured?
Not knowing any card-carrying federal Liberals, I contacted former Liberal MP Dan McTeague in Oakville, Ontario who served from 1993 to 2011. McTeague is best known as a crusader for competition in the fuel business, at the refinery and the gas pump. Today he is an outspoken supporter of Canada's oil and gas industry.
McTeague recalled when he worked under Prime Minister Jean Chretien and Finance Minister Paul Martin and was warned to be careful about protecting the producing side of the oil and gas business. "If you're going to take on the oil industry don't go after the upstream. We need the money to pay down the debt."
McTeague added, "Without this industry we're cooked in this country."
Asked who the Liberals are today McTeague replied, "It's no longer the Liberal Party as we knew it. The balanced, big tent Liberal Party with regional representation has disappeared. It went hard left and has now gone after the NDP and Green supporters."
So when the oil industry asks for help, nobody should be surprised if the response is muted, delayed and complicated by polarized politics.
But to this McTeague remarked, "The Liberals should pick their crisis." Like the current economic meltdown.
This was confirmed by a Calgary executive active in negotiations with the federal government. "The feds are still trapped in partisan politics and the caucus is not yet as concerned with the economy as votes."
Oh dear.
Fortunately, there exists important and powerful institutions and economic realities even the most dogmatic politicians cannot ignore. And they are, as they should, helping to support the oilpatch.
Because of inflexible political beliefs and a lack of economic understanding, this government declines to send a strong message that this industry matters and the federal government will do everything possible to ensure it remains a key pillar of the Canadian economy.
What might the right message be? Love or hate him, US President Donald Trump shamelessly supports business and jobs. Trump recently posted on Twitter, "We will never let the great US Oil & Gas Industry down. I have instructed the Secretary of Energy and the Secretary of Treasury to formulate a plan that would make funds available so these very important jobs and companies will be secured long into the future!"
Wow.
But unknown to many, there are bastions of economic common sense within the federal cabinet through Energy Minister Seamus O'Regan, Finance Minister Bill Morneau and Deputy Prime Minister and Minster of Governmental Affairs Chrystia Freeland. Industry insiders tell your writer that all three understand the problem and have provided assurances that help is forthcoming.
However, caucus support for fossil fuels is not unanimous. That even one Liberal MP sees benefits in the oil industry crumbling is disheartening during this time of extreme anxiety and uncertainty.
When it became clear in March where oil was headed, CAPP and others began presenting initiatives that Ottawa could undertake to provide immediate assistance. Delay the carbon tax increase on April 1 and the introduction of the expensive and onerous Clean Fuel Standards. Postpone a host of reports on GHG and methane emissions and environmental inspections. Defer the planned adoption of the United Nations Declaration of the Rights of Indigenous Peoples until everyone understands what its true impact will be.
Each of these would provide fast, practical, cost cutting relief. Regrettably, the major outcome was previously confidential correspondence between CAPP and the relevant cabinet ministers was leaked to the media. This gave organizations like Environmental Defense the opportunity to accuse CAPP of exploiting the pandemic to put profits ahead of pollution and people.
There have also been multiple financial proposals put forward to protect balance sheets and maintain liquidity as asset values plunge and companies exhaust their working capital producing oil at a loss.
These include subordinated loans under favorable terms, government backed credit facilities, working capital to be repaid from future oil production at higher prices, purchasing tax pools from unprofitable producers for less than the cost of deferred future taxes, financial incentives for mature asset retirement and reclamation, and 100% deductibility of capital expenditures.
Here, the government and Canada's major financial institutions have done much more than they get credit for.
One key sector of the economy also under significant economic pressure that is not despised by environmentalists and Liberal MPs is the chartered banks and other lending institutions. According to a Bloomberg news story April 23, the "big six" had energy loans totaling $58.5 billion at the end of the first quarter. But since March 31 the value of their oil-based loan collateral base has plunged. A loan loss provision of only 10% would be $6 billion.
The oil industry is only part of their problem. Airlines, tourism, manufacturing, restaurants, real estate, agriculture, residential mortgages, bars, clubs, non-essential retail outlets and even professional sports teams all borrow money and are experiencing financial difficulty, some as awful as oil or worse.
This is no time for Ottawa to pick winners and losers as the economy contracts and unemployment rises at unprecedented rates. The Liberals seem to have figured out when you help the oil industry you help the banks and that helps everybody.
Income support for workers is already underway. All laid-off workers quality for programs like the Canadian Emergency Response Benefit of as much as $2,000 a month. Although only intended to run for four months until the lockdown is reversed and the economy begins to recover, the oilpatch and western Canada are not excluded.
On Friday, April 17 Ottawa announced four programs providing varying degrees of direct assistance for the oilpatch.
The first was $1.7 billion for expired wells, orphaned producing infrastructure and other mature asset retirement obligations. Another $200 million in loans was offered to Alberta's Orphan Well Association. For the abandonment, reclamation and cleanup of inactive producing assets including pipelines, facilities and surface locations, $1 billion was made available to Alberta, $400 million in Saskatchewan and $120 million to BC. Alberta announced how to access the first $100 million on April 24.
The second was loans of up to $750 million for producers to get on with their methane mitigation and compliance activities. This is a long way from the industry request to postpone the program, but it might lead to some employment-generating activity by producers with cash.
The third was loan guarantees from the Export Development Corporation (EDC). In speaking with senior executives of major banks in Toronto, this looks promising after E&P company borrowers have their Reserve Based Lending (RBL) limits reviewed to reflect collapsed oil prices and cash flow.
RBL limits depend upon the latest "price deck" lenders use to value the collateral underpinning their loans. The trouble began in March. WTI averaged US$57.52 in January, US$50.54 in February but was only US$29.21 in March as the price collapse began.
By mid-April WTI was under US$20 and will likely finish the month below this level. May could easily be worse. June and beyond is unknown. Although oil recovered from its jaw-dropping negative values on April 20, at closing on April 24 NYMEX WTI futures did not exceed US$30 a barrel for the rest of the year.
Producer credit ceilings will be sharply reduced, perhaps by half or more. In normal circumstances RBL compliance requires that the borrower either repay what is now the unsecured portion if the lending facility has already been drawn down, or the company will be unable to access unused portions until prices improve.
The EDC "backstop" will provide government guarantees so banks won't call their loans, preventing significant financial disruption. When announced the EDC cap was $100 million per borrower.
More capital is being made available through the Business Development Corporation (BDC), another federal lending agency. The BDC has historically loaned money in higher risk situations where conventional lenders aren't comfortable with the collateral, cash flow or corporate history. These will be based on company size and range from small amounts to $60 million. The stated purpose is to provide liquidity for companies to pay their bills and stay in business until the economy recovers. This will be available to producers and service companies. A key condition is the borrower was viable before the price collapse and should be again when conditions improve.
Those who understand how the EDC and BDC programs work have offered constructive suggestions that should be considered by Ottawa.
The first is that they must be expanded. The EDC backstop guarantees should be doubled, the BDC loan sizes increased, and the pay-back period extended. There is a growing concern that is could take longer for oil prices to recover because some elements of demand destruction may prove permanent.
Apparently, Ottawa is already considering these requests but if approved it will likely be done quietly. This government cannot be seen as excessively enthusiastic about supporting fossil fuels.
The other major source of financial assistance is the Bank of Canada which is now prepared to purchase corporate commercial paper or company bonds and provincial government debt.
The willingness of the central bank to buy corporate debt was announced April 15 and reads "In order to support the efficient and continuous functioning of financial markets, the Bank of Canada is announcing its intention to introduce a Corporate Bond Purchase Program (CBPP). This program will support…(a) liquid and efficient market for Canadian-dollar corporate bonds (which) allows companies, currently challenged by the impact of the COVID-19 pandemic, to continue to obtain necessary longer-dated financing to support their operations, ultimately aiding the Canadian economy…the CBPP will purchase eligible corporate bonds in the secondary market. The program size will be capped at $10 billion and will be restricted to senior secured and unsecured bonds originated by Canadian incorporated companies with a remaining maturity of up to 5 years and a minimum credit rating of BBB or equivalent."
Other countries have done this for years. The Bank of Canada has historically been more conservative.
The liquidity crunch has also hit provinces. A Bloomberg report April 23 reported Canada's provinces collectively owe $853 billion, more than the federal government. Normally they compete in conventional debt markets, but the cost has been rising and the appetite declining.
On March 23, the Bank of Canada first announced its intention to participate in buying provincial debt "The Provincial Money Market Purchase (PMMP) program is an asset purchase facility that will acquire provincially-issued money market securities through the primary issuance market…Under the PMMP, the Bank will purchase up to 40 percent of each offering of directly-issued provincial money market securities with terms to maturity of 12 months or less. This includes treasury bills and short-term promissory notes of all Canadian provinces. The 40 percent limit may be adjusted if market conditions warrant."
With few buyers for the other 60%, only three weeks later the "adjusted if market conditions warrant" provision kicked in. On April 15, the Bank of Canada announced, "The PBPP will purchase eligible securities in the secondary market. Eligible securities are made up of Canadian-dollar denominated bonds issued by all provinces and fully-guaranteed provincial agencies with remaining terms-to-maturity up to ten years. The program size will be capped at $50 billion. The program will remain active for a period of 12 months."
With this liquidity a province could further backstop corporate secured debt or purchase corporate bonds to keep companies solvent and functioning should they so choose. While no announcement has been made, Alberta could use this tool to add another layer of financial support to its struggling private sector. The province recently announced approval for treasury to borrow up to $25 billion. This may all be related.
Announcing that financial support is coming is great but getting the money into circulation is equally important. While EDC and BDC have been around and helpful for many years, anyone who has dealt with either would be concerned about how responsive they will be with their new and vastly expanded mandate.
The target is to have both organizations ready to do business as quickly as possible. Ramping up application processing and approval capability will require the right talent and processes to get funds flowing expeditiously. To succeed the hiring must be done quickly and locally. For the oil industry this means Calgary, not Ottawa. Calgary is ideal because it has a has a lot of very experienced but underutilized finance experts from E&P, OFS, banks and capital markets.
If implementation – the time between application to cash – can occur in a timely manner, much of the financial support the industry needs to live to fight another day should be available in the third quarter. If they know funds are coming, lenders and creditors will be patient.
But the lost opportunities for Ottawa to be more aggressively and publicly supportive of its largest resource industry in this time of extraordinary difficulty cannot be ignored.
A major issue for the country and its massive hydrocarbon sector is the view among international investors and multinational oil companies that Canada is not friendly to oil and gas and is an increasingly complex, expensive and unpredictable place to do business.
Unfortunately, too many in this federal government don't even understand what that means.
Multiple ways to show the world that the economy is more important than party politics have been presented to the Liberal government and declined. Despite being provided with many ways to help the industry cut costs and reverse or streamline regulations and compliance, the Liberals instead chose to stay the course, increase costs, maintain onerous red tape and deliver financial support exclusively through more government agencies and programs.
So start filling out government funding application forms.
And we'll deal with why Canada insists on doing everything the hard way another day.
David Yager is a Calgary oil service executive, energy policy analyst, writer and author. He is currently President and CEO of Winterhawk Well Abandonment Ltd., a methane emission reduction technology company. His 2019 book From Miracle to Menace- Alberta, A Carbon Story is available at www.miracletomenace.ca.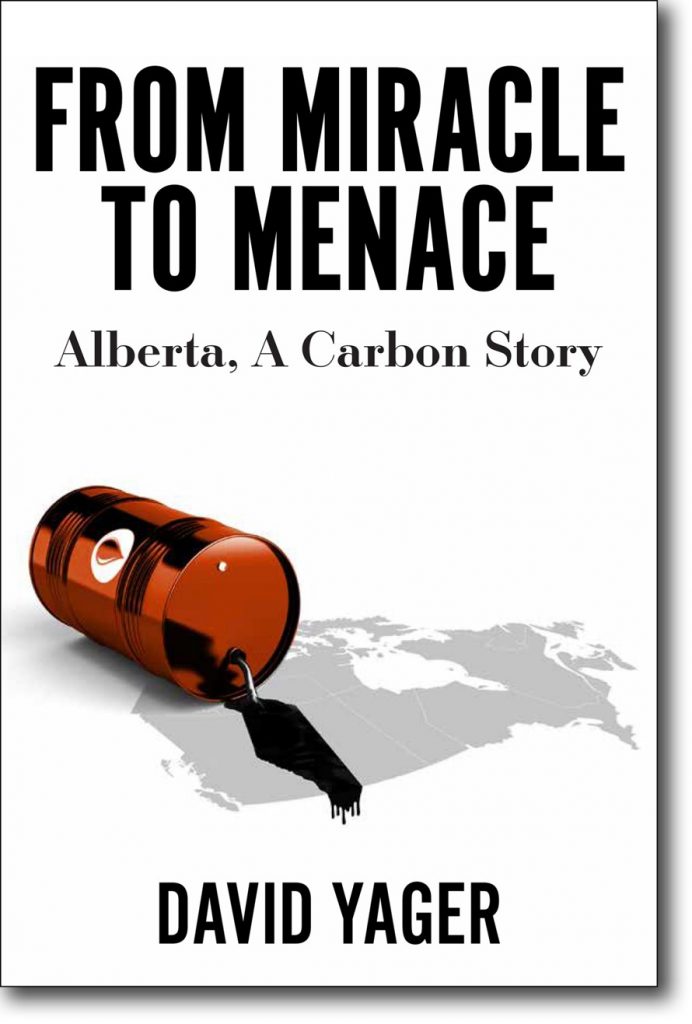 Share This:
---
More News Articles