By Divya Balji, Nick Lichtenberg and Yueqi Yang
(Bloomberg)

After a week of fresh highs, Canadian stocks are still cheap.The S&P/TSX Composite Index is trading below the five-year average of its forward price-to-earnings ratio, despite hitting seven records since Sept. 13. Relative to U.S. equities, the main Canadian stock gauge is valued about 13% lower.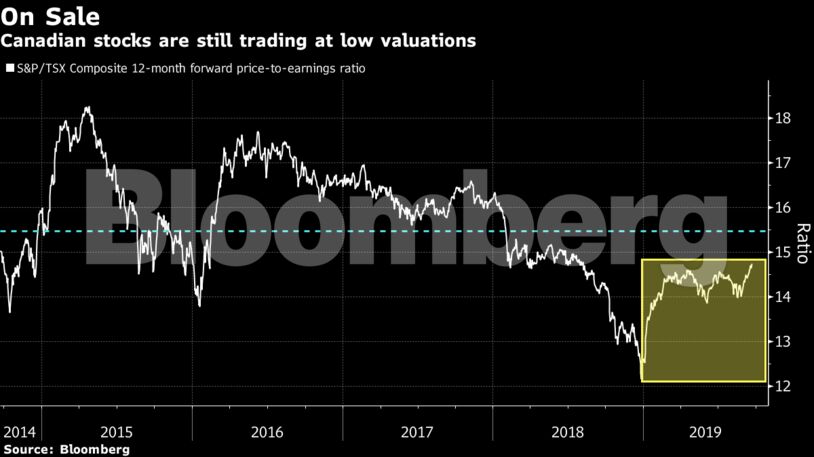 The nation's stock market has rebounded from a bout of late-summer volatility as global markets plunged, roiled by trade tensions and geopolitical risks. The reversal of momentum stocks, a surge in oil prices and the easing of trade tensions propelled almost 50% of the benchmark index this month. Energy and financial stocks, which were lagging the broader gauge, bounced back.
In a world of low interest rates, "it's far better to borrow money and buy ownership than it is to buy bonds for example," said Thomas Caldwell, chairman and founder of Caldwell Securities Ltd.
"The market isn't a homogeneous thing," he said. "It's made up of big caps, midcaps, small caps and in all kinds of diffesinsrent industries. The mid-to-small caps lag the market. So that whole sector is underpriced."
One technical analysis may shed some light. Bloomberg's Fear and Greed indicator, a measure of buying strength versus selling strength, for the S&P/TSX rose to a 7-month high during this month's rally, but still fell short of the January peak. In January, stocks soared 8.5% — the most since 2009.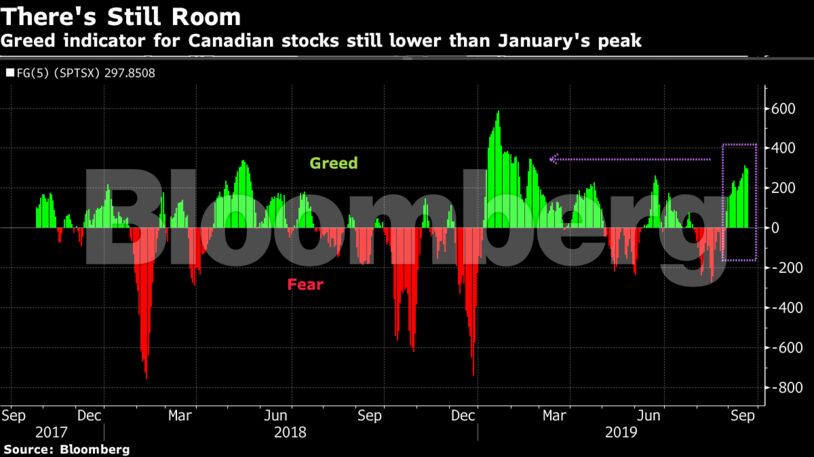 Foreign investors may be making a comeback. After four months of net outflows, overseas investors returned with almost C$2 billion ($1.5 billion) of capital in July, according to a report from Statistics Canada.
Caldwell acknowledged that markets will continue to be choppy: "There's a lot of stuff out there that can add some angst on a short term basis."
"I still think that it makes more sense to be an owner of things in this interest rate environment. You might have pullbacks but I'm an eternal optimist and it has served me well over 55 years in this business," he said.
Here's a recap of what happened this week:
Markets — Just The Numbers
Stocks

The S&P/TSX Composite Index is on pace to have the best month since April. Value investing has returned, pushing energy and financial stocks to the top sectors and tech as the worst so far this month.

Bonds

The spread between U.S. and Canadian 2-year yields tightened to about 11 basis points, compared to about 16 basis points on Sept. 13
Bank of Nova Scotia raised C$1.5 billion after selling its first senior bail-in bonds in its home market one year after regulation opened the spigot for the sales.

Loonie

The Canadian dollar, still the world's best major currency this year, gained slightly this week, making it the fourth best after the Taiwanese dollar, South Korean won and the yen.
Chart of The Week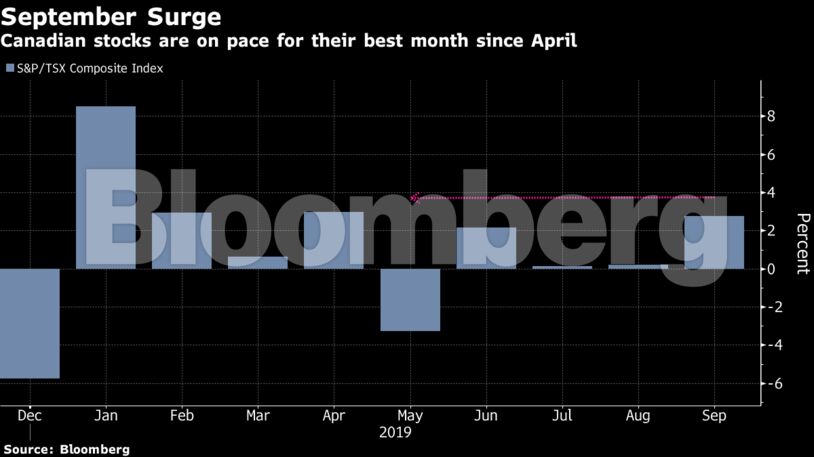 Share This:
---
More News Articles