By David Yager
The old saying goes that voters get the governments they deserve.
21st century voting is increasingly dominated by those motivated by single issues. These include the preferred leader or specific subjects like climate change, gun control or immigration. This results in governments and decisions that don't often reflect general public opinion.
That's how we live in a country where the majority of Canadians support pipelines but too many elected governments obstruct them.
The upcoming vote on October 18 features one municipal election and up to four referendum initiatives, depending on where you live. There are four in Calgary. Two are important, two less so. I wrote about three. I have no opinion about fluoridating the water because I don't live within the city limits.
Calgary is the oil capital of Canada and on a short list of the most important cities in the world for the global oil and gas industry. So as an oil writer, I'll focus on YYC.
Calgary's Next Mayor
Whatever mayor Naheed Nenshi may or not have been when he was first elected in 2010, after 11 years at the helm he has worn out his welcome. Nenshi won the first time as an unknown in a crowded field with 39% of the votes. After the floods of 2013, his strong public assurances that Calgary would recover earned him 74% of the votes cast. But by 2017, his popularity was already fading with the economy. Of the 387,583 votes cast, 95% went to either Nenshi or challenger Bill Smith. Nenshi won with 51% of 95%.
Interest in who will comprise Calgary City Council and sit in the mayor's chair as measured by voter turnout fluctuates with the economy or perception thereof. Here's the results for YYC's six prior elections this century.
Source: Elections Calgary, Government of Alberta
*On a scale of 1 to 10, Confidence is your writer's estimate of the perceived health of the oil industry and Alberta's economy by Calgarians who either work in the oilpatch, depend upon it, or worry about it. 1 is terrible. 10 is fantastic.
2017 – low oil and gas prices, Liberals in Ottawa, NDP in Edmonton, pipeline wars and obstacles everywhere, major job losses, downtown office vacancies high, climate change mantra that fossil fuels must go.
2013 – Things are pretty good. Oil prices are high, but gas prices are falling. CPC in Ottawa, PCs in Edmonton. Steady drilling and capital expenditures in oil sands, but political and environmental issues with new pipelines are becoming front page news.
2010 – Emerging from the world financial crisis of 2008/09 and the New Royalty Framework of 2008 that chased investment from Alberta only recently undone.
2007 – Oil and gas prices high, capital spending rising, few apparent obstacles to continued growth.
2004 – Alberta starting to boom for the first time since the 1970s. Gas prices very high, oil prices rising, drilling at record levels, huge expansion plans for oil sands. Great optimism.
2001 – High gas prices, oil prices starting to move, first signs of real growth after many consecutive years of tough times.
Using this data as presented, the voter turnout this year will be strong. While the oil and gas industry is enjoying a recovery thanks to rising prices, economics and confidence are not anywhere near past levels. The pandemic has been a destroyer of jobs, companies and wealth. The Liberals just won the third election in seven years. Public debt has skyrocketed. It is inevitable that everyone will have to pay more for everything through higher taxes or inflation.
In the past few years Calgary city council has been, at least outwardly, divisive and fractured. Despite talk about industrial diversification and new opportunities, the direct relationship between Canada's oil capital and the health of the oil industry is now apparent. The high vacancy rate downtown has clobbered the property tax base. As the downtown vacancy rate has grown, property values and taxes have plunged. Because of the pandemic many businesses are struggling. In past years, big property tax revenues from full and expanding office towers downtown made it easy to fund a growing municipal government with revenue from businesses, not voters.
Like most things in Alberta, the health of the oil industry remains paramount. The downturn has affected provincial revenues, property taxes for every municipality, employment, payroll taxes, corporate taxes and individual wealth.
In Calgary, property tax increases on smaller businesses and homeowners have finally reached the point that taxes and spending by City Hall have become an election issue for many.
With Nenshi not running and the winds of change blowing from all directions, there are 26 people running for mayor. Working with EnergyNow.ca, I helped develop a series of oil and gas related questions for the publisher of this site. They concluded the major players to be Brad Field, Jeromy Farkas, Jeff Davison, Grace Yan, Jan Damery, Zane Novak and Jyoti Gondek.
Have a look. Some great information. Only Gondek declined to participate. More on this below. Full details on how each responded will continue until October 15.
Having followed politics all my life, my observation is that "leader" the title and "leader" the job are two different things. At the city level, the mayor holds this position.
Leader the title is won by campaigning with a narrative that attracts the most votes. Say the things that most the most people want to hear and win the prize.
Leader the job is entirely different. Once in office, you have to figure out how to transform all the promises and commitments intoaction and policy.
With modern party politics, execution is fairly easy. Once you become Premier or Prime Minister, you drive the bus and everyone else either falls into line or can be punished. In a political party the leader has multiple tools to enforce consensus (at least publicly) ranging from cabinet posts to nomination papers to continued caucus membership.
Municipal politics is very different. While you may get who you want for mayor, that person has to persuade the rest of council to support his or her platform. This is often difficult. This may shock you, but most people run for public office to talk, not listen. Municipal councilors don't seek election so the mayor can tell them what to do or think.
To change the course of Calgary city council – for the new mayor to deliver on campaign commitments – success will be measured by the ability to secure the support of others on council. This can only be done by negotiation, persuasion, consensus-building and trade-offs.
I am biased towards candidates with senior management experience in business. Success in the private sector forces executives to learn about the value of good products and services, competitive pricing, that revenue must exceed expenditures, that debt must be repaid, and that every customer counts.
In bigger successful companies, modern management includes team building and seeking consensus to ensure everyone is motivated and pulling in the same direction.
My observation is the private sector is much better at this than the public sector. Because companies have competitors and have figured out how to make more money this way.
Translated into politics, this would mean good public services, the lowest possible taxes, careful spending, low or no debt, and that every voter matters, even the ones who didn't support you.
Several candidates with significant private sector experience include Brad Field, Jeff Davison, Jan Damery and Zane Novak. Many in the private sector wish that successful entrepreneurs would run for public office because this would lead to better government. While several of the candidates meet these criteria, according to Licia Corbella in an October 9 Calgary Herald article, Field is a "super successful businessman."
The candidate that is polling well and but has spent her entire career in academia, public policy and association work is Jyoti Gondek. Third party advertiser Calgary's Future officially supports Gondek. Its website reads that the organization "is proudly supported by local labour organizations—that means hard working Calgarians from diverse communities across the city."
This civic election is unique because there are so many candidates. One of these people may become mayor with less than 25% of the votes cast.
I'm not going to endorse anyone. But I am going to ask voters to think carefully about their selection. Of all the people on the ballot, who is the person who, in the position of mayor, will put the interest of all Calgarians first plus has the personality, temperament and leadership skills to build consensus on city council to deliver the best services possible at the lowest cost to taxpayers.
Because successful administration of a big, international city built primarily on oil and gas in today's changing energy world isn't going to be accomplished by rousing speeches and unachievable campaign promises.
Or raising taxes and spending more money.
Equalization Question
Vote yes.
This should be a no brainer for anybody who believes that Alberta has not received a fair shake in Confederation due to the way the country is structured constitutionally and politically.
Example? Nova Scotia, PEI and New Brunswick with a combined population of 1.9 million have 24 senators. Alberta, with 4.4 million people, has six.
So when issues like Bills C-48 and C-69 – targeted at oil development and export pipelines – were opposed in the Senate by Alberta and Saskatchewan, they were passed into law anyway with only minor amendments. The northern BC oil tanker ban through Bill C-48 while tankers bring foreign oil down the St. Lawrence is so shamelessly political and regionally discriminatory it defies belief. No resource producing country in the world has ever denied its own landlocked resources tidewater access in this manner.
And amending the Constitution without the consent of Ontario and Quebec is impossible.
An appeal to review the equalization formula is one of the few tools available to a smaller province like Alberta to express its displeasure with the way Canada is structured and managed to the political advantage of the densely populated center. Canada was built so that Quebec and Ontario would always be in control and stay that way. At that time what is now Alberta was a colony. The process is rigged so that doesn't change either.
Vote yes for this question. When it passes, the entire country will pay attention.
Permanent Daylight Savings
Vote no.
Having Alberta operate on daylight savings time 365 days a year is such a dumb idea one has to wonder where it came from.
Think of all the outdoor activity – personal and industrial – that takes place during the winter in Alberta. Including the winter drilling season. Right now under Standard Time the sun doesn't rise in Grande Prairie before 9 AM from December 3 to January 24. Does making this 10 AM instead make any sense?
For ski resorts like Banff, the sun quits rising before 8 AM on November 16 and doesn't return until February 12. Set that back an hour and see how popular that is with outdoor enthusiasts. Ski hills that now open at 9 will have to wait until 10. Bonkers.
While there are numerous countries in the Northern Hemisphere that practice twice-annual time change to make summer days longer, nobody that I can find has introduced this on a year-round basis. While several US states have indicated they would like to do this, DC has yet to permit it.
If changing the clocks is too upsetting for by biorhythms of some, then join much of the world and move to Standard Time year-round.
Senate Nominee
Do your homework.
Alberta is trying once again to democratize the Senate by having Albertans elect preferred nominees. This has worked in the past. But the Trudeau administration recently ignored Alberta's attempts to have a say on who represents Alberta in the upper chamber by appointing the Mayor of Banff in July. It was known to the Prime Minister that this would be on the ballot October 18.
There are thirteen names on the ballot, some with party affiliations. Be careful. Duncan Kinney, for example. He fronts for the NDP through Progress Alberta and, by his own admission, is doing this to embarrass Premier Jason Kenney. He told one news outlet, "If you vote for me it will surely piss Kenney off."
Don't forget to vote!
David Yager is an oil service executive, energy policy analyst, oil writer and author of From Miracle to Menace – Alberta, A Carbon Story. More at www.miracletomenace.ca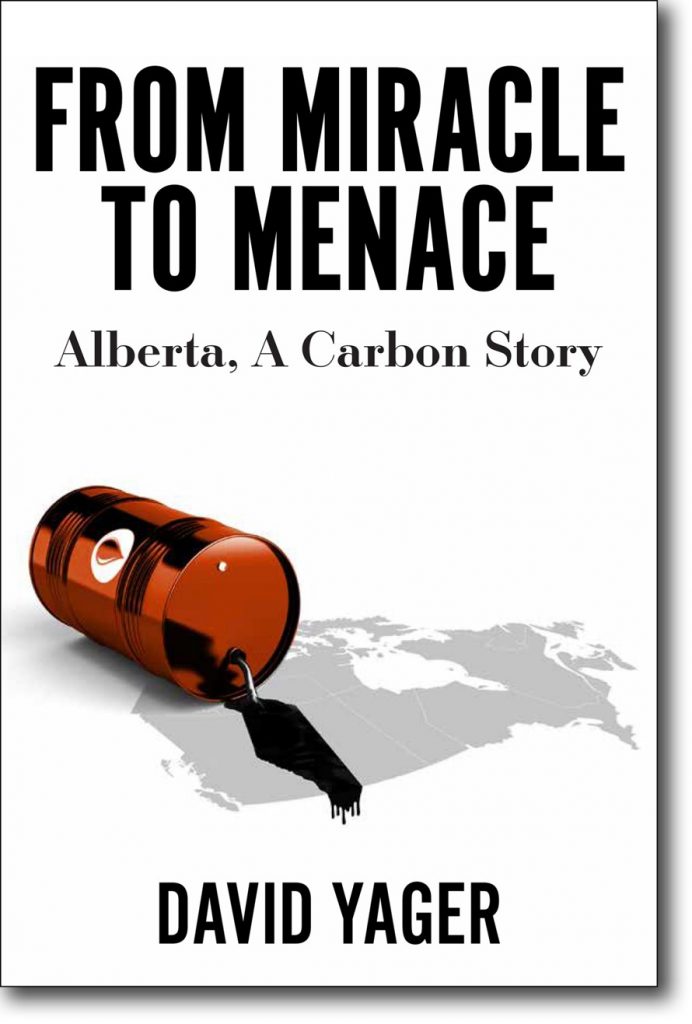 Share This:
---
More News Articles