April 26, 2021
The week of April 19 contained nuggets of really good news that were completely overwhelmed by external events.
Tuesday, April 20 was the first anniversary of the day WTI closed at -US$37 a barrel. Oil was up US$100 year over year, but few noticed. Demand is rising, inventories continue to decline and forecasts for the rest of the year include higher prices.
That same day ARC Energy Institute released its weekly macro-economic oil and gas forecast for 2021. ARC estimated after-tax cash flow from production of over 8 million boe/day will exceed $70 billion if current conditions remain. This is the highest annual production cash flow in history.
You'd think the oilpatch would be relieved and relaxed and ready to get on the with the business of investing, hiring, paying taxes and creating wealth.
Instead, the North American economy and the world's largest oil and gas producing region was politically carpet-bombed by governments determined to retool modern society and its energy complex using borrowed money and unattainable emission pledges.
Last week's pronouncements will set back the industry's recovering confidence. Because the one thing certain about business is it despises uncertainty.
Nobody with a fundamental understanding of how the economy functions comprehends how this will succeed.
The (pick one or more) Build Back Better/Great Reset/Resilient Recovery concept involves unprecedented levels of debt and spending and a commitment to reduce emissions in a time frame that is impossible without massive economic disruption.
Whatever the outcome, be assured the future won't unfold as advertised.
**********
The week of April 19 began with the biggest federal deficit, borrowing and spending in Canadian history. Of Canada's estimated $1.4 trillion in public debt in five years, nearly one-third – $480 billion – will be added in the two years from April 1, 2020 to March 31, 2022.
Reported federal spending of $363 billion in the 2019/2020 fiscal year will never again be under $429 billion. By 2025/26 it will $466 billion.
But Canada is just trying to keep up with the US. As promised during the last election campaign, the Joe Biden Democrats already announced a US$1.9 trillion economic stimulus package, all borrowed of course. Another US$2 trillion in infrastructure spending has also been promised.
On Earth Day – April 22 – US President Joe Biden hosted a series of international conference calls during which many of the 37 participating countries pledged to decrease emissions by 2030 well below what they had committed to in Paris in 2015. Canada upped is commitment from 30% below 2005 levels to as much as 45%.
To understand the enormity of Canada's latest pledge, in the 14 years from 2005 to 2019 Canadian emissions were only down 1%. So in the next nine years emissions will have to decline by 44% from 2019 levels. That's 4.9% a year, or almost five times what was done in the past 14 years. Every year.
Even more aggressive numbers came out of the US which claimed it would reduce emissions by 50 to 52% of 2005 levels by 2035. Energy economist and author Roger Pielke Jr. wrote, "In January 2021…there were 1,852 coal and natural gas power plants that generated electricity. There are 164 months until 2035. This means that more than 11 of the fossil fuel power plants…will need to close every month, on average, starting today until 2035."
Another analysis of replacing this much of America's current energy needs (including backup for renewables) in this time frame would require two new 2.25-gigawatt nuclear power plants every week for the next nine years. The current timeline for building and connecting just one is about ten years.
The commitment looks big because US emissions were already down 15% in the past 14 years thanks primarily to natural gas replacing coal for power generation. But hydraulic fracturing and natural gas are also on the hit list.
Germany pledged that by 2030 its emissions would be down 55% from 1990 levels. But as a heavy investor in renewables in recent years, by 2019 Germany had already achieved a 36% reduction. Only 19% to go.
The UK said its emissions in 2030 would be 78% below 1990 levels. This big number was intentionally made to appear more impressive by including 30 years of phasing out coal for electricity generation that has already occurred.
Russia participated but restricted its contribution to chastising the US for emitting so much for so long. China will cut nothing in the short term, only promising that its emissions would peak by 2030. It would take another 30 years to 2060 for China to meet its net zero pledge.
India has been publicly advising the west that it has no intention of cutting emissions and would instead be adding significant coal-fired generating capacity. In India's view, if the OECD countries really want to meet their 2015 Paris commitments, then please follow through with the promised US$100 billion in energy diversification support to developing countries.
Canada has doesn't have much coal-fired power generation left to cut. This has been the biggest contributor in most of the countries that accuse Canada of falling behind. Eighty-per cent of Canada's electricity is already generated emissions-free from nuclear and hydro.
Regardless, Trudeau promised all Canadian electricity would be emissions-free as soon as possible. Goodbye natural gas, hello blackouts or non-existent renewable electricity storage.
On April 20, the International Energy Agency released its 2021 emissions forecast under the headline, "Global carbon dioxide emissions are set for their second-biggest increase in history." The IEA continued, "…emissions will increase by almost 5% this year to 33 billion tonnes…The key driver is coal demand, which is set to grow by 4.5%, surpassing its 2019 level and approaching its all-time peak from 2014, with the electricity sector accounting for three-quarters of this increase."
That's because pledging to reduce emissions is so much easier than actually doing it. Here's what the world has done in the past 270 years.
As this chart illustrates, recent increased emission reduction pledges by Europe and North America will not materially change the chemical content of the global atmosphere unless the rest of the world participates. Western countries have been controlling or reducing emissions for 30 years. But this has been overwhelmed by the rest of the world.
Today 6.5 billion of the world's 7.8 billion don't live in the bottom four data blocks of this chart (from the bottom orange, yellow, turquoise, green), the so-called "developed world". Billions of people are far more concerned with tomorrow than next week, next month, next year or 2030.
The reaction from industry, commentators and business press on Canada's budget and more aggressive emissions reductions range from strategically reserved to incredulity and despair.
The larger E&P and OFS operators and their trade associations always choose their words carefully. They've learned that they can't win a public relations battle with governments. While they all noted that economic stimulus to recover from the pandemic and reducing emissions to mitigate climate change are important, so is staying in business.
Precision Drilling CEO Kevin Nuveu said North American GHG reduction targets were "extremely aggressive". CAPP, representing most of the big producers, had a number of issues with the budget and the GHG cuts. While Alberta had asked for up to $30 billion in federal support for carbon capture and storage, only a fraction of that amount was offered. Using CO2 for enhanced oil recovery was overlooked entirely. This was purely political because storing carbon while producing more oil was not the intended objective.
CAPP also noted that the continuous and planned further reductions in per barrel emissions by oil sands producers still don't get the recognition it deserves.
Significantly less reserved was former Liberal MP and gasoline price advocate Dan McTeague. In his personal blog Canadian For Affordable Energy McTeague called the new emission targets "The Trudeau climate train wreck that needs to be stopped."
Reviewing the economic disaster that the world endured to achieve a 7% reduction in emissions in 2020 (caused by the global pandemic and subsequent lockdown), McTeague wrote, "Complete economic discord, massive social dislocation, and more – and only 7% in emission reductions. Folks, this ain't going to happen, and trying to make it happen is going to destroy our economy."
As for Canada's deficit and debt, here's the recent borrowing by four countries that have made big commitments to ramp up emission reductions by 2030.
Huge numbers. While the US led the way in terms of total dollars and deficit spending per capita, Canada was close behind. On a year-over-year basis Canada's deficit increased over tenfold while its spending per person rivalled that of the US.
David Rosenberg, a respected economist, commented in The Globe and Mail on April 22 under the headline, "Budget 2020 is a vote-buying multiyear massive spending binge that Canada is unlikely to afford." He wrote, "There was a time in this fair land when a federal budget was an economic document. These days, it is a social policy document aimed to buy votes. It's actually quite sad. Let's call the Canadian federal budget what it is: a pre-election slate of goodies aimed at regaining the Liberal majority."
Joe Oliver wrote a commentary for the Financial Post the same day. Oliver's by-line is "…the last federal minister of finance to deliver a balanced budget, which he did on April 21, 2015." Oliver served under former Prime Minister Stephen Harper who lost the 2015 election after being branded as an obstacle to what leftists now call "civil society".
Oliver opened, "Sadly, it was predictable. Minister of Finance Chrystia Freeland tabled a profligate, something-for-everyone budget, with scant attention to affordability, economic growth or intergenerational fairness." Quoting an earlier prediction Oliver said it would contain, "extravagant spending in the guise of investment, undeserved self-congratulation, wokeness on steroids, empty promises of fiscal rectitude and soak-the-rich cash grabs."
Tax increases are not only inevitable but assured. The Liberals will be increasing the carbon tax every year for the next nine from $40 per tonne to $170. They are proud of this "bold" initiative. The American Petroleum Institute commented that the Biden emission reduction pledge seemed impossible without a carbon tax. This will be much harder to introduce in the US because of the checks and balances of their senate.
Ways in which Ottawa can get more money are floated regularly. Capital gains taxes on primary residence sales. Wealth taxes on those the central planners classify as excessively prosperous. Increased capital gains taxes.
Because Biden is early in his four-year mandate, he dropped the other shoe on April 22 by announcing a plan to sharply increase capital gains taxes. This is not surprising.
With a federal election looming in Canada, Justin Trudeau's Liberal government saw no need to mention major tax increases in its recent budget.
At least not for now.
Meanwhile, because of supply chain disruptions caused by the pandemic response, the cost of everything is going up without factoring in the cost of last week's orgy of borrowing, spending and emission reduction pledges. It will be challenging for the vast majority of consumers to afford the new programs and commitments at the same time that prices are rising for essential goods and services.
Energy guru, author and IHS Markit Vice-Chairman Daniel Yergin published an article April 21 about the global supply chain disruption which has affected shipping, computer chips and plastics. He called the situation the worst in 20 years and will get worse as the economy recovers. The inevitable impact is rising costs, something that has already appeared for oil, food, wood, and other essential materials.
Statistic Canada's average Consumer Price Index (CPI) for all of 2020 only rose to 137.0 from 136.0 in 2019. But in the six months from October 2020 to March 2021 the monthly CPI rose from 137.5 to 139.6. Energy was a big driver factor, but so were food and shelter. Life in Canada requires all three.
BNN Bloomberg reported April 22 that, "The Bank of Canada sent out a warning to investors this week that inflation still matters. In a surprise move, it accelerated the timetable for a possible interest-rate increase and began paring back its bond purchases on Wednesday. That made Canada the first major economy to signal its intent to reduce emergency levels of monetary stimulus."
Earlier this year Canada's central bank had committed to purchasing $4 billion a week of federal debt to fund the deficit. But it continues to signal that this must end. Website mortgagesandbox.com publishes the average five-year mortgage rate projection from five major Canadian banks. The lowest rate in history of only 1.9% in Q4 2020 is expected to be 3.1% by Q1 2023. No wonder the housing market has been doing so well recently.
Since the pandemic began, North American and European governments have been pursuing quantitative easing on steroids. While international counterparts at the European Central Bank and US Federal Reserve have so far indicated they want to keep the debt-fueled recovery going, higher interest rates and taxes are coming. It is a matter of when, not if.
This is where it gets scary. The April 19 budget estimated "public debt charges" at $22.1 billion in the fiscal year ended March 31, 2022 rising to $39.3 billion in 2025/26. This assumes interest rates stay low. During last year's fiscal update Finance Minister Chrystia Freeland called massive deficits "affordable" because of record low interest rates.
But central banks historically have used interest rates as a tool to control inflation. Once Canada loads up with the projected $1.4 trillion in debt, every 1% increase in interest rates raises annual debt servicing charges by $14 billion. That's about the same as the annual budget of the province of Saskatchewan or Manitoba.
If interest rates returned to historical levels – say 7% – federal debt servicing costs would explode to nearly $100 billion a year. That's nearly one-quarter of estimated annual spending for the next five years.
Then there's provincial debt, municipal debt, corporate debt and personal debt. Rising interest rates and carbon taxes will result in higher costs for everything, thus reducing the affordability of the necessities of life. Promised federal government carbon tax rebates will not be enough to sustain current levels of after-tax income.
The only possible outcome is that we're all going to be poorer. For own good of course. Because the tall foreheads doing all the talking know better.
Under normal circumstances the vast financial improvement of Canada's oil and gas industry would have an immediate impact on investment, capital spending, employment and taxes. Just what you'd think governments would want to see and encourage.
While things are much better and will hopefully remain that way, caution will remain essential. The type of caution that was completely absent last week.
But based on history, the future won't unfold as advertised.
The world has been pledging to reduce emissions since the UN "Earth Summit" in Rio de Janeiro in 1992. See above chart. But when the concerns, conferences and commitments are done, forcing economic pain on voters has never been a long-term winner at the ballot box. The true cost of the proposed radical energy transition cannot be disguised by public debt forever.
In 2015 the Liberals promised to balance the budget by 2019. Instead they increased the nation's debt in their first three years in office by $55.7 billion. The next two years will be nine times that amount. Public confidence in western political institutions has been declining for decades. The pandemic response has exacerbated this long-term trend.
What will happen is more confusion, uncertainty and loss of investor confidence. This is a peculiar way to recover from the COVID-19 pandemic.
David Yager is an oil service executive, energy policy analyst, oil writer and author of From Miracle to Menace – Alberta, A Carbon Story. More at www.miracletomenace.ca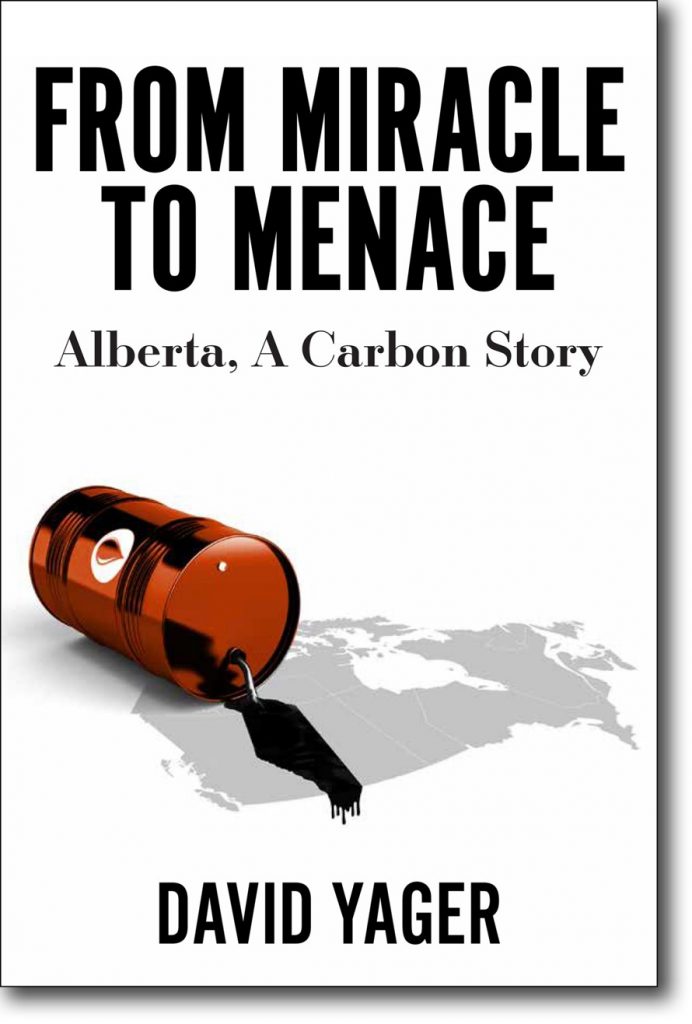 Share This:
---
More News Articles