By David Yager
January 27, 2021
It's been a long time coming but the official release date is only days away – January 31, 2021.
That's when a report from the high profile and controversial inquiry into foreign funding of efforts to stop the expansion of Alberta's oil sands and construction of oil export pipelines is scheduled for release.
Titled "Public Inquiry – Anti-Energy Campaigns" ("the Inquiry"), it was a campaign promise by Premier Jason Kenney during the 2019 election.
When announced July 5, 2019, CBC News reported, "Alberta Premier Jason Kenney says his government will spend $2.5 million on a provincial inquiry into 'foreign-funded special interests' and their campaigns to stop development in the oilsands. The inquiry, which will be headed by accountant Steve Allan, will have no legal authority beyond the province…"
Kenney said, "There's never been a formal investigation into all aspects of the anti-Alberta campaign. The mandate for commissioner Allen will be to bring together all of the available information."
The mandate reads:
The commissioner shall inquire into the role of foreign funding, if any, in anti-Alberta energy campaigns, and in doing so shall inquire into matters including, but not limited to, the following:

(a) whether any foreign organization that has evinced an intent harmful or injurious to the Alberta oil and gas industry has provided financial assistance to a Canadian organization, which may include any Canadian organization that has disseminated misleading or false information about the Alberta oil and gas industry;
(b) whether any Canadian organization referred to in clause (a) has also received grants or other discretionary funding from the government of Alberta, from municipal, provincial or territorial governments in Canada or from the Government of Canada;
(c) whether any Canadian organization referred to in clause (a) has charitable status in Canada.
The purpose is researching and reporting if the above activity occurred, not pass judgement on whether or not is should have taken place. The latter is political which is why an accountant was put in charge.
The underlying premise is that foreign actors should not interfere in the economic or political affairs of jurisdictions in which they don't live. We're told repeatedly that you're not supposed to do that. By 2019 foreign political interference had become a huge issue in the US following the accusations of Russian influence in Donald Trump's 2016 election. Support for such inquiries usually depends on whether your side is winning or losing.
The big questions are what will the report say, and does this Inquiry still matter in a province and economy ravaged by the pandemic, Kenney's diminished popularity, and a growing decarbonization movement.
It certainly mattered in 2019. By the time Kenney made attacks on the "tar sands" a political issue, Albertans and the companies which develop the oil sands had been inundated for years with the message that the world's third largest deposit of oil must remain in the ground to save mankind from climate disaster.
Losing your job was a small price to pay. No other petroleum deposit on the planet had ever been subjected to such an extended, targeted and negative publicity campaign.
Because bitumen wasn't just oil. It was the world's worst oil. The sand from which it was extracted wore holes in pipelines. It wouldn't float making spills on water impossible to clean up. It was so awful it made the other 83 million barrels (2008) produced and consumed every day environmentally benign by comparison.
Starting in 2008, media outlets were inundated with stories, reports and narratives about how terrible the oil sands were, and how they must be stopped.
An American outfit called CorpEthics launched The Tar Sands Campaign in 2008 which still brags today about its success in persuading President Obama to kill the Keystone XL pipeline in 2015. In 2018 US activist Bill McKibben of 350.org wrote on his website how his supporters had helped convince TC Energy to abandon the Energy East pipeline in 2017. Energy East had nothing to do with oil coming to the US, but it would still carry bitumen.
In 2011, US climate crusader and NASA scientist James Hansen called the Keystone XL pipeline a "fifteen-hundred-mile fuse to the biggest carbon bomb on the continent…" A New York Times article by Hansen about the oil sands and KXL was titled, "Game Over For The Climate."
During the Northern Gateway pipeline hearings in 2012 – another bitumen export conduit – a single environmental organization used a form letter to persuade 4,000 people to request involvement in the NEB review process. Many were from outside Canada. A year later the process was so chaotic Stephen Harper's government amended the NEB's legislation to restrict who could appear at regulatory hearings in an attempt to confine it to those actually affected by the project.
Joe Oliver, Minister of Natural Resources at the time, said the interference was the work of "foreign funded radicals." Ottawa's move was immediately attacked as an assault on free speech. This would become a familiar refrain.
Environmental organizations invented the Great Bear Rainforest, a massive and pristine area on the BC coast that had to be protected. This contributed to support for Bill C48, the northern BC oil tanker ban. Celebrities chartered private jets to fly to Fort McMurray. They only stayed long enough to pose for photos and heap scorn on Alberta's most important economic engine at that time.
The "tar sands campaign" was and remains relentless. Judging by the flight of capital, blocked pipelines and the decision of President Biden to cancel Keystone XL on the day of his inauguration, it was also very effective.
Kenney declared that enough was enough. If elected, his government would get to the bottom of why and how so many from so far away were having a field day trashing Alberta's huge and vital oil sands industry. The pledge was popular and helped the UCP's strong showing at the polls.
But the 2019 campaign was the last time the Inquiry got any positive publicity. Since then, the main message to the public is that the undertaking is flawed, and Kenney is misguided for committing to do it. The Inquiry and government have remained quiet pending release of the findings.
Some of the UCP's challenges are of their own making. The Inquiry needed more money. An additional $1 million was added bringing the total to $3.5 million. This was a lot of cash in the middle of the pandemic and lockdown. Critics proposed many more useful expenditures. A large sole source contract was issued to a party not considered be arms-length from the Inquiry's chair because his son worked there.
Most of the criticism has been about the process and the existence of the Inquiry, not the activities under review. Which are on the public record. Citing free speech, critics claim the government should not even be asking the question. Climate change is real. The oil sands are bad. Wind and solar are good. An energy transition is underway. Why would Alberta and its political leadership throw good money after bad and cling to a "dirty oil" past that the rest of the world is reportedly moving beyond?
The first major news event was a lawsuit filed in November of 2019 by Ecojustice alleging the inquiry has no legal foundation. Its website reads, "The organization says the government brought the inquiry for improper political purposes, that the proceedings give the perception of bias and unfairness, and that the inquiry sets out to deal with issues that don't actually fall under provincial jurisdiction."
This was followed in July of 2020 with Ecojustice seeking an injunction on the inquiry's activities until the courts had ruled the earlier statement of claim. This was quashed by courts in November. Ecojustice says this issue will be back in court in February.
On January 13, the Inquiry posted a number of sanctioned third-party reports on its website and advised the media of their existence. The reaction was swift and universally negative.
The following day the Inquiry website reminded viewers that its purpose was to obtain a broad range of perspectives on foreign funding of opposition to Alberta oil and gas development, not to revisit or question climate science. The Inquiry also stated that the views expressed in the reports did not represent the findings or positions of the Inquiry, which have yet to be released.
On January 16 Postmedia published an article titled, "Alberta inquiry responds to criticism it commissioned reports based on junk science." It quoted University of Calgary law professor Martin Olszynski who said they were, "textbook examples of climate change denialism…replete with generalizations, speculation, conjecture and even conspiracy."
On Twitter Olszynski added, "We have all recently witnessed the toxic effects of conspiracy & alternative realities. They have no place in our democratic discourse – and even less place in a public inquiry bound by the rules of administrative law."
This writer assumes Olszynski's words "We have recently witnessed…" refers to the dramatic events in Washington DC on January 6. When you don't like a conservative in Canadian politics, a common response is a comparison to Donald Trump.
After reviewing the new information on the website, Greenpeace threatened legal action. A CBC News story January 20 wrote, "Greenpeace Canada has warned Alberta's inquiry into alleged foreign-funded anti-energy campaigns that it will consider legal action if the inquiry's final report contains any reference to the environmental non-profit. Greenpeace is vexed because inquiry commissioner Steve Allan commissioned and publicly posted three reports in which the group is mentioned 87 times. Independent experts have excoriated the reports for being based on junk climate-denial science, bizarre conspiracy theories and oil-industry propaganda."
Greenpeace is hardly objective regarding oil or pipelines. On January 26, Greenpeace urged Ottawa to kill TMX. The headline read, "Follow Biden's Lead and Cancel TMX Say Large Collection of Groups Representing More Than 3.5 Million Canadians."
The day after Biden cancelled Keystone XL yet again, journalist and opinion commentator Jen Gerson wrote a piece for CBC titled, "Hey Alberta, how is it going so far?". After describing Kenney's "war room" (the Canadian Energy Centre) as "an international joke", Gerson called the inquiry a "clown show" after spending $100,000 to commission several independent studies, the ones that angered Greenpeace and others.
There are indeed several sanctioned third-party documents on the website about the background and history of anti-oil campaigns. They are from an historian, a political science professor, an advocacy group and US industry trade association Energy In Depth (EID). EID tracks significant funding from US organizations to Canadian oil and pipeline opponents. None can be considered sympathetic to the climate change movement, but then what do you expect from an Inquiry with "Anti-Energy" in its title?
The most provocative are essays by Dr. T.L. Nemeth, a Canadian living in the UK with a PhD in history from the University of British Columbia. Nemeth authored two pieces titled "A New Global Paradigm: Understanding the Transnational Progressive Movement, the Energy Transition and the Great Transformation Strangling Alberta's Petroleum Industry." The first was dated April 2020 with a follow up from October that included the impact of pandemic.
It is clear why Inquiry critics are agitated.
Historian Nemeth makes the case that the attack on the oil sands and pipelines was only one part of a much broader and organized attempt to reshape society and the economy.
Nemeth's description of the "Transnational Progressive Movement" links together the United Nations, IPCC, World Economic Forum, climate change activists, progressive politics and the corporate interests.
You don't read stuff like this every day.
A common description by critics is that these are conspiracy theories. But by definition, conspiracies are secretive. Nemeth's point is that this was a coordinated and cooperative initiative that occurred in plain sight using the internet and the media. One that has been evolving and growing for years.
The "Great Reset", "Green New Deal", "Build Back Better" and "Resilient Recovery", all referenced by Nemeth, are today common and in the public domain. Each calls for immediate climate action and the replacement of fossil fuels. These are not conspiracies. They are in the daily news. Build Back Better was Joe Biden's campaign platform and the slogan used by the Trudeau Liberal's in the most recent COVID recovery strategy.
Overlooked is the reality that one region of Canada, one group of Canadians and one single hydrocarbon resource of global significance was subjected to a multi-year smear campaign and coordinated attacks from domestic and international sources. This is an historical fact, not conjecture.
Is it completely out of line for an Inquiry with the sole purpose of figuring out how and why it happened to seek input?
Yes. The Globe and Mail editorial board – rarely considered a source of wisdom by unemployed oil workers and oilpatch companies facing insolvency – declared on January 26 that, "Jason Kenney's war of words verges on farce." Citing phrases from the Nemeth reports the editorial wrote, "This imaginative take may sound as it was scraped from one of umpteen conspiracy websites…to see an official government inquiry even glance at, never mind seem to embrace, such junk research is disturbing."
But the fundamental question and the purpose of the Inquiry remains unanswered and will remain unanswered until the full report is released. Did foreign money find its way to Canada to interfere in our economy and politics?
The Globe's parting advice reads, "Giving credence to baseless conspiracies will not help Canada's oil industry – it will hurt it. It is time to recalibrate. A new strategy, one rooted in reality, is overdue."
Get over it. Move on. Don't even ask. The climate ship has sailed. Whatever damage has been done to Alberta, its economy and its citizens by this, coordinated, extraordinary and unprecedented attack on a single hydrocarbon deposit in a remote part of western Canada no longer matters.
That many Albertans believe they have been vilified, hurt, insulted and persecuted is irrelevant. As is the fact that the "tar sands campaign" pitted Canadians against each other and continues to do so today.
With the release of the inquiry's research and report pending, Kenney's campaign commitment to peel back the onion and investigate who and what was or was behind all the vitriol the world has heaped on the oil sands in the past 12 years should be, at minimum, very interesting. Biden's KXL cancellation proves it continues today.
Whether it is too little too late or will actually change the channel remains unknown. We'll have to read it first.
The Inquiry has been controversial since inception. The release of the final report will surely make it more so. Check for yourself. Links to the various reports are listed can be found at https://albertainquiry.ca/engagement-process.
David Yager is an oil service executive, energy policy analyst, oil writer and author of From Miracle to Menace – Alberta, A Carbon Story. More at www.miracletomenace.ca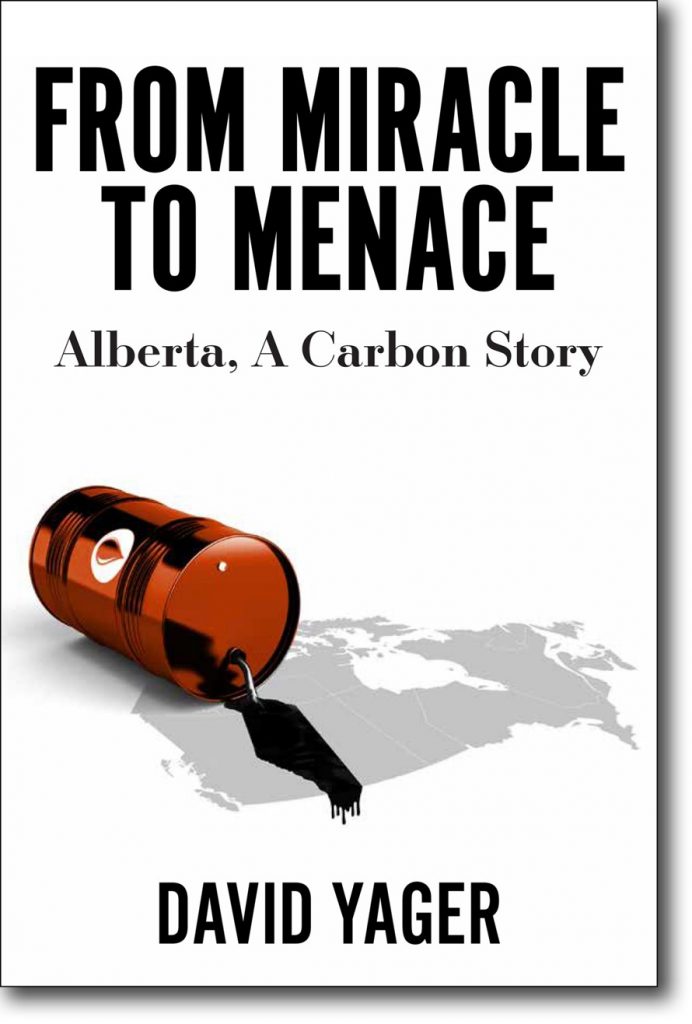 Share This:
---
More News Articles