By Michael Bellusci
(Bloomberg) 

Eight months after it hit bottom in the Covid-19 crash, Canada's stock index is finally back in the green for 2020.The S&P/TSX Composite Index climbed 0.4% on Monday to wipe out the year's losses. The Canadian benchmark closed at 17,094.53, the highest since Feb. 25, as vaccine progress buoyed investor sentiment.

This has been a year for the history books. The market plunged into bear market territory in March, then surged rapidly into a bull zone as governments and central banks reacted to the spreading pandemic with stimulus programs.

Since its March 23 bottom, the S&P/TSX Composite Index has recouped about $700 billion in market value — with plenty of bumps along the way.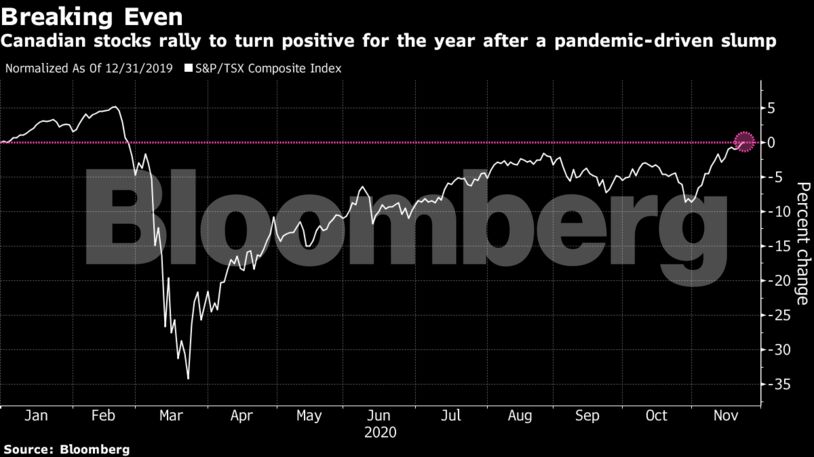 Stock bulls have a lot to point to: promising vaccine results, the end of U.S. elections, ultra-low interest rates, signs of an economic recovery and general corporate optimism that the worst of the crisis is over.
For the naysayers, a fresh wave of virus cases around the world, including partial lockdowns in some major cities including Toronto, has the potential to slow global growth. Meanwhile, U.S. fiscal stimulus talks have stalled and getting a vaccine approved and delivered to most Americans could take until spring or summer of next year.
Canada's stock market, laden with value plays, stands to gain from an effective vaccine delivered next year. But it could still be volatile with the potential for a split House and Senate and no U.S. fiscal package in sight.
Here's a look at what propped up Canada's stock market and what held it back:
Technology
Despite a small weighting on the S&P/TSX Composite, tech stocks have been the best performers this year as investors sought companies that would do better in a scarred global economy where more people work and shop from home.
Shopify Inc. has had a blistering run, with its shares rising 148% as a flood of merchants focused on e-commerce during the coronavirus pandemic. That has made it the most valuable firm on the Toronto benchmark, surpassing Royal Bank of Canada. Supply chain software provider Kinaxis Inc. and network provider for the real estate industry Real Matters Inc. have also surged 79% and 66% respectively.
Read more: Meet the Other Tech Companies Propping Up Canada's Stock Market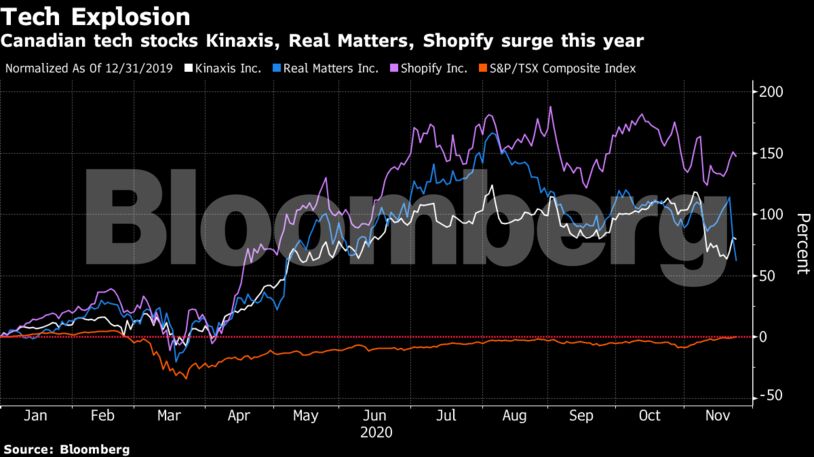 At almost 10% of the Canadian benchmark, the tech sector's impact is still small compared to the nation's banks and miners. So while the sector has surged this year, its rally hasn't helped the TSX in the same manner that FAANG stocks have for the S&P 500, now up 11% so far this year.
Gold
Worsening virus projections and the economic slowdown propelled the price of precious metals to record highs this year. In a world awash in stimulus from central banks and governments, the attraction of a hard asset that carries no counterparty risk proved difficult to ignore.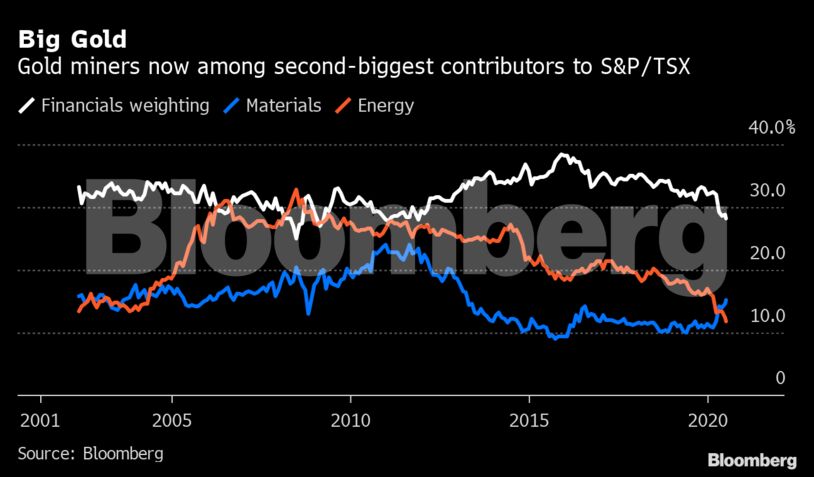 That helped the S&P/TSX Materials Index, home to more than 30 Canada-based precious metals miners, surge 14% this year, making it the second-best performing group after tech. Materials stocks now have the second-biggest weighting in the benchmark — a first since 2004, according to data compiled by Bloomberg.
Read more: An Old Idea Sparkles in Canada's Stock Market on New Virus Woes
Financials
Financial stocks, which include banks, insurers and asset managers, make up more than 30% of the S&P/TSX Composite Index and have lagged the record-breaking comeback on the benchmark since late March. While the sector has reversed some of its losses amid optimism on vaccine progress, it's still in the red this year.
The Big Six banks are slated to report year-end earnings in a couple of weeks and strong profit growth or an improving outlook for loan losses, which would suggest a solid economic recovery, could give the equity market another lift.
Share This:
---
More News Articles