What is Lead Generation?
Lead generation describes the marketing process of stimulating and capturing interest in a product or service for the purpose of developing sales pipeline.
Lead generation often uses digital channels, and has been undergoing substantial changes in recent years from the rise of new online and social techniques. In particular, the abundance of information readily available online has led to the rise of the "self-directed buyer" and the emergence of new techniques to develop and qualify potential leads before passing them to sales.
Why is Lead Generation Important?
The buying process has changed, and marketers need to find new ways to reach buyers and get heard through the noise. Instead of finding customers with mass advertising and trade shows, marketers must now focus on being found and learn to build continuous relationships with buyers.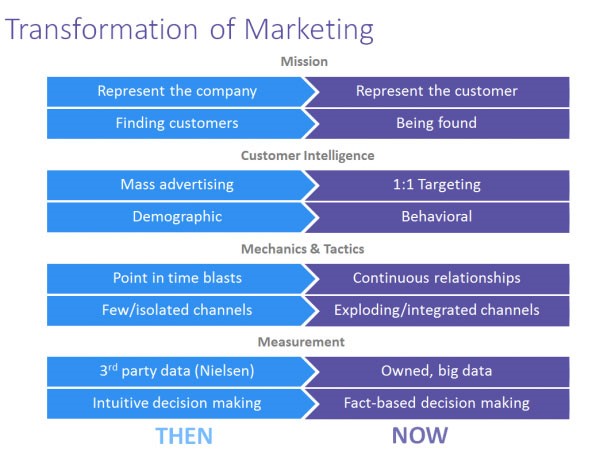 The New Buying Process
In the old world of information scarcity, the concept of "lead generation" meant marketing found the names of potential buyers and passed them to sales. Buyers expected that they would have to talk to sales and sales expected to speak to uneducated early stage buyers that may not yet be qualified. This has all changed. Today, buyers can do their own research online and can find a variety of educational resources through search engines, social media, and other online channels. Through content resources, today's buyer can learn a great deal about a product or service before ever having to even speak to a sales person.  So businesses must make sure that they build their digital presence.
Clearly, there has been a huge change in the traditional buying process.  In fact, according to Forrester, buyers might be anywhere from two-thirds to 90% of the way through their buying journey before they even reach the vendor. The reason this is happening more and more is because buyers have so much access to information that they can delay talking to sales until they are experts themselves.
Creating a solid lead generation strategy will help you build trust and capture the interest of your buyer before they are even ready to contact sales.
Additionally, you don't want your sales teams spending time going down a list and cold calling. If you can generate leads for sales, the process is easier and you will see more of your leads being turned into revenue faster.
Leading Down The Funnel
With the new buyer it is important to note that your marketing efforts don't end once a new lead comes into your system – what we call Top of the Funnel (TOFU) marketing.  Many companies do a good job at generating leads, but the problem is that most new leads are not ready to buy yet.  And if a sales rep does engage and the lead isn't ready to talk with them, it reinforces the notion that marketing sourced leads are not great. As a result leads get lost, ignored, or snatched up by your competitors.
To prevent this from happening, good lead generation marketers will invest in lead nurturing and other Middle of the Funnel (MOFU) techniques to build relationships and trust—earning the lead's business once he or she is finally ready to buy. Engage these leads through relevant content and make sure that you get your timing right.
Lead generation has moved beyond simply discussing TOFU. In order to have a holistic strategy, MOFU marketing must be included in all your strategic discussions to make sure that you have a good process for turning leads into sales.
Most Effective Lead Generation Tactics
IDG reports in its B2B Lead Generation Marketing Trends survey, that the company website, conferences and tradeshows, and email marketing are the most effective lead generation tactics being used today. The least effective are reported to be direct mail and print advertising.
To learn more about lead generation & lead nurturing for your energy service company,
Download our 10 best lead generation tools, tips & ideas in an electronic PDF.
[contact-form-7 404 "Not Found"]
Thank you for your interest.
www.biginteractive.ca
Share This:
---
More News Articles