This week, N2X Process Solutions Inc. brings you the other product groups under Flowserve Corporation – Argus,  Valbart and NAF.
---
Flowserve Argus
Featured product – FK76M Trunnion Mounted Ball Valves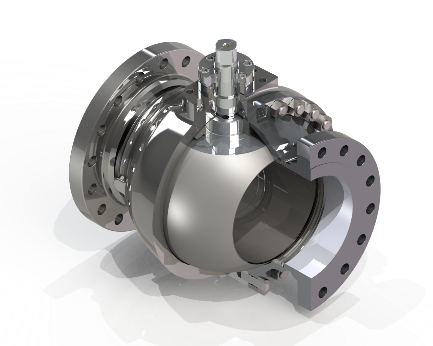 Argus FK76M Trunnion Mounted Ball Valves are engineered to deliver long-lasting, tight shut-off performance in oil and gas, petrochemical and chemical industry applications. It features a modular design that allows simplified adaptation to diverse safety, emissions and performance requirements. The FK76M ball valve is available in standard and severe service designs and offers metal-seated and soft-seated configurations for reliable sealing performance. Special and customized designs are also available for ultimate high cycle, high temperature and similar challenging applications. These valves are designed to meet API 6D and ASME B16.34 requirements (API 608 on request). Fugitive emission to ISO 15848 (API 641 on request). Fire-safe to API 607 or ISO 10497.
Flowserve Valbart
Featured product – Rising Stem Ball Valve (RSBV)
The Valbart Rising Stem Ball Valve (RSBV) is the oil and gas industry's choice for applications requiring a mechanically energized metal seat or soft-seat to safeguard against losses from process contamination or leakage of material.
The RSBV uses a unique helix system that opens and closes the valve without rotation. The linear only operation of the stem makes it an excellent choice for frequent cycling. Each linear operation, from opening to closing and back again, is a friction-free movement between seat and ball that significantly reduces valve wear and keeps routine maintenance to a bare minimum. The outside yoke and screw, with stuffing box-type gland packing, including gland and gland flange, eliminates the need for special tools when adjusting or repacking the stem seal. Top entry convenience allows visual inspection inside the valve without removing the valve from the pipeline. A special lapping technique applied to the Stellite6® ball and seat sealing areas allows for zero seat leakage. Heavy wall thickness provides extra corrosion allowance to reduce wear and extend the valve lifetime. Whether your needs call for molecular sieve switching, isomerization, thermal oil, high/low temperatures or critical services, the RSBV provides an unmatched level of robustness, reliability, and convenience.
Flowserve NAF
Featured product – Setball Segmented Ball Valves
Setball Segmented Ball Valves are cost-competitive general service valves that offer excellent rangeability and high-flow capacity. NAF Setball can be used in a wide variety of applications and meets the highest demands for control accuracy provided by the equal percentage characteristic and the splined connection between shaft and sector.
Click Here to find out more and Contact Us for further inquiries.
Share This:
---
More News Articles