Calgary Mayor Candidates Weigh In About Energy Issues That Affect Calgary
Since the energy industry is so important to many Calgarians (and Albertans), EnergyNow put together a series of energy related questions and presented them to leading contenders in the City of Calgary's 2021 Mayoral race.  All candidates were asked the same questions.
EnergyNow will be publishing the answers from the candidates that participated to let readers know where candidates stand on key energy issues that affect Calgary and in many ways, Alberta and the rest of Canada.  For information purposes, only one candidate asked declined the invitation to participate.
The following candidates for the Mayor of Calgary were asked to participate (in no particular order)
EnergyNow is Pleased to Present City of Calgary Mayor Candidate
EnergyNow (EN): Do you believe fossil fuels are a sunset industry and that Alberta's massive reserves of coal, oil and natural gas will become one giant stranded asset because of the "energy transition"?
Brad Field (BF): Alberta's abundant supply of natural resources will be in demand for decades.
I have always been a supporter of Alberta's energy industry and its innovative companies. There's no doubt that the energy sector is transforming, but rather than look at it as defeat for the oil and gas sector, Calgary needs to view it as an opportunity. Our Calgary-headquartered energy companies can – and already are – leading the way in clean energy technology.
EN: It is well known that Houston is the epicenter of the oil and gas industry in the United States. Houston makes no apologies for this distinction. The same can be said for Calgary.  It is the energy capital of Canada.  Given Calgary's current status as an energy hub, how important do you feel is the energy sector to Calgary on a go forward basis?
BF: The energy sector, including the bedrock oil and gas sector, is very important to Calgary, Alberta, and Canada. My plan includes supporting current industries and encouraging our energy sector that is diversifying and meeting the demands of a carbon-constrained world.
Support begins with creating a business-friendly culture at City Hall, so that City Council doesn't try to artificially engineer a business climate to their liking, rather than allowing the market to decide by creating a predictable regulatory environment.
A key pillar of my plan includes implementing Priority-Based Budgeting, which has proven effective in some 200 North American municipalities in setting priorities and expectations for funding. PBB gives citizens, businesses and the City more predictable and stable tax revenue and expenses, and more citizen input on spending priorities. Reasonable and predictable taxation will benefit all businesses in Calgary.
EN: A significant portion of Calgary's downtown current empty office space was primarily occupied by the oil and gas industry. While the oil and gas industry may recover somewhat, technological changes like Artificial Intelligence (AI) have permanently reduced the head office administrative head count. What is your plan for these empty offices, and it's associated underutilized talent? Can a city be a driver of reversing this trend?
BF: The current downtown office vacancy rate of 29.2% is unprecedented across Canada and it's a shame that it's been allowed to get this bad before a plan was put in place by the City to address the issue.
While I am not a fan of costly long-term incentive programs that artificially support businesses, I think it's the City's role to create a business friendly-culture, and that goes beyond providing financial resources.  We need an attitude at City Hall that is nimble, creative, quick and responsive to business needs. This, in combination with other strategies that I outline in my Platform, form the foundation for attracting new, 21st century industries to Calgary. By the way, ample and inexpensive downtown office space is actually an asset in attracting these businesses. We have to also ensure the other required elements, such as ensuring a young, skilled knowledge workforce is located here. Other cities have done it. We can too.
City Council's current downtown plan also overlooks fundamental elements including downtown safety. People won't come downtown, especially after dark, if they don't feel safe walking around or taking public transit. Inexplicably, the current plan also doesn't mention parking, or making it more accessible for people to come downtown, especially after business hours. Downtown can't be just for the people who live there.
Now is the time to convert City Hall's culture of "no" to a culture of "yes".
My plan for downtown revitalization includes the following that will help with vacancy rates:
Creating economic zones that attract start-ups and support existing businesses with specific policy adjustments
Supporting the world-class facilities for conventions, tradeshows, concerts, sporting events, and tourism that are in Calgary's current infrastructure plan
Bringing back a renewed program to make downtown safer
Creating a co-op program that uses vacant office space to educate and train students to develop a home-grown talent pipeline for the work-force of the future
Relaxing noise bylaws to incentivize more arts and culture events and festivals
Formalizing a Brewery Row and Music Mile
Addressing the high cost of parking
Improving accessibility for the mobility challenged
Supporting the private sector initiative for a train from the airport to downtown (and on to the mountains) to more easily bring business and tourism downtown
EN: While Calgary itself does not have a lot of influence on energy policy at the federal level, the incoming Mayor can play a role promoting Calgary, both with other mayors within Canada and internationally at conferences and events. What stance will you take in promoting Calgary as an energy hub for Canada, including oil and gas?
BF: I want Calgary to be known as the hub for all things energy, from traditional oil and gas to new, emerging energy sources like hydrogen. First, we have to create the right business environment that will attract companies from around the world to come to Calgary. I have a plan for that. Please visit my website (www.VoteBradField.ca/issues) to see my detailed Platform.
Second, it is critical that Calgary be seen as a leader from a provincial, national and international perspective when it comes to innovative clean energy technologies. This will positively impact the city's reputation, and will help support the continued draw of talent and employers.
I believe the mayor, as the city's leader, plays a role in fostering this positive reputation. I commit to being an ambassador for the city, and that includes the energy sector. I will always speak positively and supportively about our city. We've lost our sense of pride in what a great place Calgary is to live, do business, and build community. I have a plan to change that.
EN: Canada is the fifth largest oil and gas producing country in the world behind only the U.S., Russia, Saudi Arabia and Iran. Within Canada, Calgary is internationally recognized as one of the major oil capitals of the world and will host the World Petroleum Congress in 2023. None of the major oil producing countries in the world are being as aggressive as Canada about getting out of the oil and business, an initiative by certain politicians at the federal level. As Mayor of Calgary, what message would you like to convey to those politicians?
BF: The hostility toward Calgary's foundational industry is often based on lack of knowledge. So many federal politicians from other parts of Canada are unaware of the huge strides the industry has taken in reducing emissions intensity, and investing in lower-emissions technology. Pipelines have become a symbol of climate change, despite the undisputed fact that they are the most environmentally friendly means to transport oil and gas. And Canada still imports human rights and environmentally irresponsible product from other countries because they'd rather do that than build a pipeline to move our higher quality product to eastern Canada. It defies logic, and one of the mayor's responsibilities has to be to provide factual information to those who just don't know.
Canada's oil and gas sector is a leader in advancing clean energy and alternative forms of energy. The entrepreneurial spirit of the industry means that it is embracing the energy transformation, and that's great because they need to be part of the future of energy. They have the expertise and resources required to meet the challenges of the future. It's time to put agendas aside and work together for the betterment of all Canadians. I see oil and gas as a big part of Calgary's future as the energy market evolves and we evolve with it.
EN: As Mayor, what message would you like to send anti-oil & gas activists? Especially those that do not live in Canada or groups that are foreign funded to interfere with oil and gas development in Canada, directly affecting Calgary?
BF: The challenges of the future require a collaborative effort to find solutions. Too often, the anti-oil and gas activists' understanding of energy systems is based on limited, misguided information that is not grounded in realism. I'd encourage them to learn more about energy sources and systems; they're complex and cannot be changed overnight.  But let's be realistic. Oil and gas, and the pipelines that move it, have become symbols of extreme climate activism. Too many minds are already closed. We have to talk to the reasonable people who are willing to listen, and not waste too much energy on those who are not interested in facts. Calgary can be a leader in addressing climate change while also being a leader in providing the world with energy, which is the foundation of prosperity everywhere.
EN: What do you think about the Federal government's recently announced plan for a "Just Transition" for Canada's oil and gas workers? A plan that could potentially further eliminate many Calgary jobs and displace Calgary taxpayers and their families to other cities or provinces.  A summary of the federal government's "Just Transition" plan is here: https://www.rncanengagenrcan.ca/en/collections/just-transition
BF: I have the same views towards this plan as I have towards the anti-oil and gas activists. It appears those who are implementing this policy are doing so based on limited, misguided information that is not grounded in realism. There are consequences to every policy decision that is made related to energy, so we have to be thoughtful about any approach we take.  I am supportive of an evolution of the energy industry that takes account of changing energy goals and needs. I am not supportive of an abrupt, unrealistic termination of the industry and the jobs and tax revenues that it generates.
EN: Have you ever been involved or associated with an anti-oil & gas campaign or group?
BF: No, I have not. I have always stood in support of the industry.
EN: How do you think Calgary should plug into the province's hydrogen strategy?
BF: I'm glad you asked! Alberta has all the elements that could make it a leader in the clean hydrogen economy. I will be rolling out my comprehensive hydrogen strategy soon, but here are the highlights:
Promote Calgary as a hydrogen leader. We have tremendous ingenuity and engineering expertise. We can channel this expertise to help develop a hydrogen economy, and learn from infrastructure being developed in the Edmonton region.
Promote the use of hydrogen to lower emissions. I will support a proposal for a clean hydrogen fueling hub to be built in Calgary, and the blending of hydrogen into existing natural gas pipelines, for use in homes and businesses. While it is not within the city's jurisdiction to build the hydrogen hub, I will be a vocal supporter of this idea with clear expectations on the rate of clean hydrogen adoption by an aggressive but achievable timeline to give the right industry players the needed certainty to move towards achieving this target and timeline. We need to show Calgary being a leader in this space to attract the much-needed innovation and investment in our city.
Assess the City's existing vehicle fleet. I will also direct City Administration to create a formal low-and zero-emissions vehicle policy for its own fleet, including Calgary Transit, and assess the feasibility of hydrogen or electric conversion.
As with our energy sector, there will be continued expectation that other key industries, such as distribution and logistics, will work to limit their footprint and by having close access to this clean fuel, it's an opportunity to attract future distribution and logistics networks to locate in NE Calgary.
It's great to have a goal but if we don't have the right leadership to provide a clear mandate to act on the steps needed to achieve this goal, then we will sadly fall very shy of achieving it. I am the leader required to ensure we achieve our goals.
EN: Finally, reducing energy use and emissions is not only a priority in today's changing world but it is also welcomed by many working in Canada's oil & gas sector. What key items do you support to help "green" Calgary's future? Is this something the city and its taxpayers should invest in for Calgary alone? Or should the city support the energy industry in the development of technologies that have global applications?
BF: I think having a sustainability, or "green", strategy, which includes clean energy, is a competitive advantage now, but it will become an expectation in the near future. That's why in my platform document, I have a section that includes actionable items that the City can implement to support sustainability, including:
The timely completion of the Green Line including the extension of the line to the far north and south stations.
Working with the private sector and other levels of government to complete a rail link from the airport to the mountains via downtown.
A climate change adaptation and mitigation strategy for the city. This is where I see the energy sector playing a large role.
I will advocate for investment in a large-scale multi-year retrofit program to assess the energy efficiency of City-owned buildings to achieve a 25% energy reduction by 2030.
A Circular Material Warehouse and Network initiative that keeps reusable building materials out of the landfill and puts them into the hands of those that can use them.
Creation of a South Calgary Wetlands initiative
Protection of parks and the city's tree canopy. We have to stop paving over them because they're an environmental and community asset.
EnergyNow would like to thank Brad Field for his participation.
For More Information on Brad Field please visit:  Vote Brad Field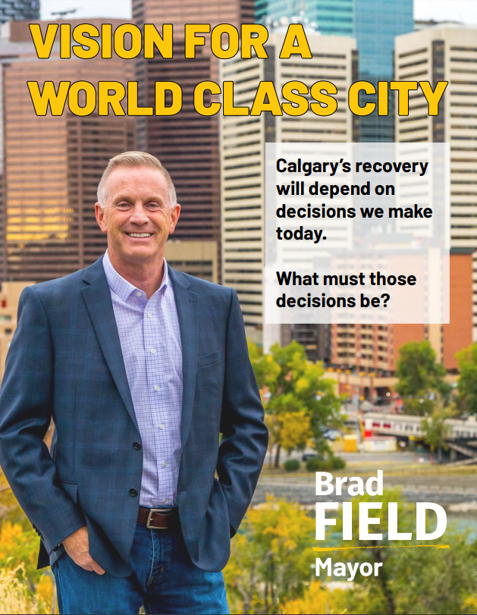 Share This:
---
More News Articles