By Michael Bellusci
(Bloomberg) 

In the oil sands, one billionaire is expanding his lead on another.Murray Edwards' Canadian Natural Resources Ltd. is favored by investors and analysts, despite the sharp drop in global oil prices over the coronavirus. But the market is losing faith in Husky Energy Inc., controlled by Hong Kong billionaire Li Ka-shing.Canadian Natural is holding up better than other large Canadian oil producers in the market sell-off, falling about 9% in the past month and 19% this year. It's garnering the most interest from long-only, value and hedge funds, according to Credit Suisse analyst Manav Gupta.

Bearish views remain on Husky, which has plunged 39% this year. The drop has cut the value of Li's Husky stake by C$2.8 billion ($2.1 billion).

It extends a long period of underperformance: Husky shares are down 55% since the start of 2019, while Canadian Natural's have gone up 3%. Yet analysts still see a better buying opportunity in Canadian Natural.

"Investors have shown most interest in buying the dip on [Canadian Natural]" given the company's position as lowest cost operator, Gupta told clients in a note. Investors remain "very bearish" on Husky because it continues to burn cash, he added.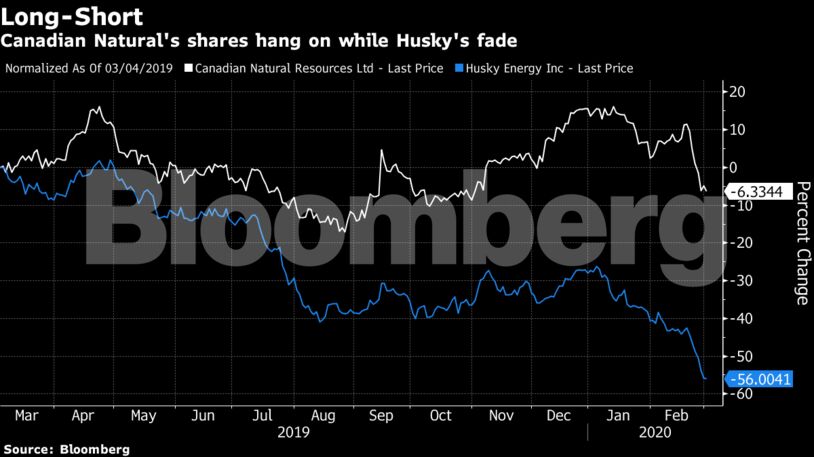 Husky drew a stock downgrade from TD Securities on Friday, which joined a camp of bears expressing concerns about operational problems and cash flow. The company posted negative free cash flow of C$425 million ($318 million) in the fourth quarter. Husky has only 1 buy rating compared with 12 holds and 8 sells, according to data compiled by Bloomberg.
"With the sharp pullback in oil prices on Covid-19 concerns, the deep-value argument no longer applies" to Husky, wrote TD analyst Menno Hulshof, who moved from a buy to a hold. Hulshof added that Canadian Natural "currently offers the most attractive combination of valuation and operational outlook."
Husky's update included an impairment and other charges of C$2.3 billion during the quarter. It also indicated on its conference call that its Liwan natural gas project had been impacted by lower demand, stemming from the spread of the coronavirus. However, demand has shown an "uptick" to full rates in the last few days, CEO Rob Peabody said on the call last week.
Last year, one analyst proposed the idea of Husky going private. The analyst added that it is already a quasi-private company, with Li Ka-shing and related companies owning about 69% of the shares.
Share This:
---
More News Articles