By David Yager
December 16, 2019
For EnergyNow.ca
Despite the relentless onslaught of bad news since oil prices collapsed five years ago, the industry still enjoys 100% rock solid support 24/7/365 where it matters the most.
Where can that be? Hint. It's not in the mirror or among your colleagues in the oilpatch echo chamber.
Everyone still loves us at the gas pump, the airport and the burner tip.
That's right folks. No matter how awful things appear; no matter how discouraging the news reports; no matter how much the value of your oil and gas investments have declined; no matter how challenging the job prospects are; and no matter how many times we're told how the only way the world will survive is if we all lose our jobs, houses and companies; demand for our products is solid and growing.
Even pipeline opponents fuel up with gasoline on their way to the next demonstration. Ignoring the hypocrisy, climate alarmists fly to huge international gatherings to figure out how make the world come to its senses and ban the very airplanes that got them there.
Whatever may be said and written about the miracle of interruptible renewal energy like wind and solar, there are no substitutes for hydrocarbons for plastics, petrochemicals, airplanes, ships, transport trucks, most trains, and fuel for 99.8% of the 1.3 billion of the cars and light trucks on the road worldwide. Two-thirds of world's electricity comes from coal, natural gas and oil.
And, most importantly, nobody appears ready to do what we're repeatedly told we must do; live without any of the foregoing. This is surely the most bizarre love/hate relationship in history.
Demand for Canada's oil and gas production remains unimpacted by the events of the past five years. Our industry will exit 2019 producing an average 7.6 million barrels of oil equivalent per day (boe/d), only slightly below 2018's all-time record.
Noteworthy is total output is 880,000 boe/d higher than 2014. Things are not as awful as we tell each other. ARC Energy Research Institute estimates that total revenue from production in 2019 will be $114.8 billion, the highest since 2014. After-tax cash flow is estimated at $50.2 billion, also the most since the high-water mark five years ago.
Drilling and capital investment declined again in 2019. That hurts. However, accord to CAPP data spending on operating costs is up. In 2018 producers spent $45.6 billion keeping their wells and plants going, marginally higher than $45.5 billion in 2014. This large segment of the industry rarely rates public mention, but it is very steady, at least from this perspective.
What the industry suffers from most is a near-existential crisis of confidence. When you're told repeatedly that your existence is the enemy of mankind and that your future is doomed, this is hardly surprising. The relentless, multi-pronged onslaught against fossil fuels wears you down, sapping the spirit of even the most optimistic. It permeates politics, governments, capital markets, schools, coffee shops, and virtually every form of mass media. The raw us-versus-them polarization of the climate issue is affecting friends and family and damaging our province and country as we retreat further into opposing tribes.
The most disturbing element of the so-called "climate emergency" invented by vote-seeking, virtue-signaling politicians is that it has little to do with the chemical composition of the atmosphere. This is the so-called science which is supposedly settled. You'd think this is what the discussion would be about if a true "emergency" exists. Without engaging China, India and the US, it is only symbolism.
Because no matter how many preach their deep concern, worldwide demand for fossil fuels is on a mono-directional upward trajectory with no end in sight. In the absence of viable hydrocarbon substitutes or mass voluntary reduction in consumption, not a single credible forecast for global hydrocarbon consumption and commensurate emissions predicts a material reduction for either in the next 20 or 30 years.
Demand for our products is safe, even in Canada. We cannot live in this country without fossil fuels. Period. Why nobody can say this in public is beyond me.
What is most damaging about the "climate emergency" is the chaos it is creating in politics, public policy, investment decisions and the behavior of our fellow citizens. It is squeezing common sense and rational debate from civil public discourse. The country is gripped with a cerebral climate disease it cannot cure. Our politicians, and by default industry leaders, are preoccupied with an expensive and ultimately futile attempt to have Canada alone solve a problem the world is unable and unwilling to resolve itself.
Nobody is less qualified to solve global challenges of this magnitude than the last crop of politicians we sent to city council, the provincial capital or Ottawa. It defies logic why so many believe once-ordinary people from all walks of life miraculously become altruistic public policy geniuses when elected to a three to five-year term in government. I wrote extensively about the inherent limitations of Canadian governments in my book From Miracle to Menace, Alberta – A Carbon Story.
This appallingly shallow debate about climate change and what to do about it will not go away anytime soon. However, the good news is that neither will demand for oil and gas.
Therefore, the rest of this article will focus on why 2020 will be better than 2019, if of course we take the time to appreciate a half empty jar is also half full.
**********
The best news is natural gas. While the focus has been on oil prices, oil pipelines and oil price differentials, a major prosperity killer has been natural gas prices which have been, on a seasonal basis, 25% or more below 2014 prices.
Alberta Natural Gas Reference Price December 2014 – July 2019 Source: Alberta Government
The root of the financial challenges many junior producers have faced is the collapse of natural gas prices. Most of the ownerless wellbores managed by the Orphan Well Association are from insolvent gas producers. The evaporation of cash flow among these companies has had a devastating impact on employment and oil service activity.
Canada's gas challenges have been exacerbated by new supplies of cheap gas from Montney and Duvernay development, a by-product of the production of natural gas liquids and crude oil. This is combined with the loss of core markets in eastern Canada and US to new and closer supplies in the northeast US.
Due to takeaway restrictions during periods of maintenance on the NGTL transmission system from northwest Alberta to storage in southeast Alberta, the spot price of Alberta gas would periodically approach zero during the summer months. Working with TC Energy and the new Canadian Energy Regulator, in July the Alberta government and producers negotiated a change to NGTL shipping policies during these periods to reduce stranded gas not under long-term contract. The price response was almost immediate. Further, TC Energy is investing over $9 billion to expand NGTL which will eliminate future maintenance-based capacity restrictions.
The following chart illustrates the last 12 months, from December 18 to December 19.
While there was price softness again in September, the current outlook for 2020 is improved over last year. The Gas Alberta Inc. website carries spot prices for AECO C future for next year. On December 15 it reported the futures price for June 2020 (the lowest of the year) was $1.46. A year ago the same figure was $1.08. For most of the summer of 2020 futures prices are about $0.50 higher than a year ago, almost a 50% improvement.
On the daily commodity price report from GMP First Energy carried on the PSAC website, on December 12, 2019 the AECO Average 12-month futures price was $1.94. On December 12, 2018 it was $1.21. Ignore for a moment what Greta Thunberg and Bloc Quebecois leader Yves-François Blanchet have said and enjoy this significant 74% improvement.
Going into 2020, oil prices are also greatly improved. In late 2018 the industry endured a period of severe oil price contraction, a problem so awful that the Alberta government was forced to introduce "curtailment", a controversial policy that ordered production to be shut-in to better match takeaway capacity and stabilize prices.
The following chart illustrates just how terrible 2019 looked when it started.
Alberta Western Canada Selection Price October 2014 – July 2019 Source: Alberta Government
The average WCS spot price for the last two months of 2018 was only $US8.50 a barrel. This period of low prices came while producers were formulating their 2019 budgets. This means we entered this year with tremendous uncertainly, if not anxiety. The NEB reports that last year conventional heavy oil averaged only $C14.94 a barrel in October $C10.65 in November. The same figure for December 15, 2019 was $C39.26.
The outlook for oil prices in 2020 is subject to the usual range of predictions, somewhere between US$30 and US$100 a barrel. Demand is expected to increase again, but how much remains uncertain as economic growth remains uncertain for a variety of factors. OPEC et al has again committed to throttling back production to sustain prices, while output from Venezuela, Libya, Iran, Nigeria, Syria and other countries experiencing varying degrees of political turmoil remains uncertain.
However, the one major change in oil markets is the increasing acknowledgement that the go-go days of the US adding over 1 million b/d of crude output each year from light tight oil from places like the Permian Basin are likely over. There are multiple factors at play include geology and high decline rates. Positive cash flow from this type of production remains elusive for many producers.
The world oil industry exists only because free cash flow from existing production has been more than enough to replace reserves from an ever-declining asset. Otherwise this business wouldn't exist.
Stateside, one of the biggest challenges is access to capital for E&P companies that rely on external funding to keep drilling. A lot of production has been financed by high yield debt. But Wall Street has finally figured out that lending money to producers to keep drilling is undermining the asset base of their loans. Cash flow from the asset is disappearing because of high decline rates, as is total recovery. But intensive drilling has flooded world markets with more production than demand which caps oil prices and further diminishes cash flow. This should end and help put a more stable floor under prices. Some analysts feel all the surprises for 2020 crude price will be pleasant.
A major factor that has affected the Canadian 'patch that was not anticipated by new governments in Edmonton and Ottawa when they undertook their climate crusade programs in 2015 was the election of Donald Trump in late 2016 and the subsequent enhanced attractiveness of investing in the US. Trump's tax reform and determination to make oil and gas development simpler and cheaper was in the complete opposite direction of Canada.
Because of government policy, the difference in performance of the two industries in the past three years has been dramatic. As doing business in Canada became more complex and expensive, the exact opposite occurred in southern neighbor. Further, although the US was another country it was the one most like Canada of any in the world (with the possible exception of Australia) making relocation fast, cheap and simple. And fortunately for Canadian drilling and service contractors, robust demand in the US provided another market opportunity easily accessible by truck.
For 2020 the US still offers more opportunities than Canada for many reasons including higher prices, access to market and the massive size of its sedimentary basin. However, that hasn't protected the market values of their E&P and OFS companies. The current disdain for fossil fuel equities is no longer confined to Canada.
Even giant oil service operators like Halliburton and Schlumberger with nominal exposure to Canada globally are trading at half what they were in early 2018. And that's after they recovered significantly in the past three months.
A Bloomberg News article December 14 opened with, "Canadian energy firms have quietly outperformed their US counterparts this year and, even after the run, a chorus of positive outlooks on the sector to the north continues."
Rafi Tahmazian of Calgary-based Canoe Financial said, "The Canadian industry has been starved of capital for four years now." As the US slows down and investors withdraw their support, the article reads, "…Canada's industry is 'on the edge of extreme profitability'."
This is backed up the ARC Energy Research Institute data. In 2019 Canadian producers are estimated to generate $50.2 billion in after-tax cash flow but have only committed $31.5 on capital expenditures. That's a ton of free cash flow that could seriously move the needle in 2020 and beyond on drilling, hiring and investment should its managers be so inclined. And if they had the confidence in Canada as a safe and stable place to invest.
Much of the strong profitability of the Canadian upstream sector is coming from the oil sands, the allegedly high cost resource that it has become so fashionable to despise. Years of tough times have forced operators to focus on costs and efficiency. According to CAPP data, average operating costs per produced barrel of bitumen was $31 in 2014. In 2018 it was $21 a barrel, a 29% reduction. The added attraction is the sheer enormity of the resource which translates into no decline rates for mining operations and significant and close step-out opportunities for SAGD.
This is in sharp comparison to the Permian Basin where the oil-in-place may be huge, but it is expensive to develop and subject to rapid decline rates. Major operators like Chevron and ExxonMobil seem determined to outsmart the geology and make it work. They can do this because they have lots of internally generated free cash from other operations to redeploy.
But for many of the US light tight oil operators that spent billions to increase production, this will end poorly.
In Canada, for oil pipelines and LNG projects it appears patience, common sense and demand reality have outlasted what seemed to be relentless and insurmountable opposition.
The Enbridge Line 3 replacement is carrying oil in Canada and has crossed yet another regulatory hurdle in Minnesota. This line will carry an additional 370,000 b/d by the end of next year if they finish it.
The Trans Mountain expansion is apparently back on track again. To great fanfare some ditch was dug and some pipe buried on the west side of Edmonton creating more political photo ops before year-end. Completion is now set back to 2023. Finishing this pipe would be great but after all the politics, threats, drama and innuendo, that it might one day carry oil remains difficult to believe.
LNG continues to look very positive. LNG Canada is spending and building and hiring and working hard towards a completion date for flowing gas of 2023. This project is joined by Woodfibre LNG in Squamish, Energy Saguenay from eastern Quebec and Pieridae Energy out of Nova Scotia, a project called Goldboro LNG.
Kitimat LNG looks stalled for the moment with Chevron wishing to sell its 50% interest, but that is part of a global asset rationalization, not the project itself. If somebody buys it our bipolar industry will just as happy as it was disappointed when Chevon announced its intentions.
If they were all (except Kitimat) completed it would move about 5.5 bcf/day of gas out of Canada, 1/3 of current gas production. This would have a huge impact on the natural gas business in western Canada. Compared to what gas producers have endured in the past five years, you wouldn't know the place.
The last area where 2020 looks better is domestic politics. In Alberta the NDP has been replaced by the shamelessly pro-industry United Conservative Party and its cheerleader-in-chief, Premier Jason Kenney. Federally, the Liberal Party has been reduced to a minority government and its leader, Prime Minister Justin Trudeau, has been badly damaged in many ways.
Liberal intransigence to the economic plight of western Canada – a bad commodity price situation made worse by federal policy and indifference – has ignited a hostile backlash on the prairies unseen since Justin's father Pierre did much the same thing with the National Energy Program in 1980.
However, the legacy of the Liberal Party is one of building the country, not tearing it apart. They worry about these things. It is no surprise to this writer that in the early stages of Trudeau's new government the tone towards the west and its oil and gas industries is materially different that the one after its first term in office began four years ago.
Even BC is sounding more rational lately. Politically, the NDP government has thrown in the towel on its fight to stop Trans Mountain and has joined Alberta as a staunch ally for LNG development and natural gas exports.
Lots of challenges remain. People need jobs, drillers and service contractors need wells, and fabricators and constructors need projects. House prices are soft, offices remain empty, capital is tight and corporate valuations for all but the largest players remain in the dumpster. No need to repeat all the problems here.
The reality is the bizarre and disingenuous climate change issue will not disappear soon. Looking at events in Britain, the US and Europe, opposition to new fossil fuel development and pipelines is not confined to Canada.
But beyond the necessity of more committed attempts by industry leaders to demonstrate to our fellow citizens that life without hydrocarbon resources in Canada is impossible, the rank and file will be best served by ignoring the background noise and focusing on making money.
Because of improved big picture fundamentals, 2020 could be a much better year. My wish for the holiday season is that those producers with free cash to invest do so in Alberta, put some people to work, and vindicate Premier Kenney and his government for their tireless determination to put our province back on its feet. They deserve it. Alberta is doing what it can. Time for industry to step and finish the job.
Merry Christmas.
David Yager is an experienced oil service executive who provides advisory services to industry and researches and writes about energy policy, politics and the oil and gas business. His recent book is titled From Miracle to Menace – Alberta, A Carbon Story. See www.miracletomeance.ca for more information.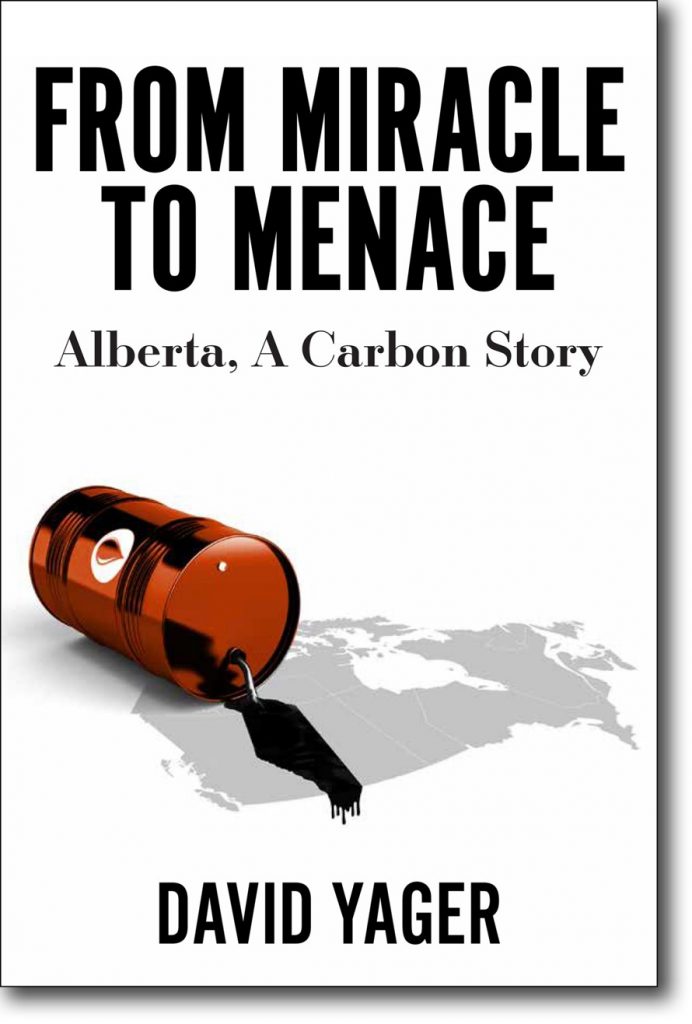 Share This:
---
More News Articles