By David Yager
Close elections nowadays have become impossible to predict. So it goes when Canada votes on October 21. Although polling has exploded and results are released daily, the final outcome is increasingly surprising because of undecided voters and the growing numbers of people who lie to pollsters. As has been endlessly repeated, the only accurate poll is the election.
October 22 – Continued Uncertainty
Not very bold prediction. Neither the Liberals nor the Conservatives will win a majority government. One or the other will form a minority government defined as winning more seats than any other party.
If the Liberals win a minority it is likely nothing will change except the party leader. Justin Trudeau is only tolerated among many old-school, centrist Liberals if he can deliver majority governments. The idea that he can rescue his reputation over time is remote, meaning he won't win a majority next time either. Trudeau won't be the Liberal leader next election under this scenario.
The only way a minority Liberal government will be defeated is if the Conservatives gain sufficient support among the other three parties to topple the government on a non-confidence vote such as a budget. The Liberals won't have to consult parliament to continue construction of the Trans Mountain expansion. All the pledges of conditional support by the NDP and Greens are interesting and unnerving, but they won't mean much.
A Conservative minority is more complicated. Even if the Conservatives win the most seats, depending on the numbers Andrew Scheer's term as Prime Minister may be brief. The Liberals will certainly attempt to engineer some arrangement with the NDP and/or Green Party to form a voting majority, although not necessarily a coalition government. This will require the three parties to win 170 seats, 50% plus 1
(According to poll aggregator www.338.com, on October 16 the combined estimated total for all three is 169.1).
Here's what happened in B.C. in May 2017. While the Liberals won the most seats at 43 and the NDP only 41, the magic number to form a government that would last was 44. The Green Party, which won three seats, was approached by the NDP and Liberals seeking support. A few days later the NDP announced an arrangement with the Greens to provide "confidence and supply" in the legislature ensuring the government would keep functioning. While not a formal coalition, the arrangement would assure stability. This was negotiated with BC's Lieutenant Governor.
Once the arrangement was ratified by the members of both parties, it was obvious to Liberal leader and Premier Christie Clark her administration would not survive a confidence vote such as a budget. Another election immediately was out of the question. Clark agreed to convene the legislature and seek its confidence (trigger a non-confidence vote) even though she knew it was a vote she would likely lose. The Liberals did indeed lose, and about seven weeks after the election NDP leader John Horgan became Premier. An election was avoided. The NDP/Green partnership has governed BC ever since.
As this article is written, the NDP and Greens are already broadcasting the conditions under which they would support a Liberal minority. The Bloc Quebecois is on record as supporting which ever party wins on a vote-by-vote basis. If the Liberals plus the NDP plus the Greens reaches 170 and they can agree upon the terms of cooperation, then the above scenario is possible.
Arrangements like this are not as doctrinaire as they sound during an election campaign. The BC Green Party's primary demand to support the NDP was a referendum on proportional representation, which was held and defeated. While the Greens were publicly opposed to LNG exports and the Site C hydro dam, both projects are proceeding anyway without any visible threat to Premier Horgan.
If the three parties combined don't win 170 seats, then the separatist Bloc Quebecois will be the power broker. But as was learned in late 2008 when the Liberals, NDP and Bloc formed a coalition to defeat Stephen Harper's Conservative minority government shortly after a federal election, teaming up with Quebec separatists is a complex political dynamic. When the coalition was announced, Harper successfully prorogued parliament until the new year then negotiated some budget concessions with the Liberals.
If the Harper government fell, the Liberals were faced with another election within months of the last one which they lost under Stephan Dion. Having made a deal with the separatists to secure power, they might do worse. Therefore, the Liberals instead chose to support the Harper government in an early 2009 budget and delay an election until they found a new leader. No federal election was held until 2011 at which time the Conservatives won their only majority in 10 years of power.
The situation of slim minority government – only one or two seats – for either Liberals or Conservatives is more complex. This puts a great deal of pressure on the Governor General and the outcome of that decision won't be known until it is made.
This election campaign has been nerve-wracking and deflating for an oilpatch finishing its fifth year of a devastating slump in commodity prices, investment, employment, and investor confidence. With climate change being a major election issue, it is easy to blame our problems on shameless politicians more than happy to trade our jobs, homes and companies for votes under the false belief that Canada alone can save the planet from destruction and mankind from extinction.
The political left's collection of anti-oil, anti-Alberta campaign pledges have driven western alienation and anger to levels not witnessed since Pierre Trudeau was Prime Minister nearly 40 years ago. They ensure the industry's bad situation will never improve by promising to kill the Trans Mountain expansion, ban fracking which effectively ends LNG exports, promise Quebec it will never see another pipeline, and even shut in the oil sands in 11 years. The campaign has been breathtaking in its shallowness and shameless partisan regionalism.
The bad news about October 21 is that unless the Conservatives win 170 seats – which would be great – the certainty the industry so desperately seeks will not be there on October 22.
But it's not as awful as it looks.
First, there will be serious attempts by everyone not to have another election immediately. Not only is the patience of voters drained, but so are the party bank accounts. Sanity will prevail as all the elected politicians conclude Canada should not look more like a banana republic than it already does.
Second, if a grand coalition of runner-ups is negotiated, power will usurp policy. The NDP and Greens will be far more intoxicated by having immediate influence in government than having every one of their policy positions implemented. That's what happened in BC.
Third, if the Liberals don't win a majority government the party will agree with other Canadians that Justin Trudeau's credibility is severely damaged and won't be enthusiast about going into another election with the same leader.
The industry will take stock of what is knows, what will likely happen in the short to medium term, and chart a course that may not be ideal but at least it will be predictable.
A great many elements of our situation are "made-in-Canada" and well understood. But there are other major factors at play that are drowned out in the cacophony of bad news surrounding the future of our industry from within and without.
Natural Gas
The biggest problem that doesn't get enough attention is the collapse of natural gas prices. Based on the Alberta government reference price in Canadian dollars, the following chart shows the annual average price per gigajoule since 2008.
*2019 seven-month average January to July
While gas averaged $Cdn7.48 in 2008, WTI hit an all-time high of $US147. Although oil has recovered to over 1/3 of its 2008 peak, since 2017 gas has only fetched about 17% of what it was worth 11 years ago. Gas is down 2/3 of its average price in 2014 while is oil is only down by about half.
The biggest problem in North America has been the shale gas revolution and the location of new supplies. Lots of gas in the northeast US has bumped western Canadian gas out of core markets like Ontario. But a major component of the challenges with local gas prices has been inter-Alberta transportation of new supplies in the northwest to storage reservoirs in the southeast during service interruptions on the Nova gathering and transportation system.
The new Alberta government understands the situation and has made a series of steps to at least remove the gas price collapses that have taken place when Nova's takeaway capacity is reduced. This is already having an impact on spot prices. Other remedies introduced or being considered will help keep natural gas producers solvent until markets improve.
Meanwhile, LNG projects are proceeding. Green Party leader Elizabeth May has vowed to end fracking, but this is an element of Green Party support the Liberals will not accept. If the Canadian government chose to reverse its prior decisions on LNG Canada and other emerging LNG export projects only to regain or retain power, our country would become the financial joke of the entire western world as it kills billions of investment dollars in cleaner fuel to replace Asian coal. This will not happen.
Therefore, the light at the end of the incredibly long natural gas tunnel is not a train. No matter what happens on October 21, Canada's LNG future and that of WCSB producers looks positive.
The Attractiveness of US Opportunities Is Fading
One of the challenges the Canadian oilpatch has faced since the election of the NDP in Alberta and the Liberals federally since 2015 has been the comparative attractiveness of investment opportunities in the United States. When Donald Trump became President in early 2017, he set about reviving the American economy. Trump did the exact opposite of Canada by cutting taxes, trashing climate change initiatives, and supporting pipelines.
Two years of runaway success followed. Oil production rose nearly 39% from 9 to 12.5 million b/d. Besides the direct investment to put the oil on stream, this created a steady rise in operating and support costs and construction of associated production, processing and transportation infrastructure. Oil and LNG exports jumped. Pipelines were built. Canadian capital and equipment headed south.
When Trump became President on January 20, 2017 the US rig count was only 694. Enthusiasm for drilling the US was so frothy it busted back through 1,000 rigs in a little over a year and stayed above that level until April of 2019. This was fortunate for Canadian drillers and OFS operators which were able to move idle equipment south to service American demand.
However, as 2019 has progressed the enthusiasm for US drilling has tempered. The disdain for oil and gas stocks is no longer restricted to Canada. On October 11, 2019 the US rig count was down 22% from its peaks in the latter half of 2018, 858 compared to almost 1,100. Investors note many companies are not generating free cash from plays like the Permian Basin despite improvements in operating efficiency and technological advances. The continued growth of US oil production is not assured.
News from the US is no longer all positive. New pipelines are being blocked. The Democrats are moving to impeach President Trump. With an election a year away, the Democrats are in a public contest to see which potential leader can destroy the American oil industry the fastest. American political uncertainty has returned.
Oil Sands Producers Become Cash Flow Machines
CAPP's Statistical Handbook contains macroeconomic data on the oil sands. The five-years from 2014 to 2018 show that annual production increased by almost one third from 717 million barrels (1.965 million b/d average) to 1.064 million barrels (2.914 million b/d average). At the same time operating costs per barrel have plunged by 39%. In 2014 the average was $33.88 per barrel. In 2018 it was down to $20.51, up slightly from $19.00 in 2017.
Financial reports for the major oil sands producers show that their operations are profitable. Recent reports reveal that American institutional investors disillusioned with poor results of many American light tight oil producers are moving their capital into the larger oil sands producers. Free cash from production, low to zero decline rates, and steady dividends. That's what attractive oil stocks are supposed to look like.
According the to weekly energy charts produced by Calgary's ARC Energy Research Institute, in 2014 the average fully taxed operating costs per boe (revenue less after-tax cashflow) was $11.60 on an average of 6.7 million boe/day. For 2019 ARC's estimates are that the industry will produce 7.6 million boe/day at an average operating costs of $8.52, a 27% reduction.
On estimated revenue of $114.8 billion in 2019, ARC figures producers will generate $50.2 billion in after-tax cash flow. Reinvestment is the lowest in many years, only $31.5 billion, well below half of what was spent in 2014.
But should Canadian producers believe opportunities still exist in Canada, for 2019 they would still have nearly $20 billion in after-tax cash flow to invest.
Unfortunately, even if the new government doesn't make things worse for the oil industry, any future recovery will come with significantly fewer jobs in head office administration. Joint venture accounting and other financial management functions are increasingly being automated using advanced information management systems and blockchain technologies.
The office towers in downtown Calgary will likely never contain as many oil workers in the past per barrel of oil equivalent produced regardless of commodity prices and spending levels.
Oil Pipelines
If a minority government must negotiate with other parties to hold power, the Greens, NDP and Bloc will all likely mention oil pipelines.
Trans Mountain will be at the top of the list. But should the creation of the Liberal/NDP/Green consortium require that TMX be shelved, the political backlash from western Canada will be so intense that they may conclude it is not worth the trouble. Unless this unlikely coalition of lefties, leftists and lefters represents well over 170 seats so it can survive some floor-crossing defectors, the outrage could cause the government to fall. And without a new leader, the Liberals will avoid the risk.
If the Conservatives form a minority government, they don't have to ask parliament for permission to complete TMX. If there is a non-confidence vote and the Bloc holds the balance of power, hopefully their primary interest in pipelines will be that nobody tries to build one through Quebec.
Trans Mountain will survive. Once the polarized election process is over, at some point the absurdity of Canadian pipeline politics will become apparent and common sense will prevail. Norway, the morally advanced uber-green oil producer, has started production from its new offshore field, Johan Sverdrup. This will eventually produce 660,000 b/d, about the same as the TMX expansion. This will render the cancellation of TMX utterly meaningless to global oil markets.
At some point even Canadian leftist politicians will have to read world oil news.
Indigenous communities are raising their voices in support of pipelines and the jobs and economic opportunity they create. The Eagle Spirit consortium wants a pipeline to BC's north coast and is challenging Bill C48 in court. Indigenous investors want to own all or part of TMX and its expansion. Killing this pipe will have repercussions well beyond the election promises of the 2019 campaign.
The Enbridge Line 3 replacement soldiers on. The latest report from the last holdout – Minnesota – is in early October the state resumed its environmental permitting reviews which had been delayed by court challenges from opponents for months. This line is complete to the US border and its future is out of the hands of Canada's federal government. It could be carrying oil in late 2020.
While 29% of those polled said climate change was the number one election issue, 71% were not as concerned. Whatever happens after October 21, achieving and retaining power will be far more important to elected MPs than what the public thinks or whatever they said to get to Ottawa.
Solid Support Where It Matters The Most
The world in which the oil and gas industry operates will never be the same. The climate change alarmist industry will soldier on until its funding disappears, thereby assuring continued opposition to fossil fuels on multiple fronts.
The industry, however, will continue to receive strong support where it matters the most; the gas pump, airport and burner tip. All forecasts for global energy demand indicate that fossil fuels are not going anywhere anytime soon.
Our industry will likely never be what it was. But regardless of what happens on October 21, I don't believe that the outcome of the election will be as awful as many believe.
For the record, my cash bets are on Andrew Sheer as our next Prime Minister. Trudeau is a national embarrassment, a conclusion millions of voters will reach in the privacy of the polling booth.
And when I win my bets the losers will be delighted to pay.
David Yager is an oil and gas writer, energy policy analyst and author of From Miracle to Menace – Alberta, A Carbon Story. More information on his book is available at www.miracletomenace.ca.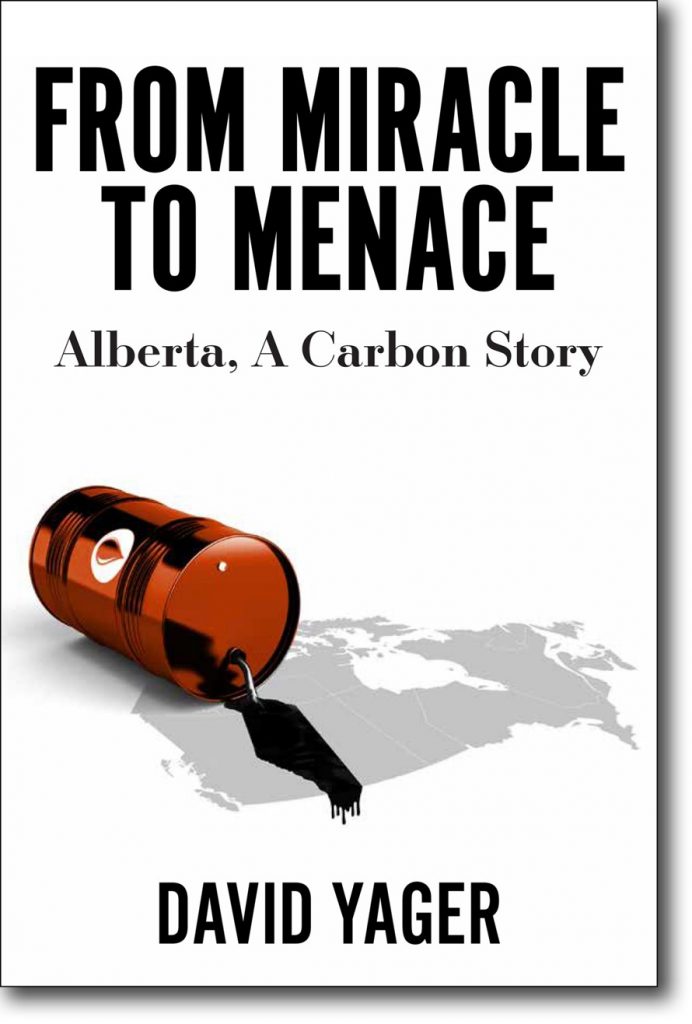 Share This:
---
More News Articles