By David Yager
August 20, 2019
Alberta's UCP government has pledged to review and repair the Alberta Energy Regulator (AER). During the spring election the UCP campaigned on replacing the AER's board of directors. By July this had expanded into a complete review.
A comprehensive evaluation of what the AER is and should be doing is long overdue.
In late 2018 the AER's first and only CEO, Jim Ellis, abruptly resigned. This preceded a $2.7 million lawsuit regarding a supposedly commercial consulting offshoot created to sell regulatory advisory services to other governments. Called ICORE (International Centre Of Regulatory Excellence), this was a peculiar activity for a provincial regulator funded by Alberta industry; helping other jurisdictions compete with Alberta oil and gas producers. The financial claims have apparently been settled but the complete story remains a mystery. Multiple reviews by government agencies are underway.
For the past five years the AER has been demanding more cash for mature well and asset decommissioning from mineral licensees that for the most part don't have any. That the AER should ensure the industry cleans up after itself is within its mandate. How it accomplishes this must be reexamined.
Thanks to the AER's successful petition to the Supreme Court to establish that environmental cleanup obligations rank ahead of secured lenders in the case of insolvency, now troubled companies can't borrow to stay onside with AER decommissioning deposits. All borrowers now face higher costs or lower limits. Should an Alberta regulator be intervening in federal banking legislation? Is this what the AER should be doing when many companies are experiencing financial difficulties?
In 2018 it took 1,200 people and $270 million (fiscal year ended March 31, 2018) for the AER to handle about 40,000 applications. The cost for 2014 was over $40 million lower for what the AER reports is the same number of files handled. Based on the state of the industry, the type of activity must be different. Costs are going up while the industry is going nowhere. Why?
What should the AER's purpose be in today's turbulent world of intense global fossil fuel competition and the turbocharged political environment regarding climate change, industrial development and even the very existence of the industry? What does success look like?
History and the AER's Changing Mission
In 1938 the province created the Alberta Petroleum Natural Gas Conservation Board in part to deal with the proper exploitation of the big discovery of the day, Turner Valley. The other purpose was to create a regulatory framework for the continued and hopefully expanding development of oil and natural gas.
The name was later changed to Alberta Oil & Gas Conservation Board and renamed again as the Energy Resources Conservation Board (ERCB). In 1995 the ERCB was merged with the Public Utilities Board to create the Alberta Energy and Utilities Board (AEUB). This changed the mandate significantly to include utilities as such electricity transmission.
In 2008 the oil, gas and coal regulatory function was separated from utilities, re-creating the ERCB. In 2012 Edmonton passed the Responsible Energy Act to create today's AER by combining the operations and responsibilities of the ERCB and Alberta Environment and Sustainable Resource Development. This merged "one window" entity would also administer the Public Lands Act, the Environmental Protection and Enhancement Act and the Water Act.  Created in 2013, operations as the AER began in early 2014. The purpose was a single organization responsible for all projects from application to reclamation.
The AER's mandate reads, "The AER ensures the safe, efficient, orderly, and environmentally responsible development of oil, oil sands, natural gas, and coal resources over their entire life cycle. This includes allocating and conserving water resources, managing public lands, and protecting the environment while providing economic benefits for all Albertans."
There have been huge changes in Alberta, its demographics and the political landscape since the AER's origins 81 years ago.
The original purpose was only to facilitate the orderly and responsible development of hydrocarbon resources. The primary drivers were fuel, lubricants, employment and economic growth. Today it deals with water, air, land, wildlife, community impact, development and lifestyle issues.
For most of the 20th century fossil fuels were considered an asset, not a liability or even a problem. Nowadays, the climate change issue has politicized hydrocarbons in ways not previously imagined.
Alberta's population in 1938 was about 750,000. The current population is about 4.4 million. Today there are over 6.6 persons per square kilometer compared to only 1.1 in 1938, a six-fold increase. Growing population density ensures more citizen/development interactions and conflicts.
The word "conservation" appeared in the regulator's name for 63 of the first 76 years (except 1995 to 2008 when it was called the AEUB). With market access today's major concern, it is safe to describe Alberta's hydrocarbon resources as "amply conserved". Politician Elizabeth May and environmentalist David Suzuki want them conserved forever.
In a 2013 book about the history of the ERCB, author Gordon Jaremko wrote;
"It's (the ERCB) a fundamental building block in the resource development of Alberta," said Murray Smith, the province's energy minister from 2001 to 2004 and its envoy to Washington, D.C., until 2007. It's the meeting point between people who profit from oil and gas development and people affected by it," he added. "The ERCB is not there to say 'no.' They're there to say to industry that you have to do it in such a way that you meet Alberta's standards of conservation and orderly development." (Gordon Jaremko 2013; Steward – 75 Years of Alberta Energy Regulation)
Challenging federal banking legislation and selling regulatory services to foreign countries appears nowhere in the AER's mandate.
Politicians and Regulators – A Love/Hate Relationship
Government regulators have been around as long as governments. Historically, regulatory processes have been dominated by direct vested interests with a process for input from opponents, if any. Public input has always been a key component but not used much when producing oil and gas was generally regarded as positive. In the past even those directly affected, often nearby, have usually supported resource development.
As increasing concerns for environmental protection and Alberta's growing population created more direct land use conflicts, the role of the ERCB/AER began to change. It was pressured to deal with issues that were increasingly more political than legal or regulatory. Regulation now included accommodation.
An example was the Critical Sour Well regulations that followed 1982's massive Lodgepole blowout which exposed Edmonton to toxic quantities of poisonous hydrogen sulphide gas. Public outrage resulted in an extensive public inquiry. When concluded, new regulations required those planning wells containing H2S to consult all neighbours downwind or within a certain radius. Often this went to public hearings.
This was perfect for politicians. Nobody elected to or running for public office had to publicly defend drilling poison gas wells near homes, towns or schools as good for the neighbours and the economy. They deferred instead to the ERCB, a respected arms-length regulator. After due process the ERCB's final decision was generally accepted and rarely challenged.
By the 1990s, regulators were increasingly asked to consider environmental or quality-of-life issues that had previously not been within their purview. This included more rigorous wildlife, land, water and air protection. Politicians enjoyed taking credit publicly on the protection side, but when it came to supporting development others opposed, they often preferred deferring to regulators. Project proponents found that the application and approval process was becoming increasingly complex, the review and hearings longer, and all costs rising.
The National Energy Board (NEB) provides a good example. Well understood is how much the role of the national pipeline regulator has changed in recent years. By having the NEB deal with hot-button issues such as climate change, oil spills, carbon emissions and indigenous land claim issues, politicians allowed and/or forced NEB hearings to stray significantly from the regulator's original mandate which was technical and economic.
Further, environmental non-government organizations (ENGOs) realized public hearings were an ideal place to demand intervenor status and force the NEB to consider issues not even imagined when it was created in 1959, like the impact of the contents of a Canadian pipeline on global carbon dioxide emissions.
As pipeline hearings became increasingly acrimonious, Justin Trudeau's Liberal government sensed a political opportunity and promised to repair the NEB process. But with Bill C-69, Ottawa chose to expand the regulatory process, increase the number of eligible participants, and ensure it would always be political by placing the final decision in the hands of the federal cabinet.
Like the NEB, the AER has become increasingly focused on non-technical issues. As expectations from the public, ENGOs and politicians evolved and grew, the AER was increasingly asked to consider and adjudicate on political, not technical and economic matters. Alberta's energy regulator was not created to make political decisions, nor should it be permitted to do so. Industry participants observe that since creation, the AER has tried to be a mediator between the increasingly polarized forces for and against industrial development.
But the industry has learned the hard way that many fossil fuel opponents are loath to compromise. They remain opposed. Period.  The concept of acquiring a so-called "social license" through inclusion and consultation is increasingly recognized as unworkable.
In a perfect world a capable regulator is supposed to de-politicize development issues and mediate conflict. In reality, regulators have unfortunately become ground zero for the future of the fossil fuel industries and the politics of carbon resources.
Primary Issues Facing the AER and Government Today
Mature Asset Retirement
A major and relatively new issue is mature assets that are no longer economically viable to operate. There were none in 1938. The law is clear. This remains the responsibility of the mineral title holder or asset owner. However, economics and regulations are not cooperating.
This has become a significant issue since 2014. It has grown because of collapsed natural gas prices, soft oil prices, inadequate pipeline takeaway capacity, and poor capital markets for all but the largest operators. This has been compounded by a myriad of new compliance and cleanup regulations which has increased decommissioning costs. Many of today's rules didn't exist when older assets were created.
Starting in 2015 more companies became financially insolvent before they could fulfill their asset retirement obligations. Their wells and surface assets ended up in the Orphan Well Fund which is funded by industry. The number of wells under administration in the fund skyrocketed from a few dozen in 2012 to over 2,500 in early 2019.
After first introducing Directive 6 in 2013, in 2016 the AER increased the LLR, or Licensee Liability Rating. This was a calculation of a producers' future retirement obligations compared to historical cash flow. Companies with insufficient cash flow to cover future obligations were required to put more funds on deposit with the AER.
This required operators with liquidity challenges caused primarily by gas prices – and other issues beyond their control including rising municipal property taxes and pipeline takeaway restraints – to come up with more cash. This created a financial death spiral for troubled companies, evidenced by the massive increase in wells under administration by the Orphan Well Fund.
This was accompanied by restrictions on assets sales and purchases. Using mineral title transfer legislation as a control tool, the AER became actively involved in the process of companies buying and selling assets among each other. Cracking down on questionable operators exploiting the system to buy and milk cheap assets with no intention of ever decommissiong them is one thing. Intervening in routine transactions required by struggling but honest operators to restructure a diversified asset portfolio in tough times is another.
When insolvent Redwater Energy went into receivership in 2016, its assets included several wells that required closure. The appointed receiver tried to sell off the good assets to retire bank debt while turning the other assets over to the Orphan Well Fund. The AER objected but in Alberta court it was ruled the secured creditor (the bank) ranked ahead of cleanup obligations. Therefore, the AER appealed the decision to the Supreme Court of Canada which ruled on February 1, 2019 that a company's cleanup liabilities were not subordinated to bank debt. This overturned historic lending practices and increased loan risk. The higher the risk, the more expensive the loan. Lenders have become even more restrictive in providing capital to the oil and gas industry, particularly those wh0 really need it.
The vast majority of Crown mineral licensees or surface asset permit holders do not intentionally ignore or circumvent their mature asset retirement obligations.
Looking to the AER for solutions as a substitute for consultation and considered government support and intervention is not likely to resolve many aspects of this large, growing and complex issue. Telling companies with no money to pay more may be legally and morally correct, but it will not ameliorate the problem.
Application Reviews and Delays
It is widely accepted that Alberta has one of the most heavily regulated oil and gas industries in the world. This is not all bad. Strict rules and regulations, broad compliance and enforcement level the playing the field among competitors. Few, if any, companies outperform others by cutting corners.
However, there has until recently been little recognition that the cumulative impact of years of new rules and regulations has had a major negative impact on the industry's competitiveness and profitability. There is a good case that regulators and administrators can reduce red tape without compromising the protection of the environment, assets or the community.
Internal – Industry
Most of the operating process improvements have come from industry in conjunction with regulators. The regulator sets the rules; the industry figures out how to comply. They are generally positive because they protect workers and citizens, extend the life of assets, result in lower future cleanup costs, and often make long term investments more profitable as higher upfront costs are recovered over the life of the asset.
When administered by the private sector, policies and procedures are subjected to routine cost/benefit analysis because the cost is known and, over time, the benefit can be quantified. If the benefit is not equal to or greater than the cost, the usefulness going forward can be reviewed. This is common during economic downturns from which the industry invariably emerges more efficient without compromising its social operating responsibilities.
External – AER and Society
External forces have increased tremendously in the past 25 years. The scope of environmental protection has expanded from nearby (an oil or gas producing facility near a house or community) to global (opposition to any oil and gas development by opponents that don't live in the area, region, province or even the country).
Lifestyle expectations have changed. Many no longer support industrial development because they don't make a direct connection between commercial activity and their personal well-being or economic prospects. With no obvious immediate cost, obstructing or blocking development is increasingly regarded to yield more positive benefits than negative impacts.
When the legacy of the AER began in 1938, nobody in Alberta thought discovering and developing oil or gas was in any way a bad idea.
In the absence of direct political leadership or intervention, the AER is increasingly forced to deal with these external issues as projects seeking approval are questioned or opposed. Research by your writer reveals in recent years the upper ranks of the AER have become increasingly focused on the external impact of development and public opposition rather than the technical, regulatory and administrative functions of its original purpose.
The Future of the AER
The issues the AER deals with today are very different from the legacy purpose of the current body or its predecessors. While the stated mandate is not to say "no", the increasingly long, costly, convoluted and uncertain path to "yes" makes an agency review, and possibly an overhaul, essential.
It is widely believed that everything related to oil and gas applications and approvals takes longer in Alberta than other jurisdictions. An objective comparison is useful and timely.
It seems rising costs, approval delays, rule changes, uncertain outcomes and an unpredictable regulatory regime are a new form of "no" because industry's resources to push projects forward at all costs are finite. Opponents of development have figured this out and are hardly disappointed if and when applicants give up. That industry must spend significant sums of money advocating for a project with an uncertain outcome was a major source of opposition to Bill C-69. Is it any different for the AER?
Is it possible for the AER to fulfill its historic mandate while dealing with today's increasingly complex and politically charged development issues in a classic, regulatory-driven, process review fashion using a model created in an entirely different political and economic climate?
Was it ever contemplated that the AER would have to make decisions that would, could or should satisfy everyone in an era when the only acceptable outcome for a growing number of people is "no"? That any decision, no matter how thoroughly it was researched and considered, would be unacceptable if the final conclusion is approval?
If asked, the AER is a proud organization staffed by people confident in their ability to fulfill its obligations and expectations. It helped Alberta come a long way over eight decades.
But there is significant evidence that other stakeholders must also be consulted.
Any review of the AER must include an objective and honest analysis and understanding of all the issues facing resource development, including politics, because the AER will never succeed in a different form without first establishing a clear vision of what it should be, and how executing the desired outcome will be accomplished.
If the province concludes the AER's existing mandate is appropriate, then elected politicians must also determine how they can help the AER fulfill it. This will require public political positions, decisions and possibly policies that will not be universally popular and may in fact be controversial. Sending complex issues to a regulatory body simply to avoid political fallout and criticism will no longer work in the 21st century.
The operations of the AER must be transformed from box-checking on a list that grows longer and more complex each year to wise decisions in the best interests of the majority of Albertans made by capable individuals with extensive experience in the legal and technical complexities of industry and regulatory processes.
From the outside looking in, that would be a materially different AER that the one that currently exists.
Based in Calgary, David Yager is the author of From Miracle to Menace – Alberta, A Carbon Story. Learn more at www.miracletomenace.ca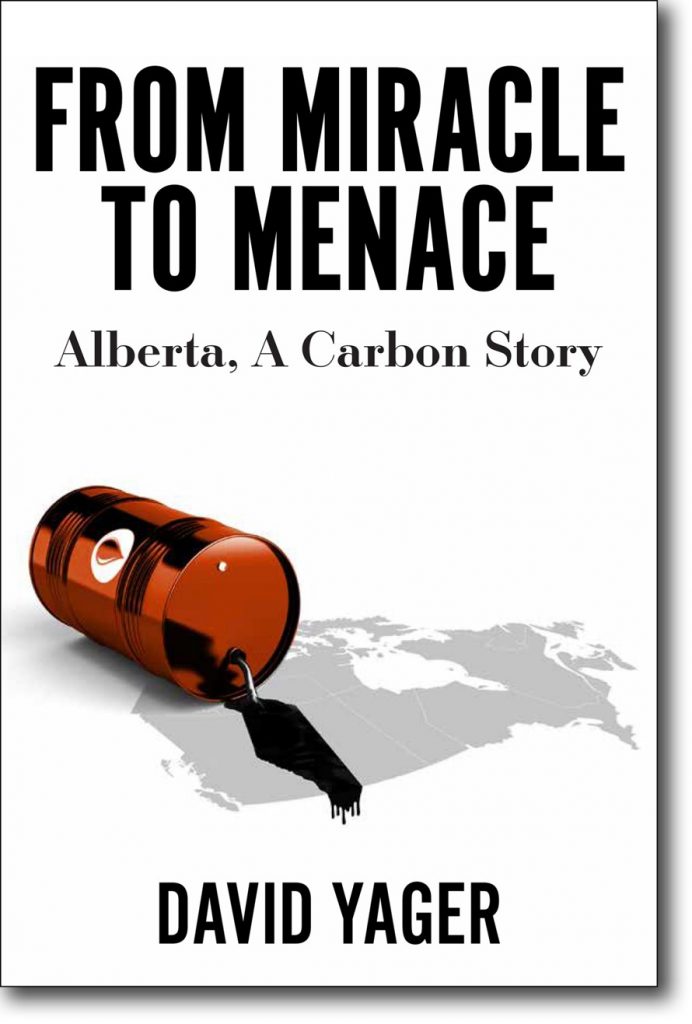 Share This:
---
More News Articles