By David Yager
January 12, 2021
Whatever we in western Canada are told we should do, or what people think we should do, it is essential to periodically review what we actually do.
Like why people live here. Why companies operate in this remote portion of North American and in doing so pay the salaries of millions who depend upon these jobs for housing, food, clothing, transportation and the other necessities of life.
It's certainly not the weather or the beaches.
People live in western Canada because of resources, exports, and economic opportunity. The Canadian economy was built on the resources and commodities that provide the essentials of life and the foundations of modern civilization.
Initially, Canada's huge resource base supported only those who lived here. Then, when we produced much more than we needed and started exporting, this supported even more Canadian jobs and families.
But we're told this must change before it's too late.
If it isn't already.
Within hours of winning the election, the first action of newly elected Calgary major Jyoti Gondek was to publicly announce her intention to ask city council to declare a climate emergency. This was never mentioned during her campaign.
The Oxford dictionary online definition of emergency is, "a serious, unexpected, and often dangerous situation requiring immediate action." In 2019 Pope Francis called for a "radical energy transition" away from fossil fuels, a message he repeats frequently.
Gondek claimed the climate emergency declaration was a positive signal that would attract new capital and industries to Calgary.
New non-resource companies and industries coming to Alberta is great. Welcome. Take advantage of our tremendous infrastructure and human capital assets. It's a great place to do business.
Or at least it used to be.
But for an oil and gas industry finally climbing out a seven-year hole since oil prices collapsed in late 2014, Gondek's first public utterance was disappointing. As the old saying goes, the beatings will continue until morale improves.
However, the industry so many want to replace has economic reality on its side.
All of Canada's major resource industries are carbon-based: fossil fuel energy production on a global scale and energy-intensive resource extraction and processing.
And because of weather, geography and low population density, simply staying alive requires more energy than most regions of the world.
Canada is the fifth largest combined oil and gas producer in the world at 8.2 million barrels of oil equivalent per day. This and proximity to the giant US market supports significant secondary industries in refining, fertilizers, petrochemicals, and the building blocks for plastics.
Other resource industries consume significant quantities of carbon-based energy to plant, mine, grow, fertilize, process, harvest and transport food and minerals.
Assuming that central planning isn't going to actually retool the economy anytime soon, here's what we do in Canada to keep the economy functioning.
And why 2022 will be another good year.
**********
The World Bank publishes price reports for 69 commodities in a spreadsheet titled "World Bank Commodity Price Data (The Pink Sheet)". It dates back to 1960 and includes annual average prices for the major commodity groups of energy, beverages, grains and other foods, fertilizers, metals and minerals, and precious metals. It was updated for 2021 on January 4, 2022.
Go to https://www.worldbank.org/en/research/commodity-markets.
As the world began to recover from the pandemic in 2021, there was a big rebound in commodity prices. It started years ago, but really became evident last year. There has been significant chatter in financial markets about a new commodity "supercycle." The January 10 edition of iconic business magazine Barron's carries the cover story, "Why It's Time to Invest In Commodities, and How To Do It."
That commodities cost more affects inflation and the cost of living. Watching inflation, central banks are telegraphing that interest rates will be rising in 2022.
Using World Bank data, here's a snapshot of how the key commodities that Canada produces or needs performed in 2021 compared to 2020 and 2017.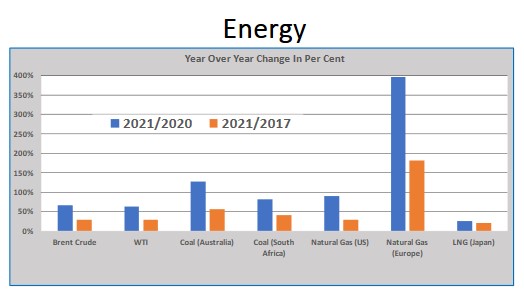 These are the fossil fuels that are blamed for the climate emergency and the primary source of energy required to extract, process and transport other resources and commodities. Because of the anomaly of the 2020 COVID lockdown, for comparison the five-year performance back to 2017 is also included.
Notwithstanding the frightening collapse of oil prices in 2020, the telling number for crude is the 30% gain in 2021 from 2017.
Coal, the fuel that is vilified by everyone except the billions who depend upon it, jumped sharply in 2021 from the prior year and has enjoyed significant price gains in the past five years. The energy source so many believe the world must quit using first has been rising in value.
The biggest price increase was for natural gas in Europe where prices jumped 390% in 2021 over the prior year.
*SRW or Soft Red Winter wheat is used for flat breads, cakes, cookies, snack foods, crackers and pastries. 
As everyone knows, food prices are rising and have been for some time. In Canada, food production costs will continue to increase because of carbon taxes rising from $50/tonne on April 1, 2022, to $170/tonne by 2030. Later this year when the Clean Fuel Standard come into effect, energy input costs will rise further.
The UN's Food and Agricultural Organization tracks five basic nutritional staples globally on a monthly basis. The FAO reported that in November of 2021 this basket of staples was the highest since 2003 when collecting this data began.
While governments refund some carbon taxes at the consumer level, producers and shippers build these costs into their sales price. Welcome to the roots of inflation.
Fertilizer Backgrounder
Phosphate Rock – mined mineral for fertilizer containing phosphorus. Leading producers are the US, China, Morocco and Russia.
DAP – diammonium phosphate is a combination of phosphate rock and ammonia.
TSP – triple superphospate is finely ground phosphate rock combined with liquid phosphoric acid.
Urea – the most important nitrogen-based fertilizer is made from atmospheric nitrogen and heat from coal or natural gas. The initial product is ammonia using hydrogen from hydrocarbons, steam and nitrogen. This is further processed to urea or ammonium nitrate.
Potassium Chloride – potassium-based fertilizer made from potash which primarily mined but is also solution mined.
One of the most worrying trends driving future food prices is the rising cost of fertilizers. With the exception of potash-based potassium chloride fertilizers, these prices have been rising for a number of reasons including rising fossil fuel costs for manufacturing, mining, processing and transportation.
Metal and mineral prices rose sharply in 2021, but the five-year figures show this is part of longer-term trends. Rising metal and mineral prices are baked into inflation and rising supply chain, manufacturing and construction costs.
In 2021 iron ore, which is used in almost everything expected to last a long time, was over double the 6-year average price from 2014 to 2019. Copper prices are rising due to growing demand from the electrification of the world's energy supplies. Nickel, a key component of lithium-ion batteries, was 50% higher in 2021 than its seven-year average from 2013 to 2019.
Gold spiked in 2020 during the pandemic so its gains were modest in 2021. But last year gold was still 50% higher than the seven-year average from 2013 to 2019. Platinum is also rising because of its application in lithium-ion batteries where it is used with palladium to improve performance. Silver in 2021 was 50% higher than it averaged in the six years from 2014 to 2019.
**********
On January 5, 201 Robert Rapier of Forbes magazine authored an article titled, "Energy Was The Top-Performing Sector in 2021." The chart is from https://www.forbes.com/sites/rrapier/2022/01/05/energy-was-the-top-performing-sector-in-2021/?sh=316f51b73291
It opened, "In 2020, the energy sector was the worst-performing S&P 200 sector. With the COVID-19 pandemic crushing energy demand and sending prices reeling, the energy sector declined by 37%."
So, on a year-over-year basis, the bar in 2021 for carbon-based energy was set pretty low.
But World Bank commodity data shows that for using five-year average prices from 2015 to 2019, the average gain in 2021 for all fossil fuels – oil, coal and gas – was 54.4%. In a world that still uses fossil fuels for over 80% of its primary energy needs, this is an alarming trend that will lead to higher prices for almost everything.
It is one thing to postulate about what civilization should do.
It is another to put forth workable alternatives in an economy built primarily on the same resources that are said to be causing the problem.
Particularly when there are no large-scale or 24/7/365 reliable energy alternatives at the present time or on the immediate horizon, and no practical substitutes for oil and gas for heavy transportation, plastics, petrochemicals and fertilizers.
What makes an emergency declaration difficult to comprehend is that Alberta's oil and gas business is growing and will be for the foreseeable future thanks to the TMX pipeline, LNG Canada and the Coastal Gas Link pipeline, and significant new petrochemical investments producing everything from ethylene to polypropylene to hydrogen.
A look around the globe reveals that with prices for energy, food and other essentials rising fast, the pace of decarbonizing the world's energy complex is slowing and evolving to reflect the needs of the billions the master plans are supposed to protect.
India and China chose coal over virtue signaling at COP 26 in Glasgow. To support three billion people they had no choice.
Climate campaigner Joe Biden is more concerned about the price of gasoline and the 2022 mid-term elections this year than whatever he said to get elected two years ago.
Facing skyrocketing energy costs, the EU recently ratified natural gas and nuclear power as part of the energy transition.
African countries regularly accuse the developed world of hypocrisy as it tries to modernize.
OPEC leaders are warning of global chaos if the world doesn't start investing in more oil supplies.
Canada is a large, cold, sparsely populated country that exists in its current form because of its massive resource base. It supports 38 million people only because of ample supplies of cheap and powerful fossil fuels and resource exports.
Exportable resources and commodities support millions of jobs. But everyone who buys our fossil fuels, petrochemicals, minerals and food already has electricity.
The question and challenge for policy makers, politicians and pundits is exactly how much financial dislocation can a resource-based, carbon intensive economy like Canada's endure, and over what time frame?
David Yager is an oil service executive, oil and gas writer, energy policy analyst, and author of From Miracle to Menace – Alberta, A Carbon Story. Find the book to www.miracletomenace.ca.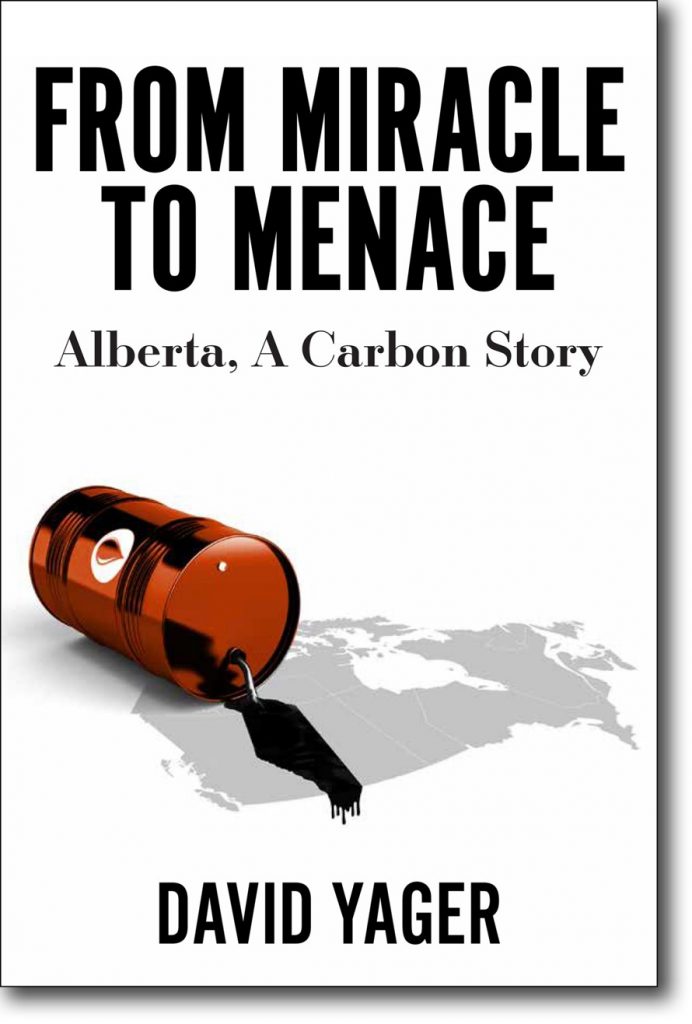 Share This:
---
More News Articles