By Matthew Martin and Mahmoud Habboush
Oil jumped after U.S. President Donald Trump said that China wanted to restart trade talks, potentially easing tensions between the two countries.Futures in New York rose as much as 1.5%, snapping the longest run of declines in more than five weeks. Trump's comments reversed a drop of as much as 2.2% that had looked set to continue the streak of losses for a fifth day. Trump's words cooled concern that China's plan to halt purchases of American crude and threats of tougher U.S. levies would worsen an already shaky global demand outlook.

"China called last night our trade people and said let's get back to the table," Trump said at the Group of 7 meeting in Biarritz, France. "We're going to start very shortly and negotiate and see what happens but I think we're going to make a deal."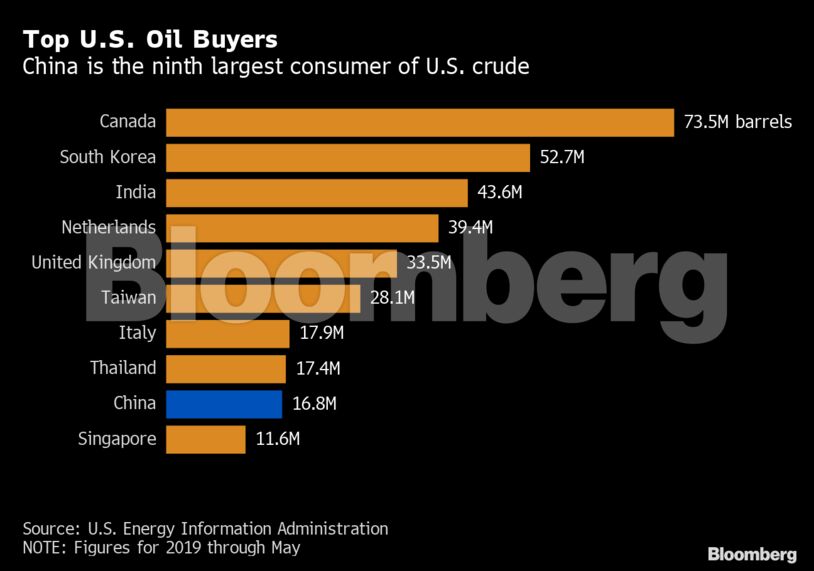 West Texas Intermediate crude for October delivery rose 75 cents, or 1.4%, to $54.92 a barrel on the New York Mercantile Exchange as of 8:40 a.m. in New York. WTI reversed declines of as much as $1.21 earlier.
Brent for October rose 55 cents to $59.89 a barrel on the ICE Futures Europe Exchange. Brent traded at a premium of $4.96 to WTI.
"The hot and cold approach to negotiations continues and is creating a great deal of confusion," said Ole Sloth Hansen, head of commodity strategy at Saxo Bank A/S in Copenhagen. "At this stage we have to assume that tariffs will be raised, which is not good for growth and demand."
Asked by reporters in Beijing about Trump's remarks shortly after the American president spoke, China's Foreign Ministry spokesman Geng Shuang said that he wasn't aware of any weekend calls between the two countries. He repeated China's position that the trade war should be settled through negotiation.
Futures in New York had dropped on Friday after Beijing said it would impose retaliatory tariffs on another $75 billion of U.S. goods, including oil for the first time. President Trump later responded with additional tariff increases on Chinese goods, and also called for American companies to pull out of Asia's largest economy.
A tanker offloaded its cargo of U.S. oil in China before the imposition of tariffs on American crude, and five more carrying around 10 million barrels of U.S. oil are on the their way. The deadline for the imposition of levies, set to take effect Sept. 1, hangs over them. Beijing's tariffs on American oil will make crude from the Permian Basin $3 a barrel more expensive to Chinese buyers.
"Trump increasingly sounds like he needs the deal more than China and he is playing a very high stakes poker game right now," Hansen said.
Other oil-market news:
Iran has sold the oil being carried by the Adrian Darya 1 tanker sailing in the Mediterranean Sea, state news agency IRNA reported, citing a government official. The tanker was about halfway into the Mediterranean without declaring a destination on Sunday amid continued speculation over where the roughly 2 million-barrel cargo of crude on board will end up.
France has proposed allowing Iran to sell some oil for a limited period in exchange for returning to full compliance with the nuclear deal and restarting talks.
Share This:
---
More News Articles