By David Yager
"If I am elected Prime Minister the Northern Gateway pipeline won't become reality.". So wrote Liberal leader Justin Trudeau on Twitter June 18, 2014. He repeated the promise on the campaign trail in September of 2015 prior to that year's October election. Then on November 30, 2016, it was Prime Minister Trudeau who officially declared Northern Gateway dead at the same time he announced his government's approval for the Trans Mountain pipeline expansion, or TMX. The first time.
On June 18 – five years to the day after his first public pipeline pronouncement – the PM proved yet again he is a man of his word. In the same way he correctly foretold he was going to kill a new Alberta oil export pipeline 15 months before he won the federal election, Trudeau announced for the second time in two-and-one-half years that TMX was a go. Only seven years after former owner Kinder Morgan got the idea to expand it and lined up supportive shippers, the project once again has the green light for construction. Maybe.
While the expansion is once again moving ahead, it will only truly be finished when the new pipe is carrying crude oil. When that will take place in today's turbocharged world of pipeline politics remains uncertain. There will be more opposition protests, obstruction, legal challenges, threats, and vitriol.
Trudeau predicted that construction could begin this year. Opponents guaranteed opposition will commence immediately. He also encouraged Indigenous ownership of the project. News reports noted three First Nations groups not only support TMX but want to own all or part of it.
The major positive development to come out of the recent pipeline wars is that like everyone else in Canada, First Nations have divergent views on oil and gas development. Because of the willingness of more Indigenous leaders to speak up on behalf of hydrocarbon development, it is getting increasingly difficult for climate change alarmists to speak on behalf of the needs and aspirations of all Indigenous Canadians without even speaking to them.

One thing is absolutely certain, and Trudeau never mentioned it. Because of intervention, delays, legislation and contradictory messages, the Liberal government can go into the upcoming federal election and say (if they so choose) with truth and conviction that no oil export pipeline capacity was completed while they held office. To anywhere. None.
Gerald Butts and all the other greens activists permeating the 2015 rendition of the federal government will be proud.
Energy East is dead. Northern Gateway is gone. Keystone XL, cancelled by Barack Obama in late 2015, is still delayed despite its attempted resuscitation by the Donald Trump administration. The Liberals did not stop Keystone XL, but put up little resistance once Obama's decision was made.
Even expansions of existing pipelines were never completed under Trudeau. Although Ottawa approved the Enbridge Line 3 replacement/expansion in November 2016 to great fanfare, it is held up by legal issues in the US. TMX may finally be built, and it may not. News photos of pipe being shipped are encouraging, but the only true measure of success is flowing oil. That is years away, if it happens at all. If construction does resume prior to the October election, it is unlikely to occur on a scale or location which would attract protesters and TV cameras.
If the Liberals win the fall election, it is hardly reckless to conclude no new pipe will ever be built. While not officially linked on June 18, the federal government still has bills C-48 and C-69 in its anti-oil toolbox. As the crescendo opposing the TMX approval rises and the election approaches, the Liberals will most certainly trumpet these bills as changing the country's pipeline landscape. As much as they can't deny they approved TMX, they will also be able to assure the voters that if re-elected, it won't happen again.
And it won't.
Bill C-48, the northern BC coast oil tanker ban, is a staggeringly cynical piece of legislation which will make Canada the only major oil producing country in the world specifically prohibiting the export of its abundant crude supplies by tanker in times of global oil surpluses, not shortages (the US prohibited oil exports during the high-price OPEC years then reversed the decision in 2015 after the light tight oil boom).
When Bill C-48 becomes law and if the Liberals are re-elected, it will never be tested or enforced. That's because of Bill C-69, routinely called the "No Pipelines Act" by opponents. The official name is the Impact Assessment Act and the Canadian Energy Regulator Act, a replacement for the National Energy Board and previous pipeline approval processes. If C-69 also becomes law and remains in place, no project will ever be approved because no company in its right mind is even going to try.
That's because the Impact Assessment Act has vastly increased the number of factors to be considered including gender equity, more intervenors including individuals or entities not directly affected by the project, and leaves the final decision in the hands of politicians.
By including every possible social and political consideration in the hearing and regulatory adjudication process, Bill C-69 is intended to prevent any elected politician from every having to make a public decision or pronouncement that might cost them even a single vote.
Take, for example, the requirement for aboriginal consultation in the Constitution Act of 1982; Section 35, the vaguely defined "Duty to Consult."  This is the section of the Constitution the Federal Court of Appeal used to overturn the Northern Gateway project in 2016 which had been approved by the NEB and the federal government.
Since inadequate aboriginal consultation was also a reason for the Federal Court of Appeal to overturn the Trans Mountain decision in August of 2018, more commentators are noting that the duty to consult does not define what consultation is adequate. This is up the interpretation of the judges of the day.
Under C-69, if regulators can't figure out how to deal with issues written into the Constitution, what are they going to with gender equity? How will they accurately measure the climate impact of a Canadian oil project in a world where global emissions grow unchecked in all the countries of the world that are not OECD members, the ones where 6.2 billion of the world's 7.4 billion people live?
Based on court instructions after the TMX rejection, the federal government went back and conducted much more aboriginal consultation. This changed nothing for opponents.  On June 17 the Chief of Tsleil-Waututh Nation in Burnaby, fierce TMX critics, wrote in The Globe and Mail that if the cabinet approves the pipeline despite their opposition the group "…is prepared to use all legal tools necessary to ensure that our rights are protected for future generations." Which means no pipe.
Add the many new factors to be considered in C-69 and more post-decision legal action is assured by anyone and everyone unhappy their concerns were ignored.
The national debate on C-69 has been intense. The Globe and Mail wrote an editorial June 13, 2019 titled, "No, Ottawa is not out to kill pipelines with Bill C-69." It opened by noting that there were numerous challenges to pipelines in the US where there was no similar legislation, and how could Ottawa hate pipelines when it owned Trans Mountain. The act is intended to "foster sustainability". It concluded, "Bill C-69 is a solid attempt at addressing the many complexities of building industrial projects in the 21st century."
What could possibly be wrong with that?
But like most media commentators, there was a complete lack of understanding of what it looks like from a business perspective, the mobility of capital, and the corporate imperative to mitigate risk. Much of Canada's infrastructure investment is trapped here, things like roads, railways, power lines, schools, housing, office buildings, shopping centres, cellular towers and other projects meant to serve and support local residents. There is no competition with other jurisdictions. Confronted with endless and costly approval processes, a power line intended for suburban Toronto isn't going to end up in Louisiana.
Oil and gas investment capital is different. Global commodities. Global markets. Global supply options. The only country in the world that is demanding an oil pipeline must consider Bill C-69's voluminous basket of social justice issues is Canada. The indifference or ignorance of those who don't appreciate issues of global capital flows and international economic competitiveness is staggering.
While the day-to-day attention of the media and commentators is focused on the details of TMX, C-48 and C-69, it is useful to step back and have a look at the events of the past four years and their impact on the future of Canada's oil and gas industry.
The pipeline debate has been predictably partisan and shallow. After campaigning on retooling the NEB and cancelling Northern Gateway, the governing Liberals sent out the message that oil and gas development or expansion capital was no longer welcome in Canada. This was a post-carbon government that was moving beyond fossil fuels by promising to phase out coal for power generation, introducing carbon taxes, and being the only country in the world determined to meet its 2015 Paris Climate Change commitments by reducing total GHG emissions by 30% by 2030.
As it stumbled through the pipeline file, the Liberals repeated the message that no new export pipelines were built under the previous Harper government so many times that people started to believe it. This is absolutely false. During the Harper era 1.4 million b/d of export pipeline capacity was approved and built including Alberta Clipper and the original Keystone line. The 1.5 million b/d of oil production growth that took place this century would not have occurred otherwise.
Meanwhile, as written above, not one barrel of increased oil export pipeline capacity has been added under the Liberals. All additional output has been shipped by rail.
Never let the facts ruin a good political narrative.
While everyone focuses on the pipeline trees, let's examine the oilpatch forest. There has been well over $100 billion in asset sales, project cancellations or capital expansion outside the country since the Trudeau Liberals were elected. Foreign companies who sold all or part of their Canadian operations for over $60 billion (including the recent sale by Devon of their properties to CNRL) include Shell, ConocoPhillips, Devon, Kinder Morgan, Marathon, Chevron, Murphy, Apache, Statoil and Total.
This figure does not include LNG proponents like Petronas who gave up because of seemingly interminable regulatory reviews and obstacles; the oil sands projects that were cancelled or delayed; or the rerouting of billions in investment by Canadian companies like EnCana to more promising opportunities in the US.
During the same period Canada's two main pipeline proponents and operators – TransCanada and Enbridge – have chosen to expand massively into the United States. TransCanada bought US-based Columbia Pipeline Partners while Enbridge acquired Spectra Energy Partners. The total value of these transactions was about $55 billion. TransCanada is so enamoured with its home country it recently changed its name to TC Energy. (If anybody cares, TransCanada was invented by the Liberals in the 1950s to move Alberta gas to central Canada).
This is after the two companies vaporized about $4 billion trying to get Northern Gateway, Keystone XL and Energy East built. While the Keystone XL debacle was not the Trudeau government's fault, it is a reminder that publicly traded, broadly owned private companies like Kinder Morgan, Enbridge and TC Energy cannot and will not again risk billions of dollars of shareholder capital on a dead-end pipeline approval process. Hopefully, Enbridge Line 3 and Keystone XL will overcome the US expansion hurdles and be completed.
The financial devastation is not confined to the transactions previously cited. Liberal-induced pipeline paralysis has also affected investment patterns, company values and Canadian oil prices.
On June 13, 2019 CAPP again reduced its oil production forecast out to 2035 for the fifth straight year. In 2014 CAPP estimated output of crude oil and diluent would reach could reach 7.5 million b/d by 2035 based on known projects. As the pipe and investor confidence disappear, so do investment plans. This figure is now 6.34 million b/d.
Besides the capital investment associated with an additional 1.16 million b/d of liquids production, based on an average price of US$50 per barrel that is a permanent loss of $28 billion per year in annual revenue and all the operating costs, taxes and royalties that go with it. This about 50% of the total budget of the province of Alberta. Capital investment of $81 billion in 2014 is estimated to be only $37 billion in 2019.
Federal Energy Minster Amerjeet Sohi routinely waves the Liberal flag and brags about the $40 billion earmarked for LNG Canada which was approved by the Trudeau Liberals. Assuming, of course, it overcomes the pipeline jurisdictional challenge and continued Indigenous right-of-way opposition.
What Sohi never admits is that the total budget for LNG Canada is less than one year of reduced CAPEX by the rest of the industry. The amount of money not invested because of Liberal energy policy obstacles and indifference could easily be many times that amount if they are returned to office.
In terms of personal wealth and collateral benefits, the combination of low oil and gas prices, even lower Canadian prices because of market access challenges, and the evaporation of investor confidence has been devastating on Canadian E&P companies. In my book From Miracle to Menace – Alberta, A Carbon Story, I compared the stock market capitalization of 20 Canadian E&P companies in early 2019 to their values in 2014. Over $120 billion in wealth had been destroyed in the period. Oil service companies have lost billions more.
Calgary's downtown office towers are plunging in value as they struggle with a 30% vacancy rate. This has resulted in a loss of hundreds of millions of business tax dollars to operate the city. The tax burden has been transferred to smaller business which have seen their property taxes double causing many to close and precipitating a small business tax revolt.
And so it goes, the massive collateral damage inflicted by a Liberal government that started with Trudeau's seemingly innocuous Tweet five years ago stating, "If I am elected Prime Minister the Northern Gateway pipeline won't become reality."
The day before Ottawa approved Trans Mountain, Environment Minister Catherine McKenna introduced a motion in the House of Commons declaring a national climate emergency and reinforced its Paris emission reduction commitments for 2030. It passed 186-63 with the support of Liberals, New Democrats, Bloc Quebecois and Green MPs. (Party leaders Justin Trudeau, Andrew Sheer and Jagmeet Singh were so moved by the importance of this issue they were absent for the vote. They were hunting for votes in Toronto at the Raptors victory celebration).
A climate emergency in Canada as world fossil fuel production and consumption rises unchecked? The Bill C-69 process will never approve nor decline another oil pipeline because no executive team or board of directors overseeing the responsible stewardship of other peoples' money will ever ask.
Of the ten boxes that must be checked for foreign investors confidence to return, TMX is number two. The first was Alberta's new UCP government on April 16. The other eight include replacing the federal Liberals this fall, killing bills C-48 and C-69, completing Enbridge Line 3, building Keystone XL, getting the gas flowing on LNG Canada, starting on the new Teck Frontier oil sands mine, and turning the dirt for Imperial Oil's Aspen in-situ oil sands project.
A long way to go, but there's nothing on this list that is impossible or that hasn't at least been conceived or started. There does indeed exist a set of circumstances that could return our industry to pre-Trudeau levels of investment and activity and much higher employment.
Enjoy Ottawa's Trans Mountain oil pipeline approval. Because if the Liberals are re-elected in October, there will never be another one.
David Yager is the author of From Miracle to Menace – Alberta, A Carbon Story. More about the book at www.miracletomenace.ca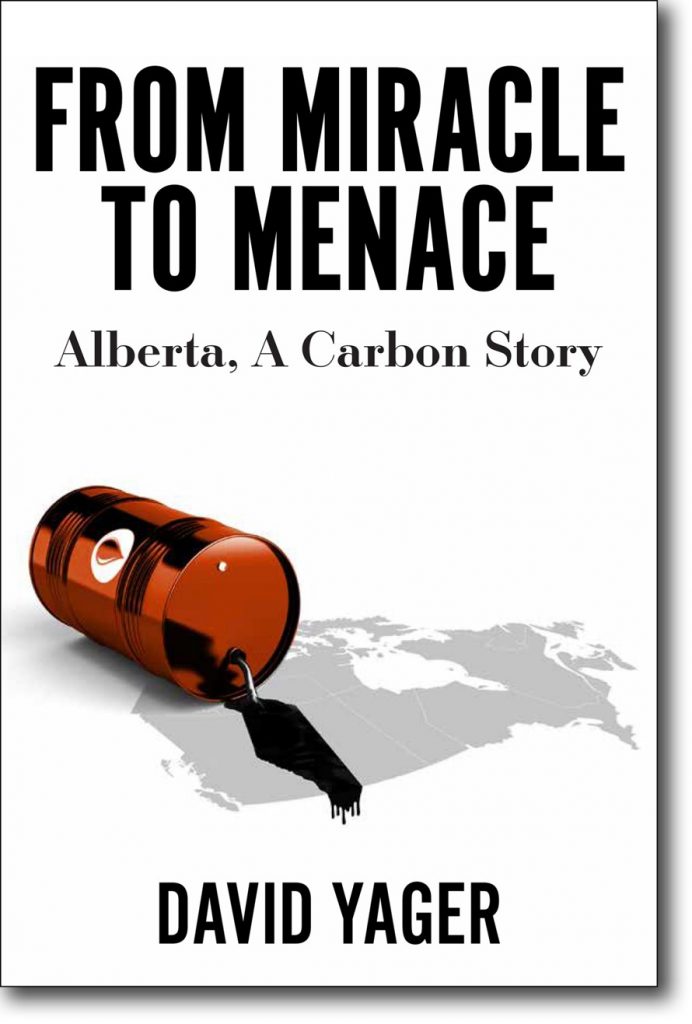 Share This:
---
More News Articles