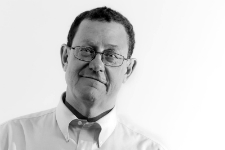 David Yager – Yager Management Ltd.
Oilfield Service Management Consulting – Oil & Gas Writer – Energy Policy Analyst
The financial results for the 2016 contract drilling bloodbath are coming out and the numbers aren't pretty. Without significant increase in rigs rates, utilization or both, this still doesn't resemble a compelling place to invest capital.
Ensign Energy Services Inc. released its numbers March 5th and reported a loss of $150 million on revenue of $756 million, total sales 39% lower than the prior year. EBITDA was $185 million, a 44% reduction from 2015. Who thought 2015, the first year of the oil price collapse, would actually be a pretty good 12 months by comparison?
Trinidad Drilling Ltd. released its 2016 financial performance a few days earlier. The company lost $53 million on revenue of $362 million. Revenue was down by 34% from 2015 but profit was higher than the prior year. Trinidad reported EBITDA of $143 million, a tidy 40% of revenue. This is the beauty of long term drilling contracts and the collapsible workforce when the rigs aren't drilling. Regardless, Trinidad went to the equity markets in February and raised $150 million. Whatever the condition of the balance sheet, the executive team and the board of directors figured more cash was required.
Precision Drilling Corporation had its 2016 financial results out in early February. Revenue fell by 39% to $951 million from the prior year and "PD" reported a $156 million loss. EBITDA was $289 million or 24% of revenue but that was 57% less than in 2015. There's a pattern emerging here.
Western Energy Services Corp. published its 2016 figures February 22. Year-over-year revenue was down 45% to $124 million and the company booked a loss of $62 million. Western's EBITDA was only $6 million which was 90% lower than 2015.
Savanna Energy Services Corp. will be releasing March 8, too late to be included in this article. Savanna is engaged in an unsolicited takeover offer from Total Energy Services Inc. the outcome of which remains unknown. Savanna is obviously looking for the highest possible value for the company.
The problem is obvious according to the website for the Canadian Association of Drilling Contractors (CAODC). In 2016, a pitiful 3,434 wells were drilled, only 65% of the prior year and under 1/3 of the 10,927 wells drilled in 2014. While most of the drilling contractors referenced in this article have operations outside of Canada, this is still the home base and country of corporate origin.
What is useful about the drilling statistics for the past three years is for the most part drillers are doing essentially the same thing; extended reach horizontal wells for oil or natural gas liquids. Going back to data from 2005 and 2006 when the CAODC reported 21,927 and 22,186 new wells were drilled respectively, the target was primarily natural gas (75%) and the wells were vertical.
So, comparing recent drilling data with that of a decade doesn't really mean much. The ARC Energy Research Institute reports capital spending on conventional oil and gas was lower in 2008 than 2014 but the number of wells drilled was much higher. That's because of the types of wells being drilled. And, of course, it also requires different drilling rigs. This is where one has to question whether or not this is an industry that can generate a competitive return on invested capital unless oil is $100 a barrel and everything that can drill is making hole as often as possible.
According to the JWN Rig locator, in 2007 Canada supported 872 drilling rigs classified as fit for service and ready to drill. This is about 200 more rigs than are currently listed as available. When Ensign Energy Services announced its 2016 results, the company reported another 20 rigs had been retired. According to a Calgary Herald story, since 2009 Ensign has reportedly taken some 200 drilling and service rigs out of service.
Same story at Precision only with bigger numbers. Precision Drilling reported to capital markets a year ago it was mothballing 79 "legacy" drilling rigs and focusing on its "Tier 1" units. On February 11, 2016 Precision told the Calgary Herald in the past six years it has mothballed, scrapped or salvaged for parts 236 old-style rigs and replaced them with 238 new ones. Even at the economical price of $10 million each – which is surely low – the total investment is nearly $2.4 billion.
This has been very expensive. The following chart shows that in terms of investment in property plant and equipment for the six years from 2010 to 2015 – the growth years of the horizontal drilling revolution – these five drilling companies invested over $8 billion on new equipment. While most of the companies are diversified with service rigs, rental equipment and other services, it is fair to say most of this money was invested in new drilling rigs.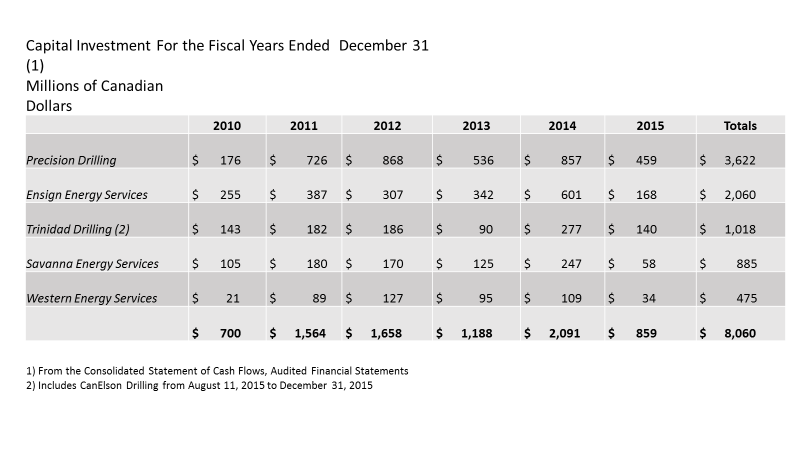 Which is great. For the steel companies, equipment suppliers, rig component manufacturers, fabrication shops and oil company clients. The question remains are the drilling contractors making any sort of return commensurate with such an enormous investment?
The problem for capital intensive businesses like contract drilling is not the EBITDA margin but depreciation charges. These high-performance rigs run hard. They drill wells in record time and move almost continuously on pad projects. The high-volume mud systems operate at 10,000 PSI or higher. Repair, maintenance and replacement expenses are real and not insignificant.
According to their audited financial statements, the combined depreciation charges for these five companies in 2015 was nearly $1.1 billion, not out of line for their existing capital asset base plus over $8 billion in capital additions. In the notes to its 2015 audited financial statements Precision said the main components of their rigs are depreciated from 5 to 20 years: "power and tubulars" five years, "dynamic" 10 years and "structural", substructures, masts, catwalks etc. 20 years. Obviously, the company must generate enough cash on each and every job to anticipate replacing assets to prevent going out of business. As a group the five companies need a significant free cash flow from operations (after repair and maintenance) commensurate with investing $8 billion.
In the old days the major components of a drilling could indeed be depended upon to provide 20 years of faithful and low cost service. A new engine every now and then, mud pump, kelly hose, some new drill pipe and collars. But that entire generation of conventional, kelly and rotary table rigs that served the industry and its owners so well for so long is obsolete. Today's rigs are, to use that old saying, "run hard and put away wet".
This writer is no position to tell Precision how to run a drilling company. But five years on tubulars, engines and pumps seems like a long time for increasingly aggressive horizontal wells with drilling mud circulating at volumes and pressures more like hydraulic fracturing than cuttings removals. Remember that old duplex pump chugging along at 1,500 psi? For years? How long this new generation of high performance rigs will actually last is unknown because for the most part they are all relatively new.
Again, this writer is in no position to pass judgement on the investment decisions made by the management, boards and shareholders of these five companies. When most of the capital was committed, the clients wanted and needed the rigs, signed attractive long-term contracts to help pay for them, and, until oil prices collapsed, honored their end of the deal. After that it was war. Contracts were contracts but the oil companies still wanted the lowest possible price. The sustainability of their drilling contractors – or any other vendor for that matter – was secondary as customers struggled with their own future and possible mortality.
Fortunately, the drilling market has improved tremendously. On March 7 JWN Rigs report 306 rigs making hole compared to only 103 on March 8 last year. Sure, last year had a warm winter and early spring. But having three times as many rigs operating makes this business look a lot more intelligent than it has been recently.
But examining the drilling business today – one of higher but flat oil prices and customers reluctant to share a nickel unless forced – you have to wonder who would plunk down $20 million for a state-of-the-art piece of drilling machinery. Then put it work for a client that likely doesn't care if you go broke, let alone earn your capital providers a competitive return. With ever-shrinking global investment markets there are many different opportunities to employ investment capital.
Fortunately, the billions are sunk and both oil companies and drilling contractors need each other. But realistic rates, so the drilling and service sector can service the fortune it has invested in new equipment, is hardly too much to ask in a purely symbiotic relationship.
About David Yager – Yager Management Ltd.
Based in Calgary, Alberta, David Yager is a former oilfield services executive and the principle of Yager Management Ltd. Yager Management provides management consultancy services to the oilfield services industry in a number of areas including M&A, Strategic Planning, Restructuring and Marketing. He has been writing about the upstream oil and gas industry and energy policy and issues since 1979.
See David Yager's Corporate CV
List of David Yager's Consulting Services
David Yager can be reached at Ph: 403.850.6088 Email: [email protected]
Share This:
---
More News Articles