By David Yager
A basic tool for explaining the economic impacts of the tough decisions governments make when allocating finite resources in times of crisis is "guns and butter."
Website Investopedia writes, "Guns and butter generally refers to the dynamics involved in a federal government's allocations to defense versus social programs…(both) critically important to a nation's economy. Depending on the global security environment, the defense may take priority over social, specifically in times of war. Times of war can have a substantial effect on a country's economy and its societal progression."
Investopedia's history of the term refers to the US during WWI when nitrate fertilizer for food production was diverted to the war effort to make explosives. It became a controversial political issue when it became clear that the government was sacrificing some people to save others.
A century later, the same challenge has emerged with fossil fuels and food.
This is bad.
In recent years climate change has become a dominant single-issue narrative with major unintended – or unmentioned – consequences only beginning to emerge. A global economy built upon fossil fuels is intricately interconnected. And we're being reminded yet again that market forces are much more powerful than telling everyone else what to do, no matter how noble the intentions.
The "war on climate" has indeed put guns before butter. Because the greater goal of reducing fossil fuel consumption is driving up the cost of food for 7.9 billion people.
There are several ways to look at this.
Those demanding immediate action on climate either don't know, don't care, or have decided not to tell anybody.
You decide.
**********
The COP26 UN climate conference in Glasgow ended with the primary focus on supply – reducing the use of coal, oil and natural gas. There aren't many politically palatable tools available to reduce emissions. Cut off the funds for continued development. Increase the cost through carbon taxes. Ratify existing targets on emission reductions and create new ones. More funding for alternatives, and more financial support for emerging economies so they start with the new low-carbon sources, not the high-carbon incumbents.
On the other side of the equation is demand represented by the 7.9 billion people not invited to COP26. They are facing much different challenges.
For billions the big issue is not 2050, 2030, next year or even next week. It is tomorrow.
It isn't about electric vehicles, installing solar panels, moving investments to climate correct ESG funds, or voting for the political party that expresses the deepest concern.
It is about food.
COP 26 attendees had to grapple with the options on the menu.
For too many others it is about what is, or is not, on their plates.
The UN's Food and Agricultural Organization (FAO) reports that in 2020 the number of people classified as undernourished ranged from 720 million to 811 million. This is about 20 times the population of Canada. This is up sharply from 615 million in 2017.
In 2015 the FAO held a global gathering which made different commitments to meet a different target by 2030.
In 2021, the FAO writes, "The world is in a very different place to where it was six years ago when it committed to the goal of ending hunger, food insecurity and all forms of malnutrition by 2030."
This means that in in same year that UN climate conference attendees at COP21 in Paris agreed the world would reduce GHG emissions 30% by 2030, there was also a conference in Rome committing to ending food insecurity by the same date.
But recent events reveal that the attendees of climate and food conferences either don't talk to each other, or they both believe that expressing deep concern at important, international gatherings will actually solve the major problems of the world.
Because as one UN group tries to figure out how to get emissions down, another is reporting that the price of food is rising sharply.
They are inextricably linked.
The screen shot below was posted on Twitter on November 8 by Liz Ann Sonders, Chief Investment Strategist at Charles Schwab, Inc. It is based on data from the UN FAO's October Food Price Index. More details can be found at https://www.fao.org/worldfoodsituation/foodpricesindex/en/.
The FAO tracks five key global staples as inputs for its food price index. They are cereals, vegetable oil, dairy, meat and sugar.
The latest study reveals the index in October was 133.2, the highest since 2011 when it was 131.9. The previous high before that was 117.5 in 2008.
Below is the same FAO index plotted against the annual price of Brent crude since 2003.
The FOA Food Price Index is directly linked to the cost of fossil fuels. In October it was 40% higher than the average from 2015 to 2020. Oil prices peaked in 2014 then collapsed for the same six-year period. Natural gas, delivered by pipeline or LNG, was also lower during this period as it often trades on an oil Btu equivalent basis.
There is a direct linkage between fossil fuels and food in more ways than oil prices. As I wrote on this page earlier this year, nitrogen-based fertilizer, made first with coal and later natural gas, has helped feed the world for over a century. It has allowed crop yields to rise enabling a growing population to feed itself without deforesting every hectare of arable land in the world.
These charts are from Our World In Data. The graph on the left shows that in 2014 about 60% of the world's fertilizer was nitrogen based. Using fossil fuels, the process takes nitrogen from the atmosphere to make ammonia. This is further processed into urea and ammonium nitrate fertilizers.
The right graph reads that about 4 billion people depend upon this type of fertilizer to help supply their food.
Because the whole world needs food, fertilizer is produced locally. Of the nitrogen-based fertilizer total, 63% is produced in Asia. That's where it is needed. In Europe it is 25%, or it was until natural gas prices exploded. Based on population, some of Europe's nitrogen fertilizer is probably exported.
According to the International Fertilizer Association, about two-thirds of ammonia/nitrogen fertilizer is made using natural gas and 30% from coal. Coal was used in the original development of the process early last century. But of all the fertilizer in the world manufactured from coal, 95% comes from China.
In the direct relationship between fossil fuels and food supplies, fertilizer is only part of the equation. Modern mechanized farm equipment is powered by diesel fuel, as is truck transportation. Crops are dried using propane or natural gas. Refrigeration, a key element of preservation and freshness, comes from electricity and nearly two-thirds of that is created with, in descending order, coal, natural gas and petroleum. Large scale transportation by rail or ship is powered by crude. What food is shipped by air freight is obviously powered by jet fuel from petroleum.
All the foregoing has had a wonderful impact on the ability of the world to feed itself. There have been predictions dating to back to Malthus in the late 1700s and the epic book The Population Bomb in 1968 that this was impossible. Here's a chart illustrating the tremendous increase in crop yields in the past 60 years.
Increasing yields have also reduced deforestation of arable land to grow food. While deforestation continues because of population growth, the rate has declined this century.
The linkage between the price of fossil fuels and world food prices is clear to anyone not intentionally ignoring the facts.
Fossil fuel prices are rising due to continued demand growth, years of underinvestment, targeted restrictions of investment capital, direct obstruction of new supplies, growing population and some impact from pandemic supply disruptions.
The price of natural gas has exploded in Europe and Asia.
The CME reports that the closing price on November 12 for "Dutch TTF Natural Gas (USD/MMBTU)" for December 2021 was US$25.17/mmbtu. On the other side of the world, "LNG Japan/Korea Marker (Platts) Futures was US$31.42/mmbtu.
On the same day US Henry Hub gas was at US$4.79, and Canadian gas at AECO was C$5.03, or about $US4.01.
Western Canada has the lowest market-priced natural gas in the world. Why? That's another story for another article.
The price of gas for fertilizer feedstock in Europe is so high that several plants have shut down in the UK and continental Europe. On October 13, a BNN Bloomberg wire services story reported, "'If this situation is not addressed urgently, there is a real risk that temporary closures will lead to permanent closures or relocation of our sector outside Europe,' said Jacob Hansen, director general at Fertilizers Europe, which represents 17 manufacturers and eight national associations."
Respected international energy markets commentators Goehring & Rozencwajg released its third quarter Natural Resource Market Commentary titled "The Energy Crisis is Here."
After reminding readers the current situation was predicted in the second quarter of 2020, the only surprise for the authors was that the natural gas shortage occurred before an oil shortage. By the end of next year, the report reads that this could be the first time in history that there will be greater physical demand for oil than supply.
The authors turned their attention to the impact on agriculture writing, "Energy markets are also tightly bound to global agriculture. We believe agricultural markets are primed to slip into crisis at some point this decade. As energy shortages have spread, many fertilizer and soybean processing plants in China and the UK have already been shut."
Will food be the same as oil? Will it be expensive food or no food?
***********
If there is a problem with food prices, it was not worthy of mention at the end of COP 26. The word does not appear in the closing statement.
That's no surprise. It was, after all, a climate change conference. The main focus was renewed commitments to reduce fossil fuel supplies and, in the absence of some new miracle energy source, increase its cost and consumption.
The final statement was not as strong as many hoped because so many countries are facing the realities at home of a sluggish economy and rising food and energy prices.
There was specific criticism of India which refused to agree to hard commitments to reduce then eliminate coal consumption. This held up release of the final wording by a day. India represents 1.4 billion people or 18% of the population of the world and insisted the final wording read "phase down", not "phase out".
India had opened COP 26 by advising the delegates it would not be considering achieving net zero emissions before 2070. India is the world's thirds largest GHG emitter.
Coal supplied 38% of the world's electricity in 1973 and 37% in 2019. The IEA estimates that over the next 20 years, India is going to have to add the same electricity generation capacity as the EU has today to modernize and keep up with population growth.
UN climate conferences focus on fossil fuel supply because they have limited tools to reduce demand beyond forcing everyone pay more, even if they cannot afford it. This has been the unspoken obstacle that no climate conference since the Earth Summit in Rio de Janeiro in 1992 has been able to overcome.
Numerous climate activists have been more forthright on what is required to win the war on climate change by making comparisons to the sacrifices made during the Second World War.
Perhaps the attendees at COP 26 know exactly what they are doing, and therefore they dare not tell anybody.
And if they are indeed creating global food shortages intentionally without full disclosure – or accept this as the price that must be paid to tame the climate change beast – they must be prepared to live with the consequences.
In closing the guns and butter analogy, I wrote this in my book From Miracle to Menace – Alberta, A Carbon Story. It's a true story of when Alberta switched from guns to butter.
  Alberta's petrochemical industry began in Calgary in 1941 with the opening of a plant creating ammonia and ammonium nitrate. The feedstock came from existing pipelines and gas fields, including Turner Valley. This was the first plant in North America to use natural gas as feedstock. The ammonia was converted to ammonium nitrate on site and at Trail, BC. At this point in history, the primary market was supplying wartime munitions plants in Winnipeg, eastern Canada, and the US. However, advances in explosives rendered ammonium nitrate obsolete for the military. By 1943 the plant was turning out ammonium nitrate fertilizer in pellet form. This product was sold in the US, Canada, Europe, Africa, and Asia. The ammonia not converted to fertilizer in Calgary was sold as feedstock to plants in BC (Hanson 1958).
This business still operates in Calgary today under the name Nutrien. It was incorporated as Consolidated Mining and Smelting Company of Canada in 1909, which went into the sulphur-based fertilizer business at its Trail, BC, copper mine as a way of reducing pollution from sulphur dioxide and sulphuric acid, a by-product of copper smelting. In 1966 the business became known by its abbreviation, Cominco Fertilizer. The name was changed again to Agrium in 1995, when Cominco exited the fertilizer business. When Agrium merged with Potash Corp. in 2016, the new company's chosen name was Nutrien, now a global fertilizer supplier.
Thanks to carbon-based petrochemicals, Alberta's natural gas industry has been helping feed North America and the world for over 75 years.
But the message from COP 26, Justin Trudeau, Steven Guilbeault and Jonathan Wilkinson – and urban voters in Montreal, Toronto and Vancouver – is that the world will be a better place when Alberta goes back into the munitions business.
Because that's what the war on climate change demands. More guns, less butter.
David Yager is an oilfield service executive, oil and gas writer, energy analyst and author of From Miracle to Menace – Alberta, A Carbon Story. More at www.miracletomenace.ca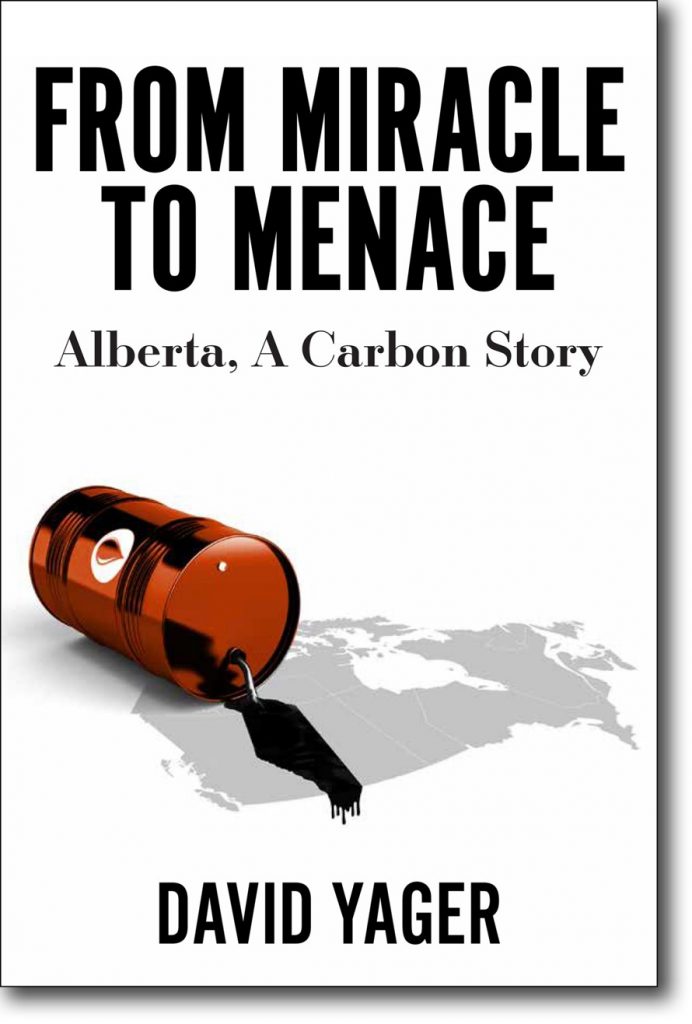 Share This:
---
More News Articles