(Bloomberg) 

Brookfield Infrastructure Partners LP plans to raise its hostile offer for Canada's Inter Pipeline Ltd. to C$8.6 billion ($6.9 billion) in cash in another push to break up a friendly, all-share takeover by Pembina Pipeline Corp.

Brookfield said Thursday in a statement it will now offer investors C$20 in cash, or 0.25 of a Brookfield Infrastructure Corp. share, for each Inter share. That's a 2.6% increase to the cash offer.

Inter investors who want to receive stock would get Brookfield Infrastructure Corp. shares worth C$23.85, based on Wednesday's closing price. That's subject to proration, as Brookfield has put a cap on the number of shares it's willing to issue for the deal.

Pembina has offered 0.5 of its shares, a bid that's currently worth C$19.70 per Inter Pipeline share. Inter Pipeline closed at C$20.27 on Wednesday.

The fight over Canada's fourth-largest pipeline company follows years of failed attempts to build major projects like TC Energy Corp.'s Keystone XL and Enbridge Inc.'s Energy East, which may have made existing lines more valuable. Inter owns pipeline infrastructure across Western Canada, connecting oil and natural gas producers with domestic and foreign customers.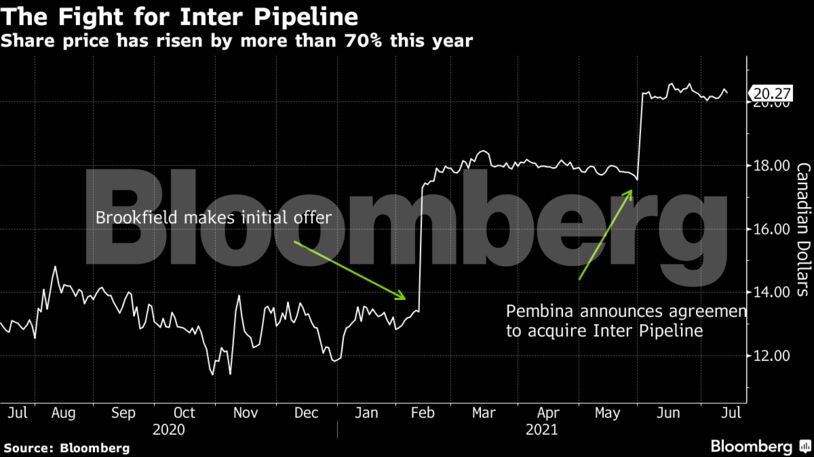 The takeover saga started in February with a C$7.1 billion offer from Brookfield that was rejected by Inter's board. The target company announced an agreement with Pembina on June 1, and Brookfield has since revised its bid three times.
The two sides took their fight to the Alberta Securities Commission, where Pembina and Inter challenged Brookfield's disclosure and its use of total return swaps to build an economic stake of nearly 20% in Inter Pipeline before launching its bid.
The merger partners won a partial victory this week. The Alberta regulator ruled that for Brookfield's bid to succeed, it would have to get 55% of Inter shares instead of 50% plus one, to take into account the votes attached to shares that are tied to the swaps. That decision increased the pressure on Brookfield to revise its bid again.
Share This:
---
More News Articles