By Michael Bellusci
(Bloomberg) 

Canadian stocks plunged almost 10% in another day of wild trading as new measures to curb the spread of the coronavirus only intensified concerns the economy is heading into a recession.

Prime Minister Justin Trudeau said the government will restrict the entry of all non-residents into Canada except Americans, while U.S. President Donald Trump urged social distancing, and schools and restaurant services across North America are shutting down to fight the pandemic.

The S&P/TSX Composite Index dropped 9.9% to the lowest level since February, 2016, bringing its losses to 31% from the Feb. 20 peak. U.S. stocks plunged the most since 1987 after Trump warned the economic disruption from the virus could last into summer.

"Whatever you would expect to take place in traditional market meltdown, it's being compounded significantly more because there's so much uncertainty on how it impacts our health and our lifestyle," said Kash Pashootan, chief executive officer at First Avenue Investment Counsel in Toronto, with about C$1 billion under management. "In 2008 you could still go out of your house and still go to work. The way we live is being altered. In New York City for the first time in history you can't go to a bar."
Oil Pain
Ten of eleven sectors fell on the Canada benchmark, while materials closed in the green. Air Canada shares fell 28% today alone on the government travel ban and is now down 62% this year.
Dramatic rate cuts from global central banks, including the Fed on Sunday and the Bank of Canada on Friday, appear to have done little to soothe investors who see global economies virtually grinding to a halt. Royal Bank of Canada was the first to cut its prime rate to 2.95% from 3.45%, matching the Canadian central bank's cut.
Oil's spectacular collapse deepened, with West Texas Intermediate futures settling under $29 per barrel in New York as widening global efforts to fight the spread of the coronavirus looked set to trigger the most severe contraction in annual demand in history.
Recession Call
Gold extended losses after its worst week in almost four decades, with investors "selling whatever they can" as the widening economic impact of the coronavirus spurred panic across markets. Gold and silver equities however, defied slumps in their respective commodities, led by a jump in levered ETFs, which saw massive weakness and volatility last week.
The Bank of Canada will likely take the overnight rate to 0.25% from 0.75% ahead of the next scheduled decision on April 15, according to meconomists from Bloomberg Intelligence.
CIBC is among banks calling for a recession this year domestically along with the United States. Royal Bank of Canada thinks the country will fall into a recession this year after taking a double hit from falling oil prices and the global impact of coronavirus on economic activity. Meanwhile, Bank of America said Friday Canada will experience negative GDP growth during the second and third quarters of this year.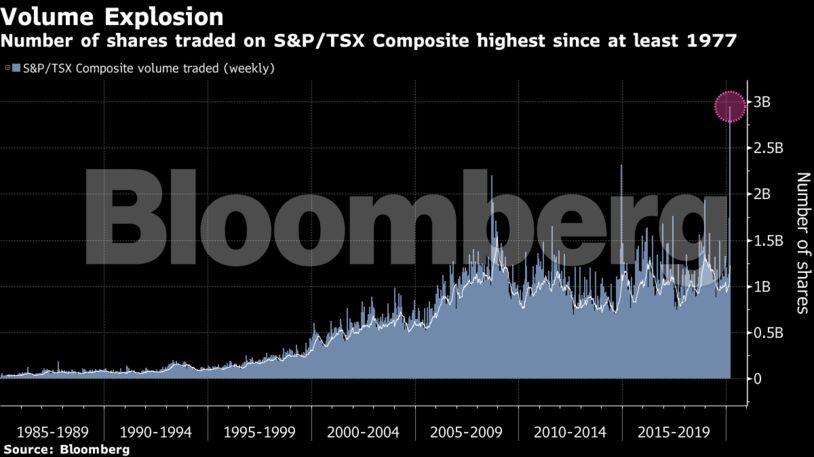 The numbers of shares traded on the benchmark S&P/TSX last week hit its highest level since at least 1985, when Bloomberg started compiling data.
"History has shown that emotional selloffs tended to be buying opportunities," Diana Avigdor, portfolio manager and head of trading, at Barometer Capital Management. "If we are able to get a handle on the Covid-19 human angle, this too will be a time you wished you put a little money to work. It may not yet be bottom, but you don't catch bottoms except in hindsight."
Commodities
Western Canada Select crude oil traded at a $14 discount to West Texas Intermediate
Spot gold dropped 1.9% to $1,500.55 an ounce
FX/Bonds
The Canadian dollar weakened 1.5% to C$1.4016 per U.S. dollar
The 10-year government bond yield fell 7 basis points to 0.78%
Share This:
---
More News Articles