A Commentary by Wendy Ferguson
Guess what?  3 out of 4 of your current employees are either actively seeking another job opportunity or they would consider a new position if they were approached.  This finding from a recent Ceridian survey is unsurprising to me.   Why?  Because of what I see and don't see every day, because of what people consistently tell me and because turnover rates don't lie.
If you have the time to read the survey in full, I highly recommend it and I have added the link at the end of this article…it provides some very important insight into today's organizations…what typically drives people to leave or stay, and even further, the survey breaks down the stay or flee motivators by demographic.
Right now, I want to direct your attention to your organization.  I'd like you to consider your employees right now…everyone that reports to you or indirectly to you.
Identify the Risks
What 75% of your staff could be flight risks?  Pay attention to the tell-tale signs of unhappy employees:
Declined productivity
Reduced work hours: arriving late/leaving early/taking sick days
Withdrawn: loss of excitement in work, no longer offering feedback or ideas for improvement
Change in attitude: negative comments about their job, the company or management
Overloaded with work/burn-out
Complaints by other employees or customers/clients
If any of the above seems to resonate, you have likely identified a flight risk.  Examine how your company would fare losing this employee?  Consider the fallout.  Aside from the hefty cost of turnover, losing certain employees could distress your business for some time.  But most importantly, rather than concluding that the employee may have been a bad hire, that everyone is replaceable, that your company is better off without them, it is your job to consider the root cause.  Causation is key because if it's not identified then it can and will continue to infect your organization.
The Usual Root Causes
Do you believe that the leaders in your organization truly understand what causes employee departures?  I reckon that other employees do and I think it would also be safe to say that external parties such as competitors and others in industry have a clue as to why people leave your company, especially in negative circumstances.  It's human nature for employees to speak up about negative experiences.  Your company's reputation is exposed in these instances.  Exit interviews should shed some light on the reasons, and often they are common reasons and should be carefully contemplated, but by then, isn't it all too late?  The Ceridian survey listed 5 of the top reasons why people leave their jobs.  While I certainly agree with these, my experience with handling employee departures for 20 years leads me to be unconvinced of their respective weights.  Here are the reasons I see good employees leave companies and I urge companies to really consider concentrating on these areas and making changes accordingly:
Organization's Leadership is Lacking: This is number one in my opinion, but it was not listed in the survey I have referenced. The reason this is of utmost importance is because everything below falls into place because of the highest level of leadership in the organization.  The vision, goals, values, priorities, policies, safety, people management, selection of managers and their training, funding (or lack thereof) are ALL defined (or at least should be) by the senior leaders in an organization.  Simply not committing to regularly updating policies to comply with legislation just fosters vulnerability to lawsuits, penalties, employee instability and general chaos.   Further, turning a blind eye to unethical practices or potentially illegal activity will guarantee an exodus…even our Prime Minister isn't immune to that.   Plain and simple, an organization's culture is a reflection of its leadership.
Focus on Retention – Define Who You Are: your leaders should work together to clearly define the company's core values and vision.  Incorporate these into regular discussions amongst all staff as well as an employee handbook.  It is most important that these core values are emulated by the leadership team at all times.  Your company's culture will follow suit.
Issues with Manager/Supervisor: this may refer to supervisory incompetence, micro-managing tactics, abuse of power, or lack of management training. Alarmingly, a 2015 Gallup survey on management revealed that the majority of managers are wrong for their roles.  They are often promoted into management roles based on past experience (often previously individual contributor roles) in the organization.  This frequently backfires because their talent that may have resulted in success in a previous non-management role will not be the aptitude that is required for management position.  Focus on Retention – Choose and Develop Your Leaders Carefully:  Managers that drive high engagement are those who: motivate employees, have the ability to overcome obstacles, create a culture of accountability, communicate effectively and build trusting relationships, and make informed, unbiased decisions for the good of their team and company as a whole.    I see management placement errors all too often and all I can tell you is that going forward, be very careful who you select to lead your employees.  Listen to what others are saying about the leaders of your company.  Other employees will often voice the same concerns about a manager if there are real issues.  While you can rely on exit interviews for this information, it's best to address any leadership issues before you lose good people.  Have you trained your leaders properly?   Do they understand your vision, values and corporate policies?  Are they competent to people manage?   If this is a big 'no' then this must become a priority today.  If you know you have made manager-mistakes then you can invest in developing them properly now or rethink the decision.  It's that simple, but you need to address the problem today.
Disengagement: If an employee is not engaged in interesting work or work that is suitable to her/his skills it is only a matter of time they will be looking for other opportunities. Top-performing employees need a greater purpose in order to find fulfillment in a role.  Employees generally want to feel they have a purpose and are contributing to the company's goals.  They also spend a lot of time at work and need to want to be there, or they won't be there.
Focus on Retention – Connect with Employees: There is no good reason to ignore connecting with your employees on a regular basis. A good manager has habitual one-on-ones with their staff.  Pay attention to their education, skills and background and communicate with them regularly about what makes them tick…then take advantage of it.  This could be special assignments or even allowing them to volunteer their time for something like an external staff event or a community program.  This will benefit their career development and your company will get the very best from the employee.  The most fulfilled employees are the ones that are truly engaged with their work environment and building that engagement starts with a healthy and open manager/direct report relationship.  Stay interviews are also a great idea but only if you are willing to actually listen to employees and act on what you've heard.  I've conducted many stay interview projects and the key is to take the information in and carefully and protectively share the general results with leaders and then staff and set priority objectives accordingly.  Without commitment to improvements and follow-through, however, there is an even greater risk of fleeing employees.
Growth Opportunities: Some employees are content with the status quo, but many are not. This is where communication is key…what are their career and development aspirations and is your company able to work with them to achieve these goals?  Notably, 86% of surveyed respondents in the Ceridian survey indicated that employer provided learning opportunities are either extremely important or important.
Focus on Retention – Grow Your Employees:  I often hear from organizations, especially in difficult economic times, that they can't afford training and development.  Like it or not, your team will be a turnover risk if they're not growing.  Growth does not always need to result in promotion.  Growth can mean training, mentorship, lateral moves with new job challenges, or special projects.  Review each team member's skills and career goals.  Tie opportunities or training into a future opportunity they are interested in or an area they are passionate about.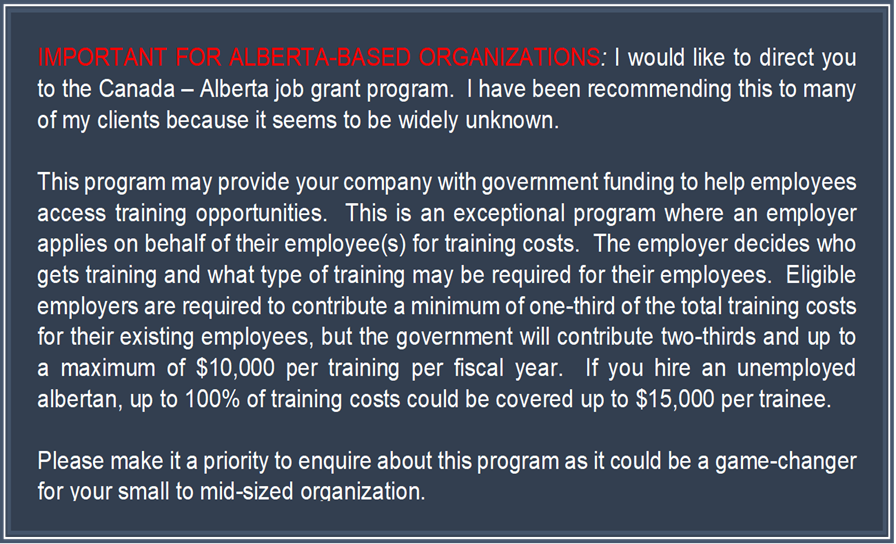 * link at end of article
Compensation: The mighty dollar is always going to be a motivator to stay or leave, but keep in mind that total compensation is much more than base pay…it's that plus extra benefits including health benefits, flex days, other allowances, training dollars, etc. This subject is a constant challenge for most organizations and it is not a surprise that the median of expected salary increase is 5% per year in the Ceridian survey.   When considering compensation, the biggest risk companies face in losing employees is when they perceive they are not being paid equitably or up to market standards.  I've spoken to many employees over the past year and many truly feel that regardless of the economic downturn, inflation is hurting them and that their contributions warrant a pay increase.  This expectation is especially problematic for companies in Alberta that are experiencing such difficult economic times.  The truth is that some companies are trying to remain viable, but remember…so are their employees.
Focus on Retention – Zone in on Pay and Benefits: It is absolutely important to know if your company is competitive in terms of its base pay and you should have your HR department or advisor engage in this project, preferably annually.  That said, are you able to show your employees what their total compensation package looks like so they understand the true investment the organization has made towards them?  Place that as a priority.  When times are tough, rather than avoiding the conversation altogether, be forthright with your employees on the business' challenges and focus appreciation, development, job enrichment or providing flexibility for them.  Just keep in mind that if you can eliminate the 4 previous problems above, then you will be more likely to prevent your employee from leaving for a few extra dollars.
Which brings me to my last ask of you about retention…would you consider personalizing retention strategies for your employees?  If nothing else, the Ceridian survey shows us that employees in different demographics, career and life stages have very different views of their jobs, company loyalty, job security, pay, work/life balance, what motivates them to stay or leave, and what they currently value the most in their lives.  Consider what will create the best situation for them right now and decide if it is something you can work with: Are they entry-level employees that will benefit greatly from on-the-job training and mentorship and a regular, stable pay cheque?  Do they have small children that require a flexible mommy or daddy?  Do they want to travel more?  Are they close to retirement?  Do they have special interests that you could leverage to engage them while benefitting your organization?  Are they attending school while working and could use some flexibility?  Are they in the intermediate stage of their career and on the fast-track to advancing themselves? Are they experiencing health issues?  Would they rather work part-time?  Will you be the organization that supports individuals and in return gain loyalty and maximized efforts while your company thrives? 
I would like to see the day when organizations prioritize employee retention, and not just say they do.  What I often see is a costly revolving door of blame and avoidance of the real causes.  Let's break that cycle!
© copyright
Ceridian Survey Link: https://www.ceridian.com/resources/pulse-of-talent-2018-retention-throughout-employee-lifecycle
Canada – Alberta Job Grant Program Link: https://www.alberta.ca/canada-alberta-job-grant.aspx
Stay tuned for my next month's piece on Employee Turnover – how to calculate it and what the real cost is to your organization.
About Wendy Ferguson
Wendy Ferguson is a Human Resources Professional and owner of Stick People Solutions (SPS), providing simple, flexible and effective solutions for complex people issues.  SPS specializes in employment legislation, policy, workplace investigations and recruiting solutions.  Please follow Wendy Ferguson on LinkedIn for future articles about HR in Alberta.  www.stickpeoplesolutions.com
Share This:
---
More News Articles