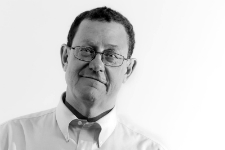 By David Yager, August 25, 2016
Entrepreneur. Consultant. Journalist. Political Activist.
Recently got this email from a Calgary corporate finance and M&A professional who I hired 15 years ago causing him to move to Calgary from Toronto. He wrote, "Would like to know whether this is the worst it's ever been and whether it will come back, or perhaps better yet, whether we should sell all we own here in Alberta (now that we have a chance) and head for the hills." Unlike geologists or petroleum engineers, finance professionals are mobile. With his formal education and extensive oilpatch M&A resume he could likely find work in another city or industry. Business is business.
Other Albertans are contemplating the same decision. Fortunately, it is not yet a major trend. According to Statistics Canada Alberta's population at June 30, 2016 was 4,249,842, up another 1.8% from the previous year. But anybody trying to sell their house or find another job knows how much the economy and market have changed. Is this permanent? Or merely a symptom of lower oil prices?
It's not just population that will shape "Future Alberta". There are several elements including after-tax disposal income, how the world views investment opportunities in this province, capital inflows (or outflows) and the value of the greatest asset class and wealth reserve most people own, real estate. Until recently and with the exception of 2009, in this century every indicator that mattered was going up; disposable income, population, capital inflows and residential and commercial property values. What if they went the other way? How much will Future Alberta resemble the one that got us here?
A net population reduction or even zero growth wouldn't be all bad, would it? It would take the pressure off infrastructure like schools and health care system. The big deficits since 2007 allegedly caused by the province having to build so much stuff might shrink. Easier to find parking in downtown Calgary. Shorter lineups at Tim Horton's for your AM "double-double". The challenges created by a rapidly growing population are well documented. But were there also significant benefits?
The following table shows the growth in what is called Residential Housing Stock by Canada Mortgage and Housing Corporation (CMHC). At June 30, 2014 there were 1,500,282 dwellings of all types, up 109,977 from only three years earlier. It's a huge business building housing in Alberta. It employs tens of thousands of people. Construction and real estate have been the second largest industry behind oil and gas for years.
What is not often added up is the total value. For purposes of discussion I estimated the average value of the different types of residential housing. Considering the high concentration of housing in the major centres of Edmonton, Calgary, Red Deer, Grande Prairie, Fort McMurray, Lethbridge and Medicine Hat the numbers are reasonable. The total is a whopping $539 billion.
For most people residential real estate is their most valuable single asset and home equity a major source of retirement income. About two-thirds of Albertans own the property in which they live. The rest is owned by other individuals or real estate companies of varying sizes. Some of the property owners are publicly-traded. How much of Alberta's housing stock is owned in Alberta is not measured. But it is not unfair to conclude the clear majority is owned locally.
The next chart shows population inflow for an 11-year period. The total population grew by 938,000 driven by a net population inflow of 596,957, people seeking jobs and the economic opportunities resulting from what was affectionately called the Alberta Advantage. This is what put the pressure on the province's infrastructure, but it also provided significant financial benefits.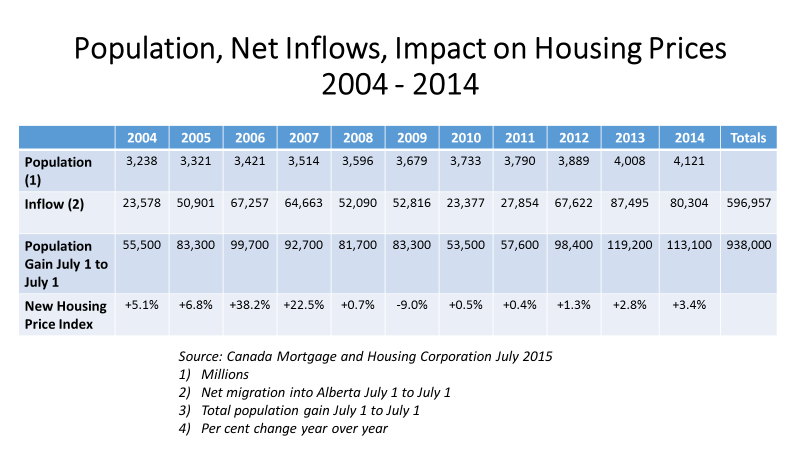 A relevant number on this chart is the New Housing Price Index, how much the cost of a new house rose year over year. This also applies to the value of the existing housing stock. In every year but 2009 property values rose. In 2006 and 2007 the price increases were massive and remain baked in the value of every house in the province. What a ride.
But what happens if residential house prices go down? In its July 2016 report the Calgary Real Estate Board reported, "Continued pullback of sales activity is a sign of economic conditions," said CREB® chief economist Ann-Marie Lurie. "The number of unemployed workers keeps rising and when you combine job losses with declining net migration, the result is going to be weaker housing demand." By the end of July prices were down 4.2% over the same period in 2015.
4.2% here, 4.2% there; next thing you know you're talking real money. A 5% decline in Alberta's entire residential housing stock based on the figures above would cost the owners $27 billion. Equity, not debt. That's how much wealth Albertans and investors will have lost with a 5% across the board correction in residential dwelling values which has probably already happened. Obviously 10% would be twice that much, $54 billion. This is about the same as the current estimate for the provincial debt when the next election rolls around in 2019. Except this is on top of the debt and it will come from the personal wealth of owners. And Albertans must still pay off the debt.
Assuming somebody in Edmonton is worried about this real estate value bloodbath clobbering all Albertans except renters, how do you prevent it from getting worse? How do you turn it around?
The population inflows have been helped to a great degree by capital inflows. Because Alberta was a stable and attractive place to invest, billions and billions of dollars have come into the province for years. Most of this went to oil and gas capital projects requiring equipment and labor. This created the frothy job market and attracted the people. More housing demand than supply had a positive impact on prices. Commercial buildings were also required attracting more capital and their construction created more employment.
The next chart shows one measure of net capital inflows from 2010 to 2016. On a weekly basis Calgary's ARC Financial Corp. does a macro-economic analysis of the upstream oil and gas industry. While it doesn't break out Alberta, it is fair to assume most of the conventional capital was spent in Alberta based on geology and production and 100% of the oil sands investment is in Alberta.
ARC's data refers to the "reinvestment ratio", the amount by which capital expenditures exceed after-tax cash flow from existing production. The above chart reclassifies this as "Inflow" and calculates the number. These funds come from equity, debt, inter-company transfers from other divisions (downstream for the integrated oil companies) or from outside of Canada (as is the case for multinational operators). For the seven-year period the capital inflow is estimated at $97 billion. This is a huge amount of money.
While cash flow from existing oil and gas production is predictable and dependent on volume and commodity prices, capital inflows are not. They are based on a multitude of factors including commodity prices, interest rates, equity markets, tax and royalty rates, government policy and global competitive investment opportunities.
While it difficult to measure how much capital inflows into Alberta have changed in the past two years because of the low commodity price environment, ARC's figures indicate it remains significant at least for now. History has proven investors react quickly when they perceive a host jurisdiction has significantly changed the real or perceived rate of return. As awful as oilpatch activity is right now, for this year and last it would be materially worse were operators not spending much more than their cash flow from existing production allow. Thank capital inflows.
The above chart shows an estimated investment of an additional $32.1 billion in 2015 and 2016, a nice piece of change after the wheels feel off world oil prices. The bulk of this capital is to finish off major oil sands projects underway when prices tanked in late 2014. It will end when the projects are finished next year and in 2018. There are no new major oil sands projects planned today. This will hurt.
While Alberta wisely decided not to tamper with royalty rates, that is not the case for the corporate tax rate, large emitter carbon taxes and the $3 billion annual broad-based carbon tax set for January 1. The recent decision by Edmonton to have the courts review the legality of Power Purchase Arrangements by which electricity distributors are backing out of contracts made less profitable by government policy has sent a terrible message to investors worldwide to whom the sanctity of a contract is paramount. As Calgary Herald business columnist Deb Yedlin wrote August 20, "An investment chill has taken hold in Alberta. Income streams and the value of an investment changes as uncertainty increases. Companies demand a higher risk premium and if they can't make the numbers work they look to another jurisdiction."
The last factor affecting Alberta's economic future is personal disposable income which pays for everything but heavy industry and resource development. The amount people can pay for a house or the mortgage for which they qualify is based on disposable income. This is under assault from multiple directions. All but the most fortunate oil workers (of the ones who still have jobs) have taken a pay cut to keep their employers afloat. Those who have been laid off are living on severances, savings and EI, all finite. The end of Alberta's flat personal tax rate and an increase at the federal personal tax rate has significantly reduced disposable income for higher income earners. Next year's carbon tax will affect everyone, although rebates are promised to cushion the impact on those with lower incomes. While Alberta's rising minimum wage will aid one group of workers if they are fortunate enough to find a job, the costs will be passed along to everyone as prices rise to offset higher labor costs.
And at some point the province must deal with growing deficits. Based on the estimated $10.8 shortfall for the 2016/17 fiscal year interest payments alone now consume $1 billion annually. At record low rates. This will rise with debt and higher rates will make it worse. There must come a time when Albertans will be asked to pay even higher levies on more things to service this debt, further reducing disposable income.
Going back to my former employee considering leaving Alberta, he's not the only person wondering what the future holds. For the hundreds of thousands who moved here it doesn't appear Future Alberta will resemble the province they were attracted to. The lowest tax rates in Canada will be long gone one way or another when the carbon tax kicks in. The wealth creation from rising real estate prices is now wealth destruction with an unknown basement. That Alberta will remain an attractive destination for external capital as it was for years is, at minimum, uncertain.
Rising oil prices will help. And they will surely rise. It's just nobody knows when, why and how much. But even if WTI returned to US$100 a barrel next year Alberta still won't the same because every other oil producing jurisdiction will enjoy the same benefit but without Alberta's new tax increases, carbon taxes, investment concerns, government policy uncertainty and the continuing lack of low-cost international market access through additional pipelines.
What a pity. It was great while it lasted.
About David Yager – Yager Management Ltd.
Based in Calgary, Alberta, David Yager is a former oilfield services executive and the principle of Yager Management Ltd. Yager Management provides management consultancy services to the oilfield services industry in a number of areas including M&A, Strategic Planning, Restructuring and Marketing. He has been writing about the upstream oil and gas industry and energy policy and issues since 1979.
See David Yager's Corporate CV
List of David Yager's Consulting Services
David Yager can be reached at Ph: 403.850.6088 Email: yager@telus.net
Share This:
---
More News Articles